Michael Chandler Talks Upcoming Free Agency, UFC Potential
Michael Chandler Talks Upcoming Free Agency, UFC Potential
Star Bellator lightweight Michael Chandler discusses his upcoming free agency, potentially signing with the UFC, and more.
Apr 23, 2018
by FloCombat Staff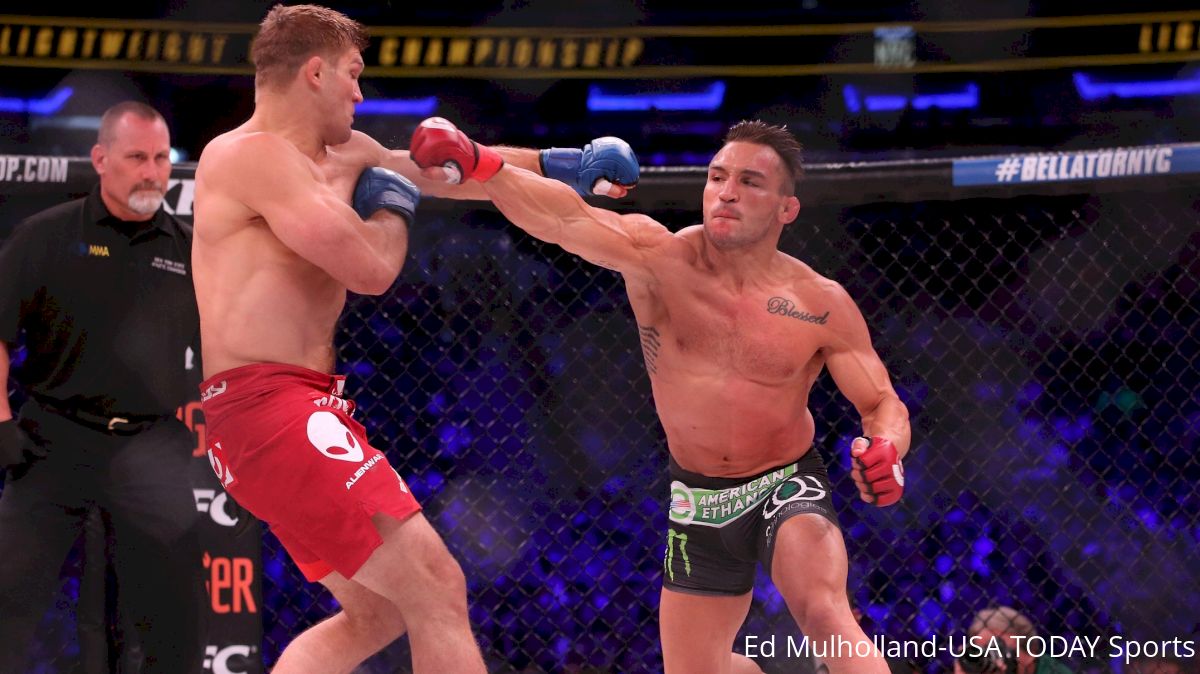 By Damon Martin
---
Michael Chandler has a very important decision to make in the near future.
As one of the best lightweight fighters in the world on the brink of free agency, Chandler is beginning to mull over his future, whether that's staying with Bellator MMA or exploring another option like the UFC.
Chandler has been a Bellator fighter for almost his entire career, and he's the first to admit the organization—even through ownership and leadership changes—has been nothing but good to him over the years.
That said, Chandler knows he can't make a decision on his future based solely on emotional ties to a promotion.
At 31 years old, Chandler (18-4) is sitting in the prime of his career, and now it's time to not only secure a financial future for his family but also to cement his legacy as one of the greatest mixed martial artists of all time.
"I think the greatest thing about my career right now is that I feel I'm the best I've ever been," Chandler told FloCombat. "I feel like I'm finally scratching my potential and I'm getting where I've always wanted to be as a competitor, and with that comes the confidence to look at myself as a man who wants to step in the cage and be dominant, a man who wants to challenge himself against the best guys in the world and ultimately wants to be put on a platform to inspire people and be able to provide an amazing life, which my wife and my son deserve.
"I just feel like I'm at a point now where I want to continue to challenge myself and I want to see what I can really do in this career and with these abilities that God has given me."
While he's not trying to sound like a mercenary just looking to get paid, Chandler can't lie by saying that money doesn't matter.
Chandler has been compensated well over the years, but he also knows his next contract will play a major part in providing for his family from now until the rest of their lives.
"At the end of the day, my bills need to be paid, there are mouths that need to be fed, and the most important thing in my life is becoming the greatest father and the best husband and providing the best life I can for my son and my wife," Chandler said. "At this point, that means taking a chance on myself and figuring out what the next best step is for my career."
Chandler will be the first to admit that no matter what happens in this contract process he will always hold a special place in his heart for Bellator because they've literally grown up together as a fighter and as a promotion.
Still, his upcoming decision is all about business—nothing personal—because he's got a family to feed and challenges to be conquered.
"Of course I have a soft spot for Bellator and Viacom," Chandler said. "For Bellator and Viacom, they are the company that has helped build me since day one. It's been a very rewarding relationship for both of us. I've put on the most exciting fights in Bellator history and might go down in history as the greatest Bellator fighter of all time. You've seen the way that we've grown together. It's been nothing but awesome, but it's an interesting time for this all to be happening.
"I'm excited to see where the chips fall and luckily I have great management and I have some huge decisions to make in the near future."
When it comes to competition, it could be argued that Chandler has already faced the best that Bellator has to offer. Following a three-fight losing streak in 2013-14 that marked the darkest period in his entire career, Chandler came storming back with wins in six out of his next seven fights, with his only loss coming by a freak injury that occurred in his world title fight against Brent Primus last year at Bellator NYC.
Outside of that lone setback, Chandler has scorched the opposition in Bellator, including a win over former UFC lightweight champion Benson Henderson. Chandler also owns a win over another former UFC champion in Eddie Alvarez after they put on a pair of legendary battles in Bellator between 2011 and 2013.
Facing and defeating top-notch competition is why Chandler is confident in saying he's one of the two best lightweights in the world, with his counterpart being reigning UFC lightweight champion Khabib Nurmagomedov.
When it comes to Chandler's legacy as a fighter, there may not be a better possible matchup than eventually facing the undefeated Russian wrecking machine—and Chandler likes his chances against him.
"I think me and Khabib are the two top guys in the entire world," Chandler said. "You look at Khabib and you see a guy who's undefeated and, up until very recently, he's looked extremely unbeatable. Then you look at me, and of course, I've had losses to Will Brooks and Eddie Alvarez, but that was four years ago, almost five years ago. If you don't think a man can go from down in the dumps to the top of the world in a four- or five-year period, then you've lost all hope in the human spirit. I think I've turned myself mentally, physically, spiritually into the best lightweight in the world in my opinion. I would love nothing more than to step in the cage with Khabib.
"I have all the tools to beat him. He's not going to be able to take me down. He's not going to be able to stop my takedowns. And my striking is head and shoulders better than his."
In addition to a showdown against Nurmagomedov, Chandler has plenty of other options available to him in the UFC, including matchups against the likes of Tony Ferguson, Dustin Poirier, Conor McGregor, and potentially finishing a trilogy with Alvarez after their first two bouts were hailed as a pair of the greatest fights in MMA history.
Right now, those fights are just possibilities because Chandler is still under contract to Bellator for a short while longer and then begins the negotiation process to figure out the best landing spot for the future.
That might be returning to Bellator or it could mean he will make his UFC debut, but Chandler is no stranger to gambling on himself when there's a safe bet staring him directly in the fact.
"I wasn't a state champion wrestler. I was getting offers from NAIA, Division II, and III schools, and I was getting scholarship offers and I turned all of them down to take a zero dollar, walk-on position at the University of Missouri," Chandler explained. "I was the guy coaches didn't even notice was there for almost a year. I worked and I worked and surrounded myself with the right people and I made the right decisions and I did well in the classroom and I turned into a four-time national qualifier, a four-time starter, and an All-American.
"I've always taken a leap of faith. I've never been afraid to bet on myself."