Dustin Poirier: 'I Think I Match Up Well' vs. Khabib Nurmagomedov
Dustin Poirier: 'I Think I Match Up Well' vs. Khabib Nurmagomedov
UFC lightweight contender Dustin Poirier discusses a potential matchup with champion Khabib Nurmagomedov and more.
Apr 18, 2018
by FloCombat Staff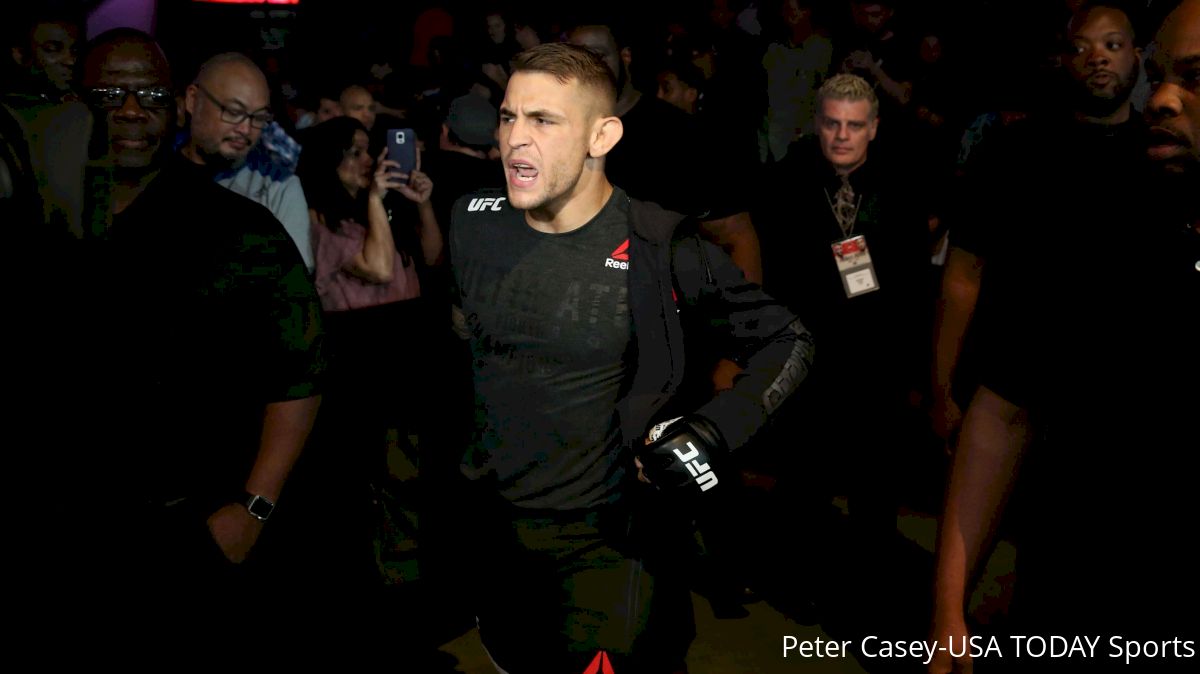 By Damon Martin
---
Dustin Poirier has never backed down from a challenge.
That's why, following his UFC on Fox 29 slugfest with Justin Gaethje that ended in a fourth-round knockout this past Saturday, Poirier immediately turned his attention to a title shot against newly crowned lightweight king Khabib Nurmagomedov.
Now, it's not unusual that an athlete in Poirier's position would want to fight for UFC gold, but Nurmagomedov has been an unsolvable puzzle throughout 26 career pro fights, so nobody is necessarily excited to face him.
The Dagestani standout has absolutely mauled his competition without losing a single round during his entire UFC career.
Still, none of that scares Poirier away from the fight, as he welcomes the chance to add the first loss to Nurmagomedov's record if that's what it takes to become UFC lightweight champion.
"I feel like my wrestling is very underrated," Poirier said. "My jiu-jitsu can cause some threats. I feel like I match up well with him. I think I'm the guy to do it."
As invincible as Nurmagomedov has looked during his UFC career and beyond, Poirier is confident he could find a way to finally crack the code and give the reigning lightweight champion some problems during a potential fight.
"There's always openings, and people make mistakes every fight," Poirier said. "I'm sure he's looking at my fights thinking I made mistakes, too. We'll break it down more when we sign the contract to fight him."
It's impossible to know if Poirier will get the title shot or not right now based on the landscape of the lightweight division.
Nurmagomedov has said he wants to return in November as he prepares to observe Ramadan throughout parts of May and June. Meanwhile, former interim champion Tony Ferguson just had knee surgery that will likely keep him out of action, and Conor McGregor is still dealing with legal entanglements after his rampage in Brooklyn, NY, during UFC 223 fight week.
That might leave the perfect opening for Poirier to seize the opportunity to face Nurmagomedov later this year, but he's not counting on anything until the contracts are signed.
If the title fight doesn't happen, Poirier knows the other fight people will call for the most will be a rematch against his rival Eddie Alvarez.
It's no secret that Poirier and Alvarez have unfinished business after the way their first fight ended at UFC 211 in May 2017. That night, Alvarez landed two illegal knees that rendered Poirier unable to continue, but rather than disqualify the former lightweight champion, the bout was ultimately called a no-contest.
Since that time, Poirier says he's been offered the rematch several times but Alvarez has always found an excuse to pass.
"We'll find out. I don't know what they're going to do, but if it's not the title fight, maybe it's the Eddie [Alvarez] fight but I don't know what's going to happen," Poirer said. "More than a few times I accepted a fight with him and he said no. I haven't been waiting on him. I fought [Anthony] Pettis and I fought Gaethje now. I've already moved on, but it's still a fun fight.
"If they can force his hand to sign and I don't get a title shot, then let's do it. It will be another fun fight, probably a main event and a hell of a fight."
I'm going to be the world champion this year.

— The Diamond (@DustinPoirier) April 18, 2018
For now, Poirier is just focused on allowing his body to heal from the battle he endured with Gaethje, but he will anxiously await the UFC's call on what comes next for him.
"I'm focused on the title right now, but if they offer me something else and it makes sense, we'll do it," Poirier said. "Right now, I'm just chilling. I'm not in a rush to do anything."