By Nolan King
---
Throughout the past three decades, the U.S. Midwest has produced some of mixed martial arts' most gritty and gutsy competitors.
The Midwest's influx of fighters into mainstream MMA began with the conception of the infamous H.I.T. Squad led by Pat Miletich and has continued into today's era. In 2018, Midwesterners continue to thrive—none more prevalent than UFC welterweight champion Tyron Woodley and UFC heavyweight champion Stipe Miocic.
This June, one of the best cards of the summer goes down at UFC 225 in Chicago. A main event clash between UFC middleweight champion Robert Whittaker and No. 1 contender Yoel Romero is already on tap, but the undercard is still being sorted out.
As it stands, Sergio Pettis and Chicago's own CM Punk and Mike Santiago are the only fighters born and raised in the Midwest featured on the evening's card. Without a doubt, UFC matchmakers will be scouting the regional scenes to find combatants to thrill the hometown crowd.
It's always nice to play to the local crowd, but the UFC isn't in this for just the short term. Luckily for it, the following 10 competitors, if signed, could make a real impact on their respective divisions for years to come.
Here are 10 fighters who could quite possibly land on the UFC's return to the Windy City on June 9.
10. Damian Norris | LW | 30 y/o | 9-2 | Schaumburg, IL
Fighting out of Schaumburg, Illinois, Damian Norris would no doubt jump at the opportunity to make his UFC debut in his home state. Not to mention, the timing could not be better. There's a good chance Norris is in his athletic prime at 30 years of age.
If Norris signs with the UFC, it won't be his first time competing on a big stage. In his last fight, Norris competed on the undercard of Bellator 175 in March 2017, defeating Tom Shoaff by unanimous decision. Since that time, Norris has been scheduled twice, but both bouts were canceled prior to fruition.
The Skinny:
Norris is a poised, composed fighter who isn't afraid to leave the fight standing or drag it to the ground when needed. The potential Norris has is unknown, but it is evident he is improving fight in and fight out. Keep your eyes peeled for the Illinois native to make his inaugural walk to the Octagon come June 9—the hometown crowd surely wouldn't complain.
9. Jeff Hughes | HW | 29 y/o | 8-1 | Canton, Ohio
Jeff Hughes is the LFA heavyweight champion and in case there was any question—you have to be pretty damn good to be an LFA champion. The 6-foot-2, 258.5-pound big man is nearly unblemished in his professional career thus far. He suffered his only loss at the hands of a UFC veteran, Daniel "The Dragon" Spohn, back in 2016.
Despite being nicknamed "Lights Out," Hughes has interestingly only finished three of his opponents by knockout. With that being said, Hughes has proved he possesses a rare (but important) skill for his weight class: cardio.
This past November, Hughes laid it all on the line, defeating then-champion Richard Odoms in a grueling five-round unanimous decision victory.
The Skinny:
What Hughes does is impressive, especially with the state of MMA's heavyweight scene right now. The way Hughes does it isn't always pretty, but wins are wins. With Hughes being one of the best the U.S. regional scenes have to offer, don't be shocked to see the UFC pick him up.
UFC 225 may be a bit too soon, but in this sport, you never want to rule anything out.
8. Alton Cunningham | MW | 24 y/o | 5-0 | Madison, WI
Only five fights into his professional career, Alton Cunningham has already turned some heads. His last two bouts have come under the LFA banner and have both ended in violent fashion. In fact, all of his professional and amateur victories combined have come via knockout.
The Skinny:
If he continues the trajectory he is currently on, Cunningham will be in the UFC by the start of next year. The concern at the moment lies within the possibility that a UFC contract may rush what otherwise would be a phenomenal talent. This claim isn't exactly wrong. It doesn't mean the UFC won't sign him. It just means it might be best for Cunningham to get another fight or two under his belt before getting there.
The answer to this problem is simple, and it comes in the form of Dana White's Tuesday Night Contender Series. Cunningham is exactly the type of fighter the show is looking for, so expect to see him pop up there if UFC 225 isn't in his immediate future.
7. Jason Witt | MW | 25 y/o | 13-4 | Kansas City, MO
Many of the fighters listed as potential UFC 225 signees are undefeated or only have a single loss. Jason Witt, on the other hand, doesn't have the sexiest record on paper. However, his record is a testament to the improvements he has made in his career.
If you've seen Witt compete, you know the last place you would want to end up when fighting him is on the bottom. Witt's powerful single- and double-leg takedowns are a thing of beauty. For a bulky, stocky middleweight, Witt has surprisingly great cardio. His stamina was on full display this past January when he knocked out undefeated prospect Mark Lemminger.
The Skinny:
Witt has some of the most solid wrestling in the Midwest—a very impressive feat in and of itself. On top of that, his striking technique is always improving. Combine that with his innate power, and the middleweight division could have quite the scary fighter on its hands. He has the experience of almost 20 fights under his belt, so the Contender Series may not be quite for him.
However, if the UFC wants someone it can rely on to bring it every fight, it may have just found a middleweight for UFC 225.
6. Dakota Cochrane | FW | 31 y/o | 31-12 | Omaha, NE
Nebraskan Dakota Cochrane has graced lists just like this one for what seems like an eternity at this point. Competing at the highest of regional levels since 2009, Cochrane has fought the best of the best, including Jamie Varner, James Vick, and Joe "Daddy" Stevenson, just to name a few.
Always fighting at that level has certainly had its downsides. Cochrane has been a streaky fighter at times because of his willingness to take on all comers. However, since mid-2017, it seems that Cochrane has finally turned the corner—defeating prospects Drew Lipton, Ciro Rodrigues, Maki Pitolo, and Dave Castillo in that time frame.


The Skinny:
Cochrane is good enough to be in the UFC. There's no doubt about it. Timing seems to be the biggest factor that has worked against him in his professional career. He is a name that fans know, and that goes a long way. If someone goes down on the UFC 225 card in Chicago, don't be surprised if the UFC calls on the experienced vet in Cochrane to come save the day.
5. Jordan Griffin | FW | 28 y/o | 15-5 | Milwaukee, WI
Despite being a 20-fight veteran, rising featherweight Jordan "Native Psycho" Griffin may very well have the highest potential ceiling of any fighter competing in the Midwest regional circuit right now.
A product of powerhouse MMA gym Roufusport, Griffin signed with UFC feeder promotion LFA earlier this year. Griffin made quite the statement in his promotional debut, submitting veteran Darrick Minner via an arm/leg-lock hybrid. When 2018 comes to end, that submission will surely be a candidate for "Submission of the Year."
The Skinny:
Griffin is a promising talent: His only losses since 2012 have come at the hands of top Bellator MMA signee Juan Archuleta and UFC lightweight Dan Moret. In other words, Griffin has only lost to the best. Going 14-2 over his last 16 bouts, Griffin is sure to be getting a UFC phone call soon.
The question is will the call come in time for UFC 225? We shall find out soon enough.
4. Devonte Smith | LW | 24 y/o | 7-1 | Bedford, OH
Watching Devonte Smith fight, you would never be able to tell he's only 24 years of age. Always exciting and always flashy, Smith has won all but one of his professional bouts since his debut in late 2015. One of the more active regional prospects, Smith's only professional loss came at the hands of "The Ultimate Fighter" Season 27 cast member Jon Gunther.
Even in the loss to Gunther, Smith showed impressive glimpses of skill and power. At multiple points in the fight, Smith had Gunther on the retreat—even dropping him in the first round.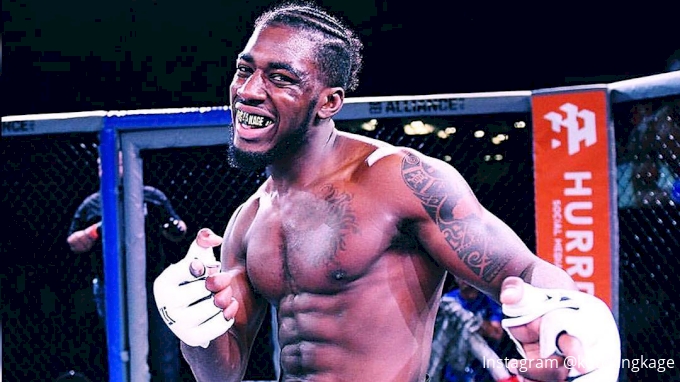 The Skinny:
Coming off of a devastating 63-second knockout victory over UFC veteran Justin Edwards earlier this month, there will be no better time for the UFC to ink Devonte Smith. Smith has voiced his opinion on the matter, enthusiastically telling FloCombat's James Lynch he is ready for the task. If the UFC decides to pass on Smith in terms of the UFC 225 card, we may see him on this summer's second season of the Contender Series.
3. Raufeon Stots | FLW | 29 y/o | 9-1 | Milwaukee, WI
MMA fans have learned throughout watching this crazy sport that one loss does not define a fighter. This age-old sentiment is most certainly applicable to Rauefon Stots.
Losing to Merab Dvalishvili on "Dana White's Looking for a Fight" shouldn't be the only moment fight fans take into account when judging the 29-year-old Stots' abilities. There is, after all, a reason why the UFC president came all the way across the country to scout him—and it wasn't so he could watch Stots get knocked out in 15 seconds.
The Skinny:
Stots is a force to be reckoned with in the Midwest—he became the Victory FC bantamweight champion last year and notched the No. 1 spot in FloCombat's bantamweight prospect rankings for April.
His stand-up, cardio, and background in wrestling have allowed him to defeat the likes of seasoned UFC veterans Rob Emerson and Jeff Curran. If the UFC wants a fighter who has been around, but who still has not hit his potential ceiling, it should look no further than Stots.
2. Manny Vazquez | BW | 24 y/o | 12-3 | Elmwood Park, IL
Followers of the sport probably know Manny Vazquez from being one-half of the first-ever Dana White's Tuesday Night Contender Series bout. However, that was not the same Manny Vazquez that showed up for his other career bouts.
Vazquez's weight cut to flyweight was nothing short of draining. In multiple interviews since the bout last summer, the 24-year-old fighter has made it clear: 135 pounds is where he will stay going forward.


The Skinny:
It's an established fact at this point: Vazquez is a nightmare outing for any potential regional competition. It also doesn't hurt his chances that UFC matchmakers have kept a close eye on fighters who competed on the Contender Series, win or lose. It's time for Vazquez to test himself in the big show, and what better place to do it than in his home state?
1. Jose Torres | FLW | 25 y/o | 7-0 | Chicago, IL
Choosing the No. 1 Midwestern fighter who the UFC should sign for the Chicago show is an absolute layup—and that's saying something considering the talent level in this region. Chicago's own Jose "Shorty" Torres is perhaps not just the best pound-for-pound prospect in the Midwest but also possibly the most talented prospect across the entire United States.
Time and again, the 25-year-old No. 1-ranked FloCombat flyweight prospect has proven he is ready to take the step to the next level. For reasons inexplicable to most who have seen him compete, Torres has not been signed to the UFC. An unusual talent, Torres currently holds both the Titan FC flyweight and bantamweight straps.


The Skinny:
"Shorty" hasn't gained immense notoriety by accident and is in no way a proverbial "hype train." What makes Torres different than so many other prospects is his ability to fight like an established veteran despite only being seven fights into his career.
Each time Torres has stepped into the Titan FC cage, he has made Florida's top regional talent look like amateurs. The UFC would be making a huge mistake to let this opportunity for Torres to debut at home go by the wayside.
Honorable mentions
Thai Clark and Jon Gunther are featured on this upcoming season of "The Ultimate Fighter" and thus were not included in the list.
Said Yokub, Elias Garcia, Austin Tweedy, and Bryce Logan all lacked fight footage, making it hard to gauge what they bring to the cage.
Grant Dawson may have topped this list, but due to his USADA failure and subsequent release by the UFC prior to his debut, he has been excluded.
Ryan MacDonald, Askar Askar, Dequan Townsend, Kevin Nowaczyk, Eric Wisely, Nate Jennerman, and Jason Fischer were also considered for this piece and are fighters to watch in 2018.