Colby Covington: Raquel Pennington 'Mad' Torres 'Has Googly Eyes For Me'
Colby Covington: Raquel Pennington 'Mad' Torres 'Has Googly Eyes For Me'
Colby Covington explains exactly why Raquel Pennington wanted to slap him after the UFC 25 Years presser.
Apr 9, 2018
by FloCombat Staff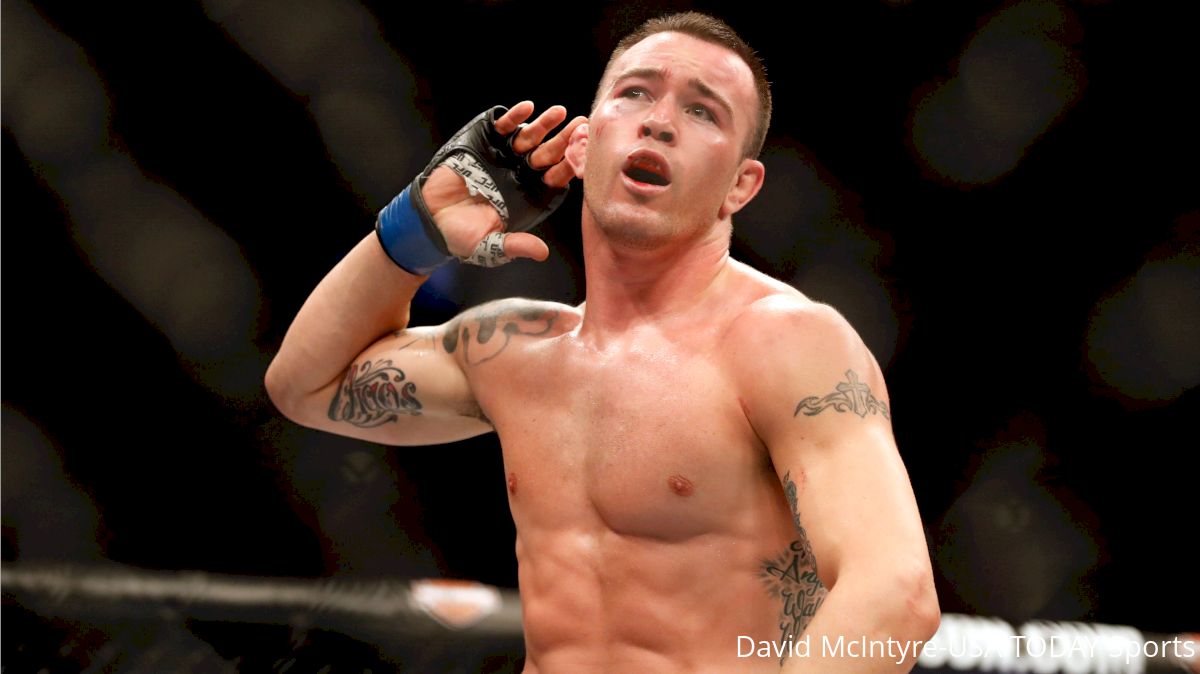 By Damon Martin
---
Colby Covington isn't in the UFC to make friends.
That was never more evident than during Covington's appearance at the UFC 25th Anniversary press conference this past Friday when the promotion announced the biggest fights taking place over the next few months.
One of the matchups confirmed was Covington taking on Rafael dos Anjos for the interim welterweight title at UFC 225 on June 9 in Chicago. While there were more than a dozen fighters in attendance, Covington took the spotlight for the majority of the press conference, and like usual, he never bit his tongue when it came to what he had to say.
That didn't sit too well with some of the other fighters on the dais, including women's bantamweight title contender Raquel Pennington, who was seated next to Covington during the press conference.
After it was over, Pennington told reporters that she wanted to smack Covington "in the back of the head" for some of the things he was saying.
Covington responded to her comments Monday when speaking exclusively to FloCombat, and it's safe to say Pennington probably won't be any happier now than she was last Friday.
"Everybody's just jealous," Covington said. "They just want what I have. They're mad that they aren't doing what I'm doing. It's just hilarious. These people want to talk behind my back. Who is Raquel Pennington? What is she, 9-5 in the weakest division in the UFC?
"Let me tell you the real reason Raquel Pennington is mad at me. She's mad at me 'cause her wife, when she was at American Top Team, Tecia Torres, was always googly-eyed over me, staring at me across the mats. She must have walked in on her wife one day looking at my Instagram 'cause I'm so sexy—American raw steel and sex appeal. There's the real reason. She's not mad at what I said at the press conference. She's just mad that her wife has googly eyes for me."
As far as the rest of the press conference goes, Covington feels like he stole the show and had more people talking about him than any other fight represented on the stage that day.
In fact, Covington argues that he was the reason that former UFC lightweight champion Conor McGregor went on a rampage through the Barclays Center the day before the press conference so he could grab a few headlines.
"Everybody knows who the focus in the UFC is," Covington said. "I'm the greatest fighter in the UFC for any weight class. I got the most heat. I got the most eyes. I got the most everything. Everybody's chanting in that crowd as soon as I walk out. I'm getting everybody riled up. I'm making the UFC great again. This whole sport is being made great again because of me. My greatness has no boundaries. Everybody knows all eyes on me. This is my division. This is my time.
"All eyes on me. The only reason Conor McGregor tried to grab that spotlight and threw a dolly through a bus was because I was in the headlines every weekend and he wanted the headlines back so he had to throw a dolly through a bus. But fear no more, Colby 'Chaos' Covington is here."