Cortney Casey Ready To 'Throw Down' vs. Michelle Waterson
Cortney Casey Ready To 'Throw Down' vs. Michelle Waterson
Cortney Casey discusses her loss to Felice Herrig at UFC 218 and previews her upcoming scrap vs. Michelle Waterson at UFC on Fox 29 in Glendale.
Mar 30, 2018
by Hunter Homistek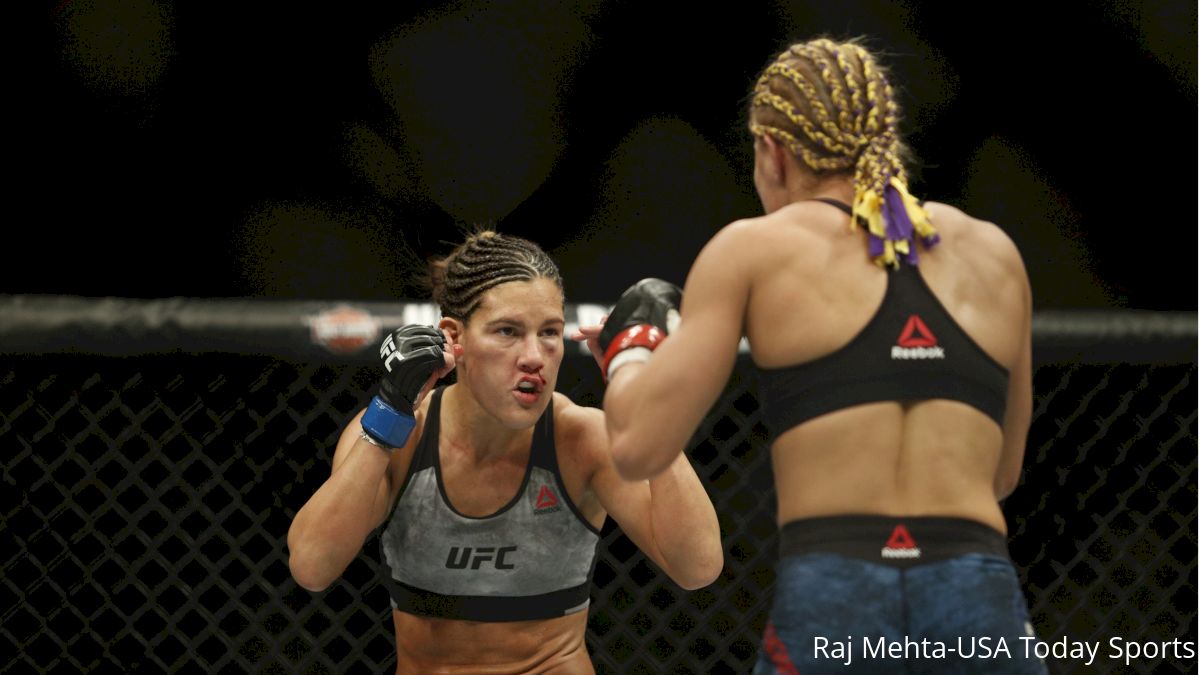 By Lucas Grandsire
---
Cortney Casey is ready to bounce back from a close loss to Felice Herrig when she takes on Michelle Waterson at UFC on Fox 29 on April 14 in Glendale, Arizona.
During Casey's fight at UFC 218 in December, two judges scored the contest 29-28 in Herrig's favor, while the last judge scored it 29-28 in favor of the Arizona native. As tough as it is to lose, Casey believes the judges made more of a mistake than she did.
"I don't think anything went wrong for me," Casey told FloCombat. "I executed my game plan to a 'T.' Yeah, I could have pushed forward a little bit more. But Felice is a dangerous fighter when you move forward. She doesn't really shoot blast doubles or snatch singles or anything like that. She waits for you to come in because she's so short and she's real stocky. She can charge those double-unders and get that little throw that she ended up getting me with against the cage. That was just a little mental error that I had."
Casey recognizes sometimes it's just one error like that one which could cost her the fight, but she's not totally sold that is the case in this particular circumstance.
"Maybe that takedown is what cost me the fight, but she didn't really do anything with it," Casey said. "If you look at it from a jiu-jitsu standpoint, point system that way, she got the takedown but I got side control. So if you look at it that way, I technically won that exchange.
"She didn't threaten anything on top. I threatened with a kimura, got the sweep, went straight to side control, and stood up. We were winning the fight standing. I don't know how the judges saw it any other way. The punch count was very lopsided, but that happens when the fight goes to the judges."
Overall, Casey takes away plenty of positives from the fight and, in some ways, still views it as a win.
"I was happy with my performance," Casey said. "It was a new camp, a new gym, new coaches. I stuck to the game plan that we created. It was a good game plan. We thought we won it."
During the fight, Casey had something MMA fans referred to as a "Nick Diaz moment" when she appeared to fling a booger at her opponent before stepping to the center of the cage and proceeding to yell at Herrig while giving her a double dose of middle fingers.
"She stuck her tongue out at me actually," Casey said. "It's irritating, more or less. I had a lot of stuff going on outside of camp, the things that I was dealing with on a personal level. It's just one of those things where I'm not going to be bullied in the cage by any means. I'm not going to be bullied, especially by someone like her. She stuck her tongue out at me and I told her, 'Let's go,' and she just stood there.
"I wiped my nose... I didn't throw boogers at her or anything. It was just one of those schoolyard things, you just kind of show them I'm ready to go. So I wiped my nose and told her I was ready to go, she flipped me off, and I was just like, 'I'm not going to be flipped off by this person,' so I flipped her right back off."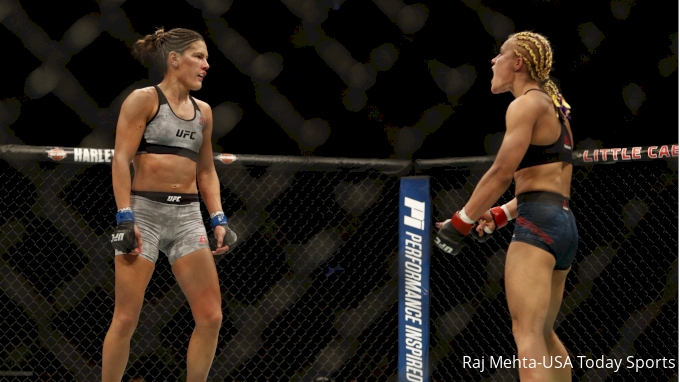 Photo Credit: Raj Mehta-USA TODAY Sports
Now ready to get back to her winning ways, Casey meets Waterson on a stacked UFC Glendale card—and she's a big fan of the pairing.
"I think it's a good matchup for both of us," Casey said. "We both had good showings on the December 2 card out in Detroit. I think this is a really good matchup for both of us. It will be a good one for either of us. I was surprised that we both got matched up so quickly afterward, [but] I think it's a great matchup.
Waterson is coming into the contest off back-to-back losses to current UFC strawweight champion Rose Namajunas and top contender Tecia Torres last year. Prior to 2017, Waterson strung together consecutive wins over Angela Magana and Paige VanZant. Despite the losses, Casey isn't expecting a lesser version of Waterson.
"I feel like she always looks good," Casey said. "She's fought tough opponents, Tecia Torres is super tough. Rose is the champ now. So her losses aren't to nobodies. I'm definitely excited to see how this fight goes. I know she's a game opponent. She comes out and she tries to get the job done. So do I. I think that's why they decided to make this matchup."
Casey heads into the fight ready to impress in front of her hometown crowd. With Glendale on her side, she expects nothing less than an all-out war.
"We're going to throw down," Casey said. "...We're both coming off of losses. Everyone wants to keep their job these days. It's definitely going to be an exciting fight so definitely tune in and watch it."