UFC 223: Khabib Nurmagomedov vs. Al Iaquinta
Joanna Jedrzejczyk On UFC 223 Bout vs. Rose Namajunas: 'The Queen Is Back'
Joanna Jedrzejczyk On UFC 223 Bout vs. Rose Namajunas: 'The Queen Is Back'
UFC strawweight title challenger Joanna Jedrzejczyk makes some bold claims ahead of her April 7 rematch vs. Rose Namajunas at UFC 223.
Mar 26, 2018
by FloCombat Staff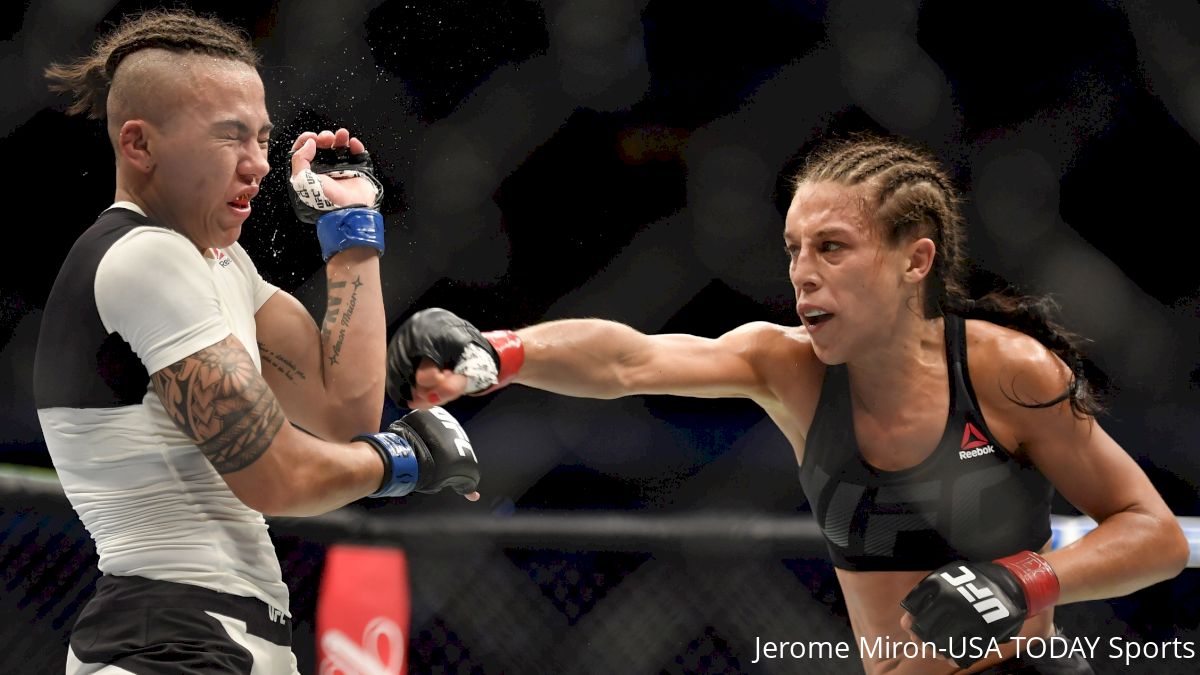 By Damon Martin
---
Joanna Jedrzejczyk wants to make one thing perfectly clear ahead of UFC 223: Her rematch with Rose Namajunas is all business—nothing is personal.
While Jedrzejczyk was shocked she suffered a defeat to the former "The Ultimate Fighter" finalist in November—the first of her career—the road back to gold had nothing to do with the woman who beat her.
In fact, Jedrzejczyk says when rumors were swirling that Namajunas was going to face a different contender earlier this year, she wasn't as concerned about the rematch as she was with getting back the UFC women's strawweight title.
"It was important to get the title shot, but if Rose was going to fight in February or March and she was facing someone else [and lost] as long as I could go for the title," Jedrzejczyk told FloCombat. "I want to get what belongs to me. I don't want to just rematch her. I want the title. It doesn't matter who keeps the belt.
"I'm the owner of this belt and I've owned this belt for two years and nine months."
Of course, Jedrzejczyk letting go of the thirst for vengeance doesn't mean she isn't hungry to defeat Namajunas this time around.
Rather than allowing her emotions to fuel her ambitions for this fight, Jedrzejczyk prefers to keep focused on the task at hand—and that's getting back the championship.
Jedrzejczyk knows she will be remembered one way or another based on her performance April 7 in Brooklyn, New York, and that's why she's putting everything into her preparation to ensure a different result the second time around.
"What I can say is it's going to be bigger than my whole fight career," Jedrzejczyk said about her fight at UFC 223. "Only one night. Only one fight. It's going to be bigger than 14 years of my fighting career. Mark my words."
In terms of bouncing back from her first career loss, Jedrzejczyk isn't haunted by that defeat or by what Namajunas did to beat her that night.
Instead, Jedrzejczyk got with her coaches at American Top Team as they put together a winning strategy for the rematch so she steps into the Octagon with the same kind of swagger that earned her the nickname "Joanna Champion."
"I'm very confident," Jedrzejczyk said. "The queen is back."