Ben Askren Has 'No Doubt' He Will Fight Georges St-Pierre In 2019
Ben Askren Has 'No Doubt' He Will Fight Georges St-Pierre In 2019
Multi-promotion champion and undefeated MMA star Ben Askren predicts he will fight UFC legend Georges St-Pierre (GSP) in 2019.
Mar 14, 2018
by FloCombat Staff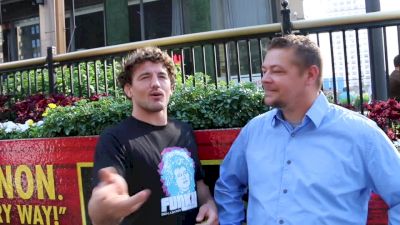 By Josh Sanchez
---
Ben Askren recently appeared on The MMA Hour with Ariel Helwani, throwing out a bold prediction for 2019.
The undefeated fighter believes he will be returning to the cage next year for a fight with former two-division UFC champion Georges St-Pierre.
"All you need to know is that in 2019, I'm going to go to Montreal and I'm going to fight GSP at the Bell Centre," Askren said, as transcribed by MMA Fighting.
"I will beat up GSP, and I will have somewhere around 20,000 Canadians booing me, and it will be a fantastic sight to see."
Related: Watch Ben Askren defeat Zebaztian Kadestam at ONE: Shanghai
Of course, the fight would likely have to happen under the UFC banner, and Askren has always had a rough relationship with the promotion and its president, Dana White.
Despite the potential hurdles, Askren is confident the matchup will come together.
"That's just the way I work. I don't know how else to do it," Askren said. "I've been doing this since I was 15 years old. I've been saying crazy shit and then everyone says, 'There's no way that's going to happen,' and then all of a sudden it happens.
"And then I say something else crazy and everybody says, 'There's no way that's going to happen,' and then it happens. So literally, this has been the story of my life. I say I'm going to do something and everyone thinks I can't do it and then I go do it."
Askren then laid down some examples of his ability to speak the seemingly unthinkable into existence.
"From winning that junior national (wrestling) title to winning NCAA titles to making the Olympic team to being an MMA champion, I've predicted it all," Askren said. "If you can't say where you're going, you're not going to get there. And I've known all along where I'm going, and sometimes the road takes a few curves that you didn't see, but you've got to stay the path.
"And I have no doubt in my mind that it might take a little bit, but in 2019, I will fight Georges St-Pierre at the Bell Centre in Montreal, Quebec, Canada. It's going to be sold out. And we're going to make a lot of money, Georges."
You can watch Askren's full appearance on The MMA Hour in the video below: