Tai Tuivasa Ready To Shake Up 'Boring' UFC Heavyweight Division
Tai Tuivasa Ready To Shake Up 'Boring' UFC Heavyweight Division
Surging UFC heavyweight prospect Tai Tuivasa discusses his next steps, his career aspirations, and more.
Mar 12, 2018
by FloCombat Staff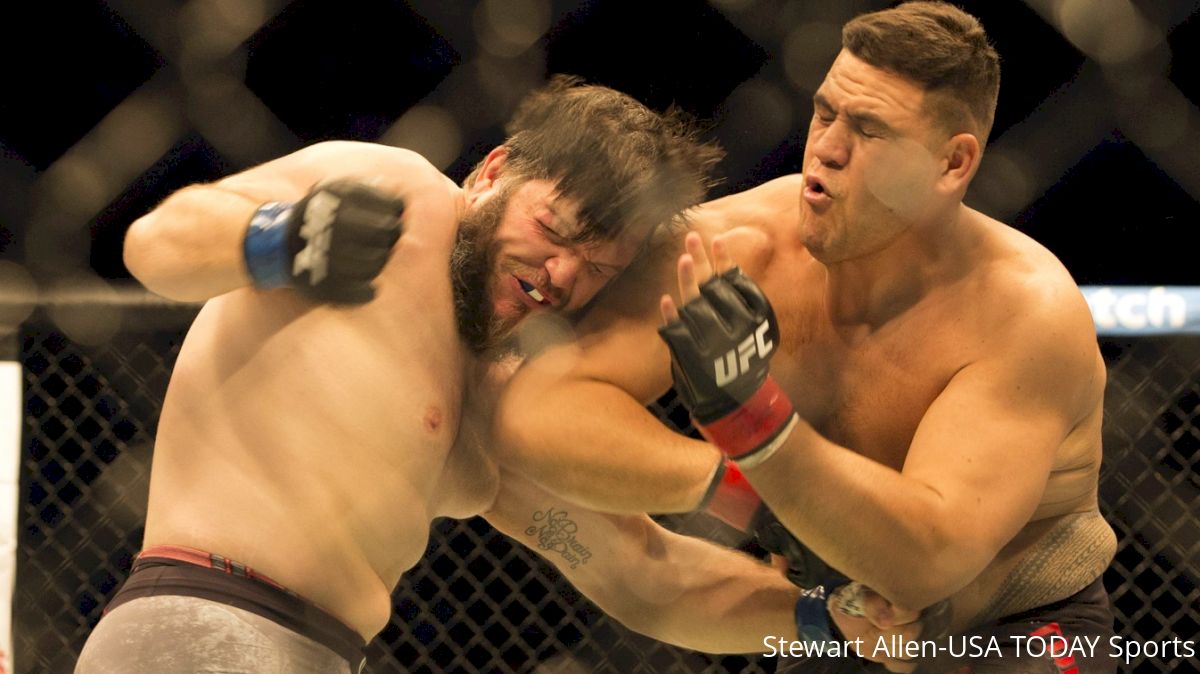 By Jeff Kunkle/Ramen Choke Hold
---
Heavyweight has long been the most captivating division in combat sports.
Hard-hitting behemoths trading leather to the sound of fans' eager anticipation is naturally exhilarating. But in the UFC, the division has taken on another connotation: predictable.
The same names and faces litter the once-legendary weight class, causing some to lose interest. But with new blood like Tai Tuivasa flowing into the veins of the UFC, a lack of variety on the heavyweight roster will no longer be an issue.
The man they call "Bam Bam" entered the division just four months ago but left the bat at home in favor of his fists (yes, that's a Flintstones joke). It's an appropriate nickname considering the 24-year-old Australian's first-round KO streak has yet to come to a halt, and after his win over Cyril Asker at UFC 221 last month, a spot in the rankings arrived at Tuivasa's doorstep.
Not that he particularly cares.
"Yeah, they just put a number next to my name," the 14th-ranked Tuivasa told Ramen Choke Hold for FloCombat. "I don't really give a shit. I'm just looking to get paid what I'm worth, and I'll keep getting fights, and sooner or later I'll be at the top fighting top guys. I'll get there."
The men above him may seem larger than life now. But once Tuivasa gets a hold of them, they'll turn to Rubble — two for two. Deal with it.
His Fighting Spirit
Have you ever seen a bear hunt for trout? The heavy-handed beast waits patiently on the rock for its prey to expose itself. It's callously intriguing. It's also how Tuivasa could be described in all of his fights so far. He's the bear, his opponent is the trout.
You look at his resume and assume "Bam Bam" attacks his foe with ruthless aggression. But quite the contrary, Tuivasa picks his shots — and his opponents fall from there.
"I don't come in too aggressive, I just land the shot and I see that they get hurt and I just execute from there," Tuivasa said. "I don't go in there with that intention. It just comes off like that."
It may not be his intention, but after scoring his ninth first-round finish in as many fights on Feb. 10 in Perth, Australia, it's becoming Tuivasa's M.O. Credit that to his mindset.
Technique for technique, he could stand against any man. However, that isn't what he prides himself on. These days, it seems we all are fans of martial arts rather than fighting. Promotions like ONE Championship even market themselves as such but don't count Tuivasa as part of that collective.
"I wouldn't really say I'm a martial artist," Tuivasa said. "I just refer to myself as a fighter, but I suppose we can hide behind the general 'martial artist.'"
It's a refreshing stance from a promising young contender with aspirations of greatness. Martial arts is, while somewhat accurate, a small part of what we see on a regular basis in this game. At its core, MMA is the sport of pure unarmed combat. Fighting.
And as long as that rings true, Tuivasa will be in his element, firmly among the best in the world.
What's To Come For "Bam Bam"?
After defeating Asker in dominant fashion just a month ago, Tuivasa has made his presence inside the division well known.
So, naturally one would assume he's chomping at the bit to get after those established names in their ivory towers. While that is an interest of his, what he's really after is the money that comes with it.
"I think I deserve to be where I am and I'm just getting started," Tuivasa said. "But I'm gonna fight for my worth. The way I see it is, the more money I'm worth, the better people I'll be fighting."
But wait, hasn't Tuivasa heard the wise words from the patron saint, the Notorious B.I.G.? Mo' money mo' problems, right champ?
"I'm waiting for the mo' money bit… The problems I can deal with," Tuivasa said.
Smart man. Though on the path he now travels, the money bit will be resolved shortly. For now, his climb to the heavyweight mountaintop begins, possibly with the UFC Fight Night 132 card in Singapore on June 23. Mostly, he just wants to fight, win, and earn.
"I don't really choose fights. I just want to get paid well," Tuivasa said. "I just get the call-up and they just tell me where I have to be and what date to be there."
He'll take on all comers: the perennial contenders who reek of status inside the heavyweight division, the exciting young spark plugs looking for a path to the top, or the middle-man Dans of the world desperately searching for their place. Come one, come all.
Representing Australia On The World's Stage
As referenced in my discussion with light heavyweight contender Tyson Pedro, a slew of Aussie talent has surfaced over the past few years and Tuivasa is just the latest example.
Having had success at the regional level and making his mark on the UFC's heavyweight division, "Bam Bam" now proudly sports his homeland's colors with millions more eyes pushing him along.
"Now I get to represent the whole country on the world stage," Tuivasa said. "I definitely like the weight of it on my shoulders. It makes me feel I need to work harder, which is good, I like that pressure.
"I want to keep it over on this side of the world for now… I want to give my people something to watch."
He's certainly lived up to that standard. Tuivasa is a virtuoso of entertainment, using fighting as his muse. But at the end of the entertainment rainbow is a pot of gold used to forge a belt donned by the baddest man on the planet.
And that may well be the final landing spot for "Bam Bam" — the title on the line with the throne awaiting his arrival.
However, at just 24 years of age and two fights into his UFC career, the journey is more important to Tuivasa than the destination. He's here to shake things up, and if those ferocious finishes continue manifesting themselves, he will get his wish.
"The whole division is just boring," he said. "I think I bring something new and I want to run with it."