Luke Rockhold: I'll Retire If Michael Bisping Beats Me In Trilogy Fight
Luke Rockhold: I'll Retire If Michael Bisping Beats Me In Trilogy Fight
UFC middleweight Luke Rockhold puts Michael Bisping on blast and throws down a challenge for their trilogy fight — loser leaves town.
Mar 8, 2018
by Hunter Homistek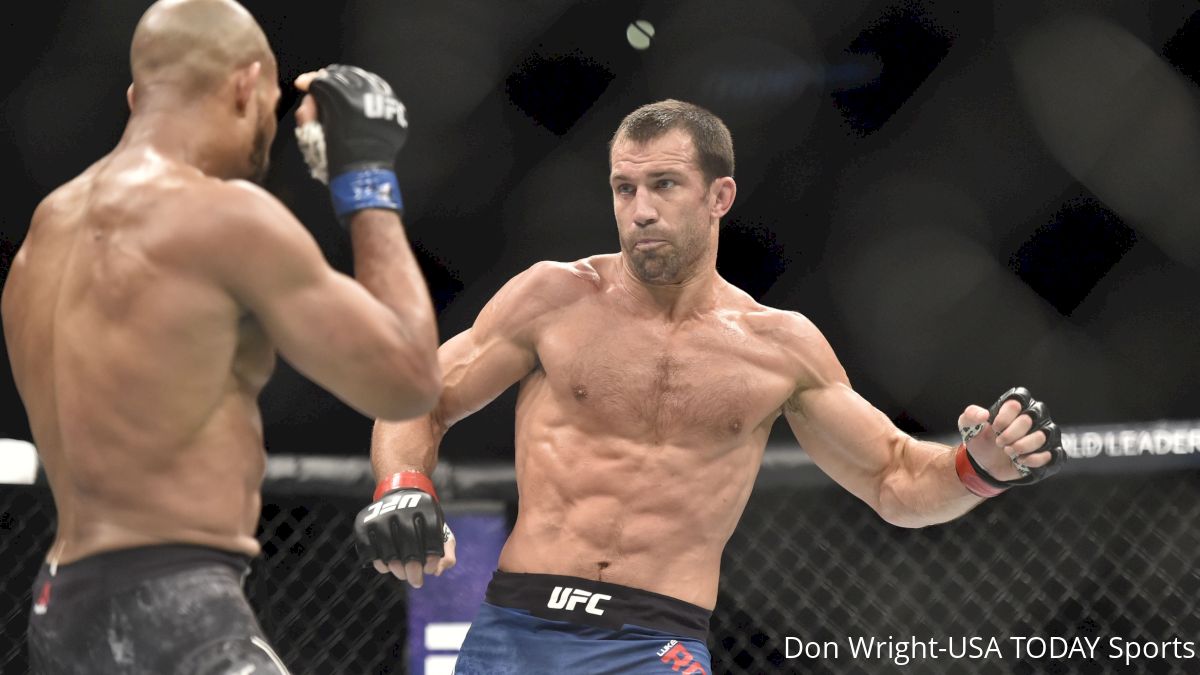 By Damon Martin
---
Luke Rockhold is tired of hearing Michael Bisping run his mouth, so he's offering an ultimatum to finally make their trilogy fight a reality.
"I'll put it on this: If Bisping beats me in this fight, I'll be the motherf*cker who retires," Rockhold told FloCombat on Wednesday. "If Bisping beats me in this fight, this will be my retirement fight."
Rockhold responded to Bisping after the former middleweight champion took several shots at him on his podcast this week while also discussing the possibility of a third fight between them.
Rockhold and Bisping each hold a win in the series, and a trilogy fight would seem to be big business for both of them, especially right now. Rockhold is looking to bounce back from a loss to Yoel Romero in his last fight, while Bisping has dropped back-to-back bouts and has declared his next trip to the Octagon will be his last.
Considering the bad blood between the two fighters, Rockhold doesn't see any other fight that makes sense than finally settling the score once and for all.
In their last meeting, Rockhold lost his middleweight title to Bisping via a first-round knockout at UFC 199 in June 2016. Rockhold previously submitted Bisping in the second round of their November 2014 fight at UFC Fight Night 55.
"I'd love to shut his mouth," Rockhold said. "If you're going to run your mouth that much, if you're a man, back it up. We will soon see. He's opened his mouth, he said a lot of things, and now he's been backtracking a bit. Put your money where your mouth is. You want to f*cking run your mouth and say I was an easy fight, you say you can beat me up anytime. Any f*cking time...
"Step in the cage and prove it. Let's finish it."
In the midst of Bisping's most recent rant about Rockhold, "The Count" not only said the California native looked "mentally challenged" but also mocked his recent knockout loss to Romero.
Rockhold has accepted his loss at UFC 221 last month but wonders why Bisping is throwing stones after being knocked out by Kelvin Gastelum at UFC Fight Night 122 on November 25, a few weeks after Bisping was choked out by Georges St-Pierre for the middleweight title.
"Motherf*cker, you got knocked out two times in a row by 170-pounders," Rockhold said. "Don't talk about my knockout to Yoel f*cking Romero. He's been knocked out more than me if you want to get down to it."
Due to the magnitude of their rivalry, Rockhold believes a third fight with Bisping deserves to be in a marquee position on a huge card — and there's none bigger in 2018 than July 7's UFC 226 showcase in Las Vegas.
That card features the super fight between heavyweight champion Stipe Miocic and light heavyweight champion — and Rockhold's teammate — Daniel Cormier in the main event. Rockhold would love the chance to stand under a very bright spotlight when he faces Bisping in a trilogy.
"This is your retirement fight, [so] let's go out on the biggest stage possible," Rockhold said. "That's Las Vegas. That's International Fight Week. Back it up. Put your money where your mouth is. Put your balls on the table, 'cause I'm ready to go."
Admittedly, Rockhold still has a lot left he wants to accomplish as a fighter in the UFC, but nothing would satisfy him more than silencing Bisping one more time.
Now he's just waiting on Bisping to accept his challenge.
"There's a lot of things I want to do but the motherf*cker ran his mouth," Rockhold said. "He opened the door. I'm not one to turn down opportunities. I back up everything I say and I put it on the line. I'm going to back up what I say and let's see if Bisping can back up what he says. I'm ready to go. The UFC is ready to go. The fans are ready to go.
"It all comes down to one boy. We'll see if he's a man or a boy. Men back up their words. Little boys run away."