Max Holloway Compares Conor McGregor To Uncle Rico
Max Holloway Compares Conor McGregor To Uncle Rico
UFC featherweight champion Max Holloway discusses Conor McGregor's seeming unwillingness to fight -- and he doesn't take it easy on the Irish star.
Mar 5, 2018
by Hunter Homistek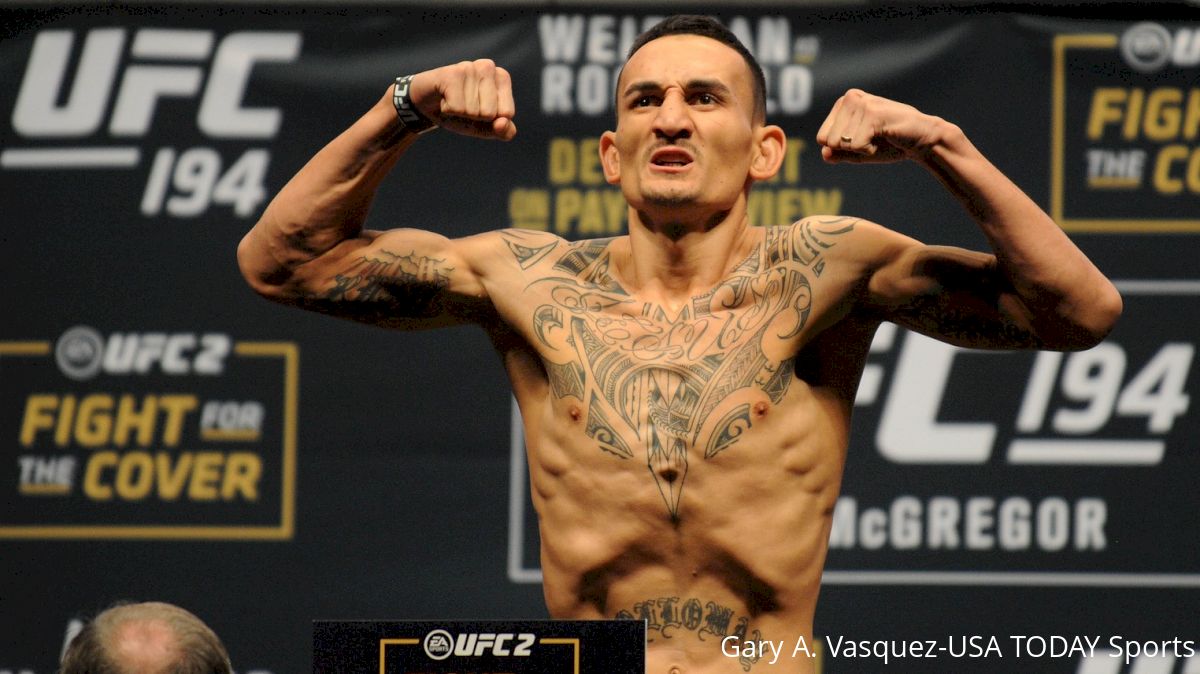 Max Holloway is tired of hearing Conor McGregor talk the talk while not actually walking the walk.
In recent weeks, McGregor has taken several shots at Holloway and other fighters over social media while still not booking his return to action in the UFC. McGregor hasn't stepped inside the Octagon since November 2016, and by all accounts, he's not expected to return before August or September of this year.
Of course, McGregor did offer to face Frankie Edgar on short notice at UFC 222 this past Saturday night in Las Vegas while requesting that the fight take place at 165 pounds, but even that only makes Holloway laugh considering all the ways the Irishman has seemingly avoided a showdown with the top contenders in the lightweight division.
That's why Holloway followed McGregor's lead and made his own ludicrous offer to stay fighting at UFC 222.
"I think the UFC should add more weights," Holloway told FloCombat when asked about McGregor's alleged offer to fight at UFC 222. "It's pretty wild. You guys, I broke the news, after I got hurt with my ankle, I was trying to tell the UFC, 'Let me amputate my leg, let's make a 115-[pound] guy division, me and 'Mighty Mouse' [Demetrious Johnson], No. 1 pound for pound.' They said they couldn't do it, they didn't have enough time, they didn't have enough money, so it is what it is."
As far as McGregor's constant jabs at him over social media, Holloway has been giving as good as he gets but none of it really bothers him.
Oh we talking bout bouncing now?Don't like my tweet? Your coach did. Go ask him why. Maybe you'll find what you lost. https://t.co/ekoxh7bUaw

— Max Holloway (@BlessedMMA) March 5, 2018
For some reason now that Holloway is on top of the world, McGregor has finally decided to acknowledge him after not mentioning his name for years. Losing to McGregor in 2013 when both fighters were dealing with injuries isn't something that really upsets Holloway now, especially considering how much he's done since that defeat nearly five years ago.
Still, McGregor is holding onto that win, but despite his best efforts to get under Holloway's skin, the reigning featherweight king promises it's not having the desired effect.
"He's been throwing the little jabs here and there. It's like I said, retired fighters like talking about the past," Holloway said. "They're like your uncle when you're at the barbecue and your uncle's like, 'Come here, boy, remember back in my day I could throw this pigskin over the mountain.' That's what they do. They talk about the past. They ain't got nothing to look forward [to], so they talk about their past. That's what the man's doing.
"They can talk about the past all they want. They know who the toughest fight is. They know who the best is. The best is 'Blessed,' and when he's ready to put his big boy pants back on, come to a 'real fight' in his phrase, then we'll be here. There's a lot of matchups for him and it looks like a lot of people want to see Holloway vs. [McGregor] 2. I'm right here."
While Holloway can't be sure he'll ever get a chance to step back into the Octagon with McGregor, it's really the least of his concerns.
Of course, that didn't stop Holloway from firing one final salvo at McGregor by pointing out his willingness to fight all challengers — even those in a weight class above him — while the 29-year-old Irishman is just a cheerleader on the sidelines right now.
"I told you guys before, if the fight never happens, it's never on our end," Holloway said about a rematch with McGregor. "You guys know I'm down and willing to fight anyone.
"I'm the only guy talking about wanting to fight Khabib [Nurmagomedov] and I'm not even in the man's weight class. We'll see what happens."
---
By Damon Martin