Top Turtle MMA Podcast: Ray Longo Extravaganza
Top Turtle MMA Podcast: Ray Longo Extravaganza
Legendary coach Ray Longo joins the Top Turtle Podcast to discuss game-planning, his career, his favorite coaching moment, and more.
Mar 3, 2018
by FloCombat Staff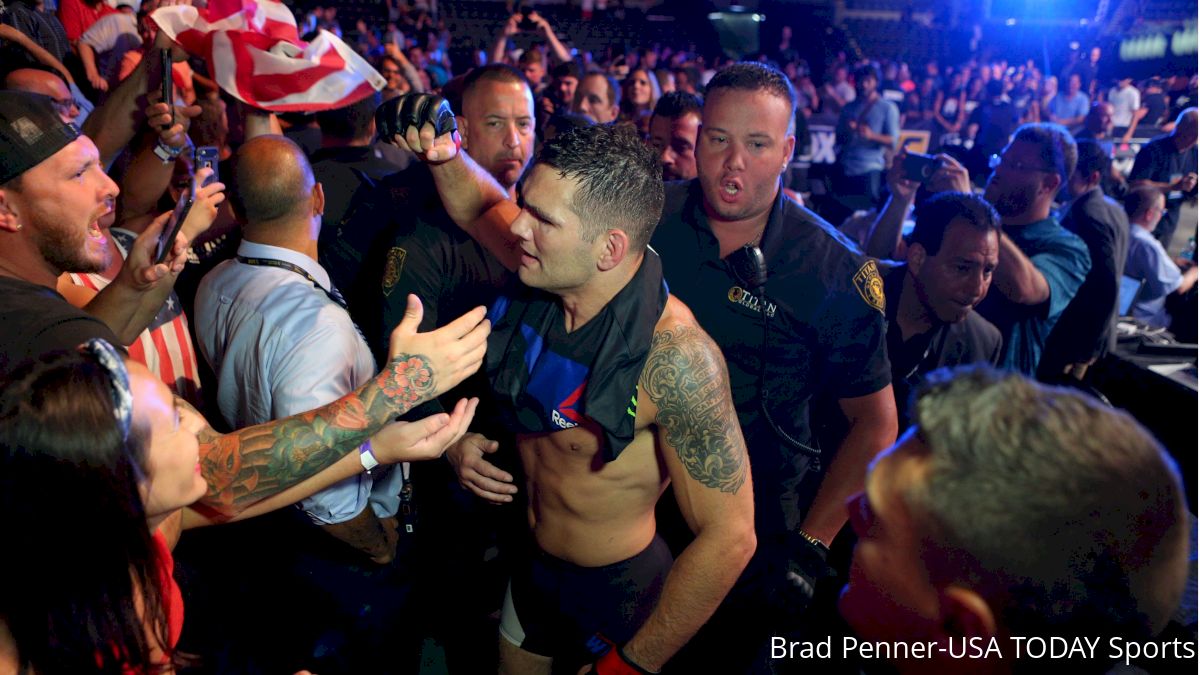 When you sit down with a guy who has been in the MMA game as long and as intensely as Long Island's Ray Longo, you're bound to come up with a wealth of information.
The legendary coach is practically a library of MMA information and experiences. In his recent sit-down with the Top Turtle MMA Podcast, Longo dished on some of his philosophies as well as some attributes and characteristics of his fighters. As always, Longo delivers in a way that is equal parts exciting, insightful, and engaging.
LONGO ON... HIS BEST COACHING EXPERIENCE
For someone who has coached as long as Longo has, one might think that the top of the list contains only championship fights. However, Longo points to Chris Weidman's most recent victory — a UFC on Fox 25 headlining submission win over Kelvin Gastelum in Long Island on July 22.
"I gotta tell you, man, that was one of the best moments of my coaching career," Longo said. "And the funny thing about that [fight] was at the weigh-ins, there wasn't a big turnout. So I was like, 'Wow, is Long Island going to support this guy?'... But, man, when we were walking out through the corridor there, it was about as electric as a place could be."
Longo credits the crowd for not only how big the moment was for them as a team, but perhaps the performance as well.
"Who knows? That could have been the difference in the fight," he said. "He rallied. He got knocked down, he got back up. He went right back on the attack and got the finish."
LONGO ON... GAME-PLANNING
One of the most typical responses fighters give is that they aren't worried about what their opponents are going to do; they are just going to go out there and be themselves. While Longo understands that side of the game, he has his own spin on it.
"You don't want to worry about what the other guy is going to do to the point where it stymies you or cripples you," Longo said.
In fact, this is what he believes happened to Luke Rockhold in his recent fight with Yoel Romero at UF 221. Rockhold paid too close of attention to what Romero was doing and wound up paying the price.
"Even with Romero for example, if you get caught up in what he's gonna do, you're going to end up waiting. It's gonna be a self-fulfilling prophecy," Longo said. "What happened to Rockhold, he waited, waited, waited, and I think that was the problem.
"If he had just imposed his game plan and moved forward, you saw he had success with the jab, and when he got backed up to the cage and circled out he looked like he was doing better. But he wasn't consistent."
However, Longo does believe fighters can go too far the other way when thinking about their own plans. In fact, there should be a balance between the two ideals.
"You don't want to be so wrapped up in your game plan that when it goes south, you don't have a contingency plan," Longo said. "The game plan is only as good as the guy you're training.
"What was the game plan with [Edson] Barboza against Khabib [Nurmagomedov] (at UFC 219 in December)? Keep it standing? I would think, but he didn't have the defense to do it."
LONGO ON...WATCHING TAPE

Watching tape when getting ready for a fight is something Longo prioritizes. However, he feels it should be more heavily leaned on by the coaches than the fighters.

"There are certain times when I watch tape until I feel like I know what the guy is going to do," he said. "Looking at it with the fighters? [They are] definitely looking at them, [just] not as much as I'm looking at them."

Instead, fighters should be hyper-focused on their side of things so they can maximize what they get out of it.

"I'll record a couple of things, we'll look it, and I'll point out where I think the guy has a deficiency, and see if whoever I'm training can exploit it," Longo said. "I ask them if they feel the same way I'm feeling and what they think they can do."
LONGO ON...INJURIES
Although team Longo and Weidman MMA (LAW MMA) is known for being pretty successful at keeping fighters in fights, Longo says there are still plenty of injuries that happen in the gym. In fact, it often changes how they have to run practices.
"You're just trying to keep the guys healthy at this point. The older the guys get, they're carrying injuries, and then you have to work around the injuries," Longo said. "There's a lot that goes into it. Sometimes you have to cut the sparring down more than you want."
He credits the reason people see his gym as one that doesn't have many injuries to the fact that his fighters often fight through those injuries. Some of this he credits to the mentality of the Russians and Georgians he trains (including Merab Dvalishvili, who fought with the flu), but he also points to higher-profile matchups.
"Chris [Weidman] fought [Lyoto] Machida (at UFC 175 in 2014) with a broken hand — 100 percent fractured hand," Weidman said. "He went to the doctor, and this is funny because I think it was one of his best fights, the doctor told him it wouldn't get any worse and we stopped using it the last three weeks.
"He promised me, 'I swear I'm gonna throw it in the fight.'"
Weidman went on to defend his middleweight title by unanimous decision over Machida.
LONGO ON...THE FUTURE OF LAW MMA

Longo's gym is more than just past accomplishments and glory.

With the wealth of talent that walks through the door on a daily basis, LAW MMA's future is bright. When pressed about an up-and-comer he's excited about, Longo gushed about one of his gym's newest members.

"You know who I've been working with who I really like? I didn't even know him when he walked in. This Japanese kid, Ulka Sasaki," Longo said. "I gotta tell you, I really bonded with him."

And that bond is paying off in big ways as Ulka, a flyweight, adds more stand-up aspects to go with his already slick ground game, which is something Longo is excited to see come April 21 at UFC Fight Night 128 in Atlantic City, New Jersey.

"Sasaki has a very tough fight with Magomed Bibulatov, but I think he's really good and a pleasure to work with," Longo said. "I think if he stays on track, he's gonna make some waves."
---
By Daniel Vreeland