UFC 222: Bryan Caraway Talks Miesha Tate Breakup, Rob Follis' Death
UFC 222: Bryan Caraway Talks Miesha Tate Breakup, Rob Follis' Death
UFC bantamweight Bryan Caraway opens up on his breakup with longtime girlfriend Miesha Tate, the death of his coach Rob Follis, and more.
Mar 1, 2018
by Hunter Homistek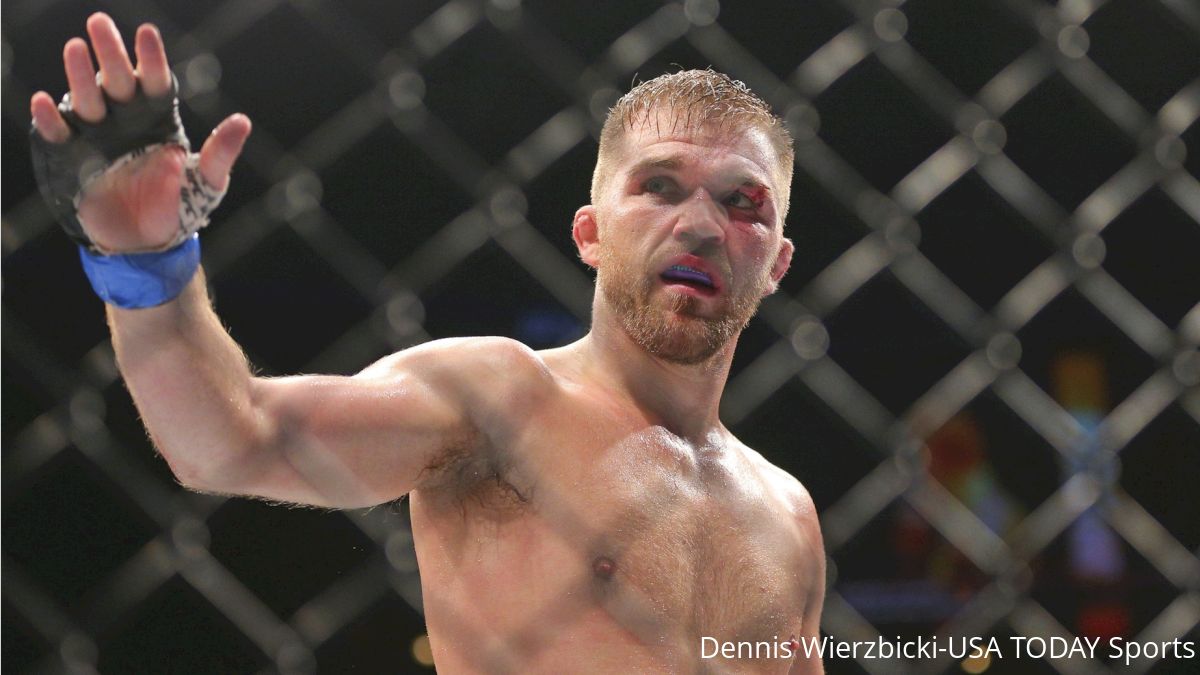 If you haven't heard much from UFC bantamweight Bryan Caraway for the past year, that's not by accident.
Caraway, who returns to action at UFC 222 this Saturday, suffered through a series of personal and professional struggles that forced him to reassess everything in his career from the relationships he keeps to the way he prepares for fights.
The long road of turmoil started after Caraway defeated Aljamain Sterling in 2016. Following the victory, it appeared Caraway was possibly just one win away from finally reaching title contention. He was matched up against Jimmie Rivera — who is undefeated in the UFC — in a fight that would have undoubtedly earned the winner a spot among the top five fighters in the world at 135 pounds.
That's when the bottom fell out from underneath Caraway.
"I had a torn labrum, I had a hurt shoulder," Caraway revealed when speaking to FloCombat ahead of UFC 222. "The pain wasn't even coming from my labrum. It was coming from the bicep tendon in my left shoulder, so I couldn't even use my left arm and my bicep was torn.
"We figured out why my bicep tendon tore, basically because my labrum wasn't there to support my shoulder. In mixed martial arts, everything we do is front-heavy loaded, everything is rolled forward, so what happened was my pecs and my biceps were pulling my shoulder, my labrum, out of socket. So I couldn't raise my arm."
The diagnosis from his doctor didn't land Caraway in surgery but instead in an extensive rehabilitation routine.
Thankfully, Caraway was able to take advantage of the new UFC Performance Institute in Las Vegas, where he did all his recovery work to finally prepare for his return to the Octagon.
This past December, the 33-year-old was booked for a fight against Luke Sanders, giving Caraway the opportunity to re-establish himself in the division to hopefully make a serious run at title contention in 2018.
About a month before the fight, Caraway says he caught a stomach virus that tortured him for weeks. His bowels were twisted up like a pretzel, and to make matters worse, Caraway then caught a case of the flu that knocked him down and out for over a week.
As if that wasn't enough, Caraway then suffered a knee injury after he popped his lateral collateral ligament (LCL), setting him back even further.
Through all of that, Caraway still wanted to fight. However, he says the knee injury stopped him from running, and that would have prevented him from making weight.
"On fight day, I would have been able to fight," Caraway said. "But I wasn't able to run for two weeks, which means I couldn't make weight. I'm not the guy who's going to show up four pounds overweight."
The constant string of injuries stopped Caraway from fighting, but that was only compounded by a series of personal issues that started to chip away at him as well.
Caraway fought his entire UFC and WEC career alongside his former girlfriend Miesha Tate, who was a star fighter in her own right, and the two of them shared a very public relationship.
From coaching together on "The Ultimate Fighter" to always being in each other's corners, Caraway and Tate were in many ways the most recognizable couple in all of mixed martial arts.
Sadly, after spending several years together, the relationship fractured and broke, which was just one more misfortune that fell on Caraway's head at the worst possible time.
The spotlight that was constantly on their relationship took its toll, which is part of the reason why Caraway stepped away from public life after their breakup.
"Obviously, Miesha and I were one of the most public relationships, not only in MMA but in all of sports," Caraway said. "She was the champ of the world, I was a top-five fighter, we both came from nothing. It's not like she was a top, world-class fighter and I was a world-class fighter and we met up. We both came up from nothing, from the same place, and that was always tough. I think that ended up being kind of our demise, being young and going through all that, not knowing how to handle all of that. It creates a lot of problems and resentment and it stacks up.
"You make mistakes when you're young, and sometimes it's hard to come back from it. Just being in the public eye really put a strain on our relationship and it put a lot of strain on my personal life. As you guys can probably see, that's why I fell off social media. I haven't posted much in the last year and a half. To me, my peace of mind and well-being and getting ready for the fights was my only focus."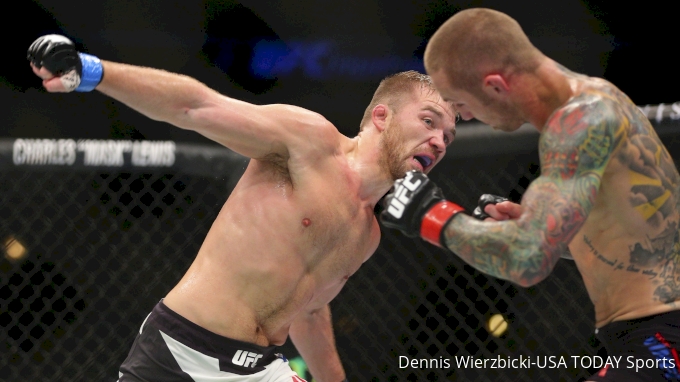 Photo Credit: Dennis Wierzbicki-USA TODAY Sports
The personal problems with his relationship then bled over into his professional life after the tragic loss of former Xtreme Couture head coach Robert Follis this past December.
Caraway was 18 years old when he first met Follis, and the two had become close over the past few years as coach and student. Follis and Caraway had even teamed up to work with fighters at the UFC Performance Institute after the coach split with his former team at Xtreme Couture.
Follis' death shocked everybody close to him, including Caraway, who saw his coach as a friend, a mentor, and an example of who he aspired to be one day.
"Coach Follis knew the difference between teaching people and coaching them. I learned a lot from him," Caraway said. "We had a really good team built up at the UFC [Performance Institute], a lot of good guys were working there after Robert left [Xtreme Couture]. I still love Xtreme Couture, but a lot of guys followed him out. Now that he passed away, a lot of guys looked towards me — so much talent that's coming up and I kind of took up the position and said, 'Hey, Coach Follis is gone, but let's keep this going for him.' I've been training every morning and coaching every night.
"They say you die twice in life — once when they put you in the ground and once when they stop saying your name. I don't think anybody is ever going to forget Robert Follis' name. He was such a huge influence in my career and my own coaching ability."
Going through all of that wasn't easy, but Caraway refused to let it keep him down. Despite the series of hardships, Caraway was always looking for the light at the end of the tunnel until he finally found it.
"When they say it rains, it pours, and that was definitely holding true for me," Caraway said. "The only thing I could think of when something bad would happen, I would think: this is it. [There] can't be this many more bad things happening. Everything is like a roller coaster. I've been on the downside for a while, so shit has to start rising.
"That's how life is. It's ups and downs."
The payoff for Caraway comes on Saturday night when he finally gets to resume his fight career with a matchup against Cody Stamann at UFC 222 in Las Vegas.
Caraway isn't going to make some wild prediction in an attempt to promote his return to action, nor is he in the business of disrespecting his opponent for the sake of a better headline.
Instead, Caraway is staying positive, and that means showing respect toward Stamann and staying focused on what truly matters most to him:
Winning.
"I have a tough opponent. He's scrappy. He's undefeated in the UFC. I couldn't be more excited," Caraway said. "Things are finally looking up. I've had so much bad luck and misfortune that I feel like this is the way to turn it around.
"I fought for too long to become relevant to just fall off. I'm pumped to get back in there."
---
By Damon Martin