Pearl Gonzalez On UFC Release, Invicta FC Debut vs. Kali Robbins
Pearl Gonzalez On UFC Release, Invicta FC Debut vs. Kali Robbins
Former UFC strawweight Pearl Gonzalez discusses her upcoming Invicta FC 28 matchup March 24 vs. the undefeated Kali Robbins and more.
Feb 27, 2018
by Hunter Homistek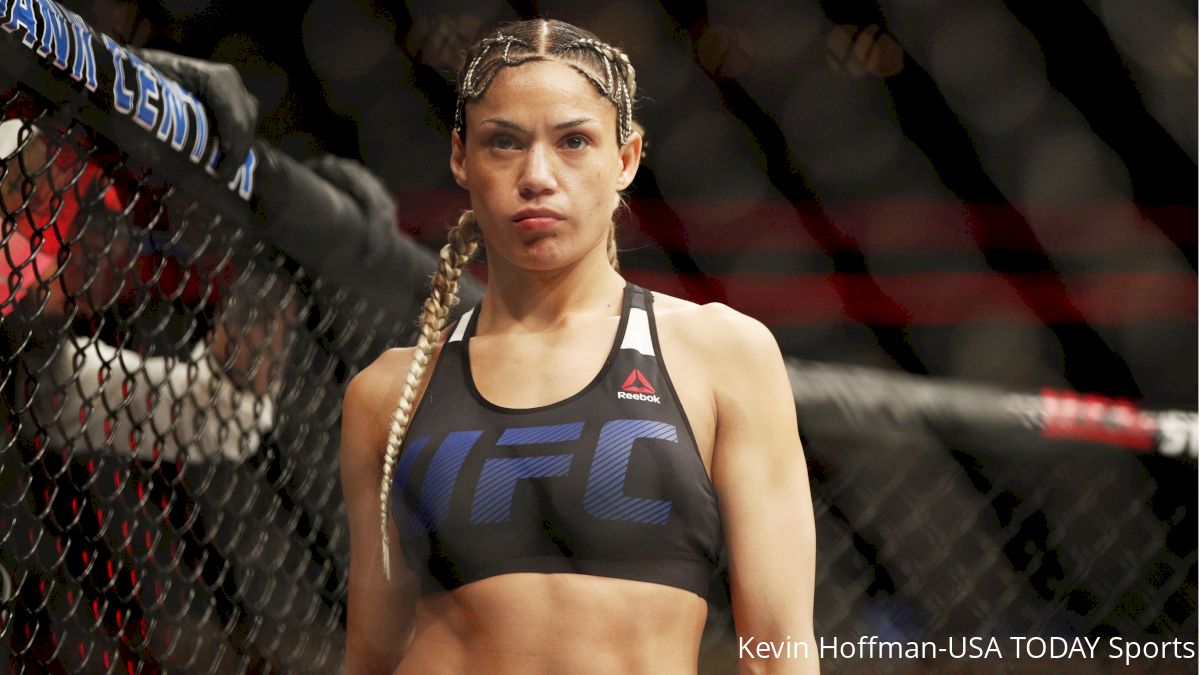 Former UFC strawweight Pearl Gonzalez had quite the interesting 2017.
The Chicago native made her UFC debut at UFC 210 against Cynthia Calvillo in April, but the experience was far from a smooth one.
The fight almost got pulled by the New York Athletic Commission during the weigh-ins due to a controversial rule but ultimately was permitted to happen, resulting in a third-round submission defeat for Gonzalez.
Gonzalez's next fight took place in April, as she took on Poliana Botelho at UFC 216. Gonzalez would again find herself on the losing end, this time via unanimous decision.
"I think mentally I had a tough time allowing myself to get comfortable and just show my skills," Gonzalez told FloCombat. "I think I allowed the pressure of the big lights and the stage and being on the big show affect my performance.
"Obviously, when you're not mentally there, it will show up physically. For me, that's where I was in that fight. It was a mental mishap."
Unfortunately for Gonzalez, the loss would result in her being released from the UFC that December. The general consensus was that Gonzalez wasn't quite ready for the highest level just yet. Although she had the potential and the marketability to make it far, she lacked the experience, having only fought seven times prior to her UFC signing.
But Gonzalez doesn't see her release as a bad thing.
"I'm blessed. I got to the highest level of this sport and that's what I'm here to do," Gonzalez said. "I'm here to get to the highest level and challenge myself. I think that this is a learning experience and a journey and I'm enjoying the ride. Every setback, every failure is a blessing in disguise, and I'm blessed to be here today to continue and work toward that."
Gonzalez wasn't hung out to dry after her release. The UFC offered her the chance to sign with the biggest women's MMA organization in the world, Invicta FC, an offer the promotion also extended to Angela Hill. After winning four straight under the Invicta banner, Hill is now back in the UFC, where she's competed four times since that initial release.
Now, they've done the same for Gonzalez.
"(UFC matchmaker) Sean Shelby loves me and wants to see me get some more work in, which I agree with," Gonzalez said. "I know I'd like to get some more experience in there and get more comfortable in the Octagon under the big lights. My goal is to be back in the UFC by the end of this year."
Funny enough, fighting for Invicta was one of Gonzalez's goals even before this happened.
"(Invicta FC President) Shannon Knapp is amazing. I've always wanted to fight for her and it just worked out perfectly," Gonzalez said. "I'm so excited to fight for Invicta. It was actually one of my dreams to fight for their show. So this is such a great opportunity for me."
After signing with Invicta, Gonzalez decided to take a trip to Thailand in order to improve her Muay Thai.
"I was in Thailand for a month working on my Muay Thai and striking," Gonzalez said. "I was just looking to add to my arsenal."
The trip ended up being extremely beneficial, as she got to learn and improve not only as a fighter but also as a person.
"It was amazing, it was very humbling," Gonzalez said. "It was a culture that I got to experience and I got to go to temples and learn about how the Thai people look at Muay Thai and how it's an honor to compete. I met some amazing Muay Thai coaches. It was such a blessing.
"I definitely came back from it a better woman."
Now back from Thailand, Gonzalez meets Kali Robbins (5-0, all finishes) at Invicta FC 28 on March 24 in her promotional debut.
"I think she's really tough," Gonzalez said. "I'm really excited for this matchup. I think that she obviously likes the ground and the grappling game, which is something that I love and is really dear to my heart. I'm excited for it. I'm up for the challenge, and I'm ready to show the world my skills.
"I think I match up really well," Gonzalez continued. "I think I, myself, am a grappler as well, although I've been working really hard on my striking. I look forward to showcasing my striking and my wrestling defense in this fight."
Gonzalez's prediction for the fight remains simple and feasible.
"A finish."
---
By Lucas Grandsire