Daniel Cormier Calls UFC 226 Bout vs. Stipe Miocic 'The Biggest Of My Life'
Daniel Cormier Calls UFC 226 Bout vs. Stipe Miocic 'The Biggest Of My Life'
UFC light heavyweight champion Daniel Cormier discusses exactly what it means to have the chance to make history when he faces Stipe Miocic at UFC 226.
Feb 22, 2018
by Hunter Homistek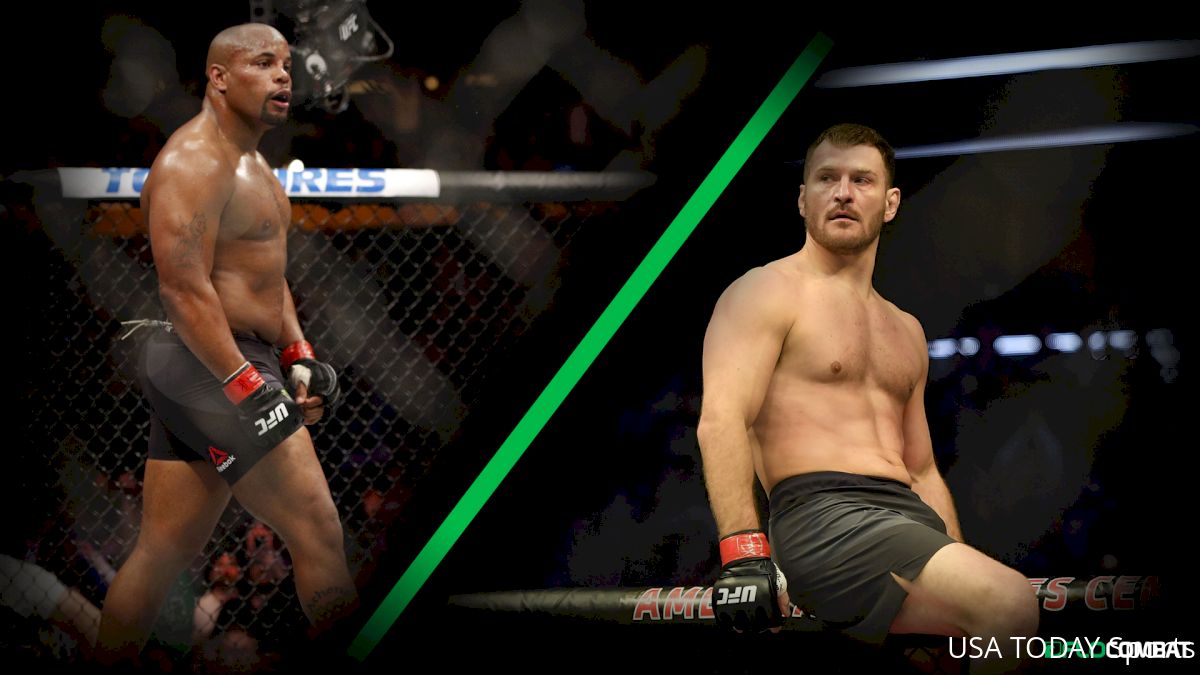 Daniel Cormier is no stranger to being a part of monstrous cards.
The reigning UFC light heavyweight champion has engaged in a pair of huge, marquee battles against Jon Jones, with both of those events being among the best-selling pay-per-views in the promotion's history.
Cormier was also supposed to headline UFC 200. After Jones fell off the card, however, Cormier ended up fighting in a short-notice bout against one of the greatest fighters of all time when he defeated Anderson Silva back in 2016.
Add to that, Cormier has won the Strikeforce Heavyweight Grand Prix, he's competed at the Olympics, and he's defended his UFC title on three different occasions.
But none of those moments holds a candle to what he's about to do in July.
At UFC 226, Cormier will return to the heavyweight division for the first time in nearly five years to challenge UFC heavyweight king Stipe Miocic in a super fight between the champions of the two biggest weight classes in the promotion.
Of course, Cormier doesn't want to downplay the importance of his past accomplishments or the gravity surrounding a pair of matchups with Jones. Still, Cormier says his upcoming fight against Miocic is on another level.
"This is the biggest fight of my life," Cormier told FloCombat. "This is the biggest fight I've ever been in. I have played a major part in some of the biggest fights in the UFC. I mean I was at UFC 182, I was a big part of UFC 200, supposed to headline it, was a massive part of UFC 214, and now this one. I have been involved in some of the biggest moments in this sport's young history and I'm so happy about it and honored to be put in those positions.
"The UFC must trust me to put me in those positions over again, over again, knowing that I'm going to show up and I'm going to do my thing."
Cormier knows there's a significant risk in returning to heavyweight even though he was undefeated there for the first 13 fights of his career.
As the light heavyweight champion, Cormier could have easily taken a rematch against former opponent Alexander Gustafsson later this year and held out hope that he could get a third fight against Jones, who is currently under suspension after testing positive for steroids following their last encounter in July 2017.
Instead, Cormier believes that moving back to heavyweight and winning a second title while becoming only the second fighter in UFC history to hold two belts simultaneously (the other was Conor McGregor) is worth the gamble.
"You don't get those opportunities. These are so rare," Cormier said. "The chance to do something historic. The ability to accomplish something that when I'm done, I will leave this behind. My kids, my son, my daughter, will always be able to go back and look back to July 7, 2018, and say 'That was the night my dad made history.' That was the night that my dad etched his name in stone and became a part of the history books. Those opportunities are too big to pass up.
"Once my teammates and coaches all said, 'Hey, let's do it. We're going to dive headfirst into this thing,' I was like, 'You know what guys? Let's go. Let's go try to be great.'"
In fact, this fight reminds Cormier of one of his favorite wrestling tournaments that took place in Russia. While the competition adhered to weight classes in its early rounds, by the end, only the best man was left standing.
"I remember when I was wrestling, I went to Russia because they put on this tournament — they take the top eight guys from 211 [pounds] and put them in a tournament and then they take the top eight guys from heavyweight and put them in a tournament," Cormier said. "The two winners wrestled for the throne of baddest man on the planet.
"This is the same type of thing."
---
By Damon Martin