UFC 222: Cris Cyborg vs. Yana Kunitskaya
Cris Cyborg Not Ruling Out Amanda Nunes For UFC 226
Cris Cyborg Not Ruling Out Amanda Nunes For UFC 226
UFC champion Cris Cyborg plans to handle business March 3 at UFC 222 -- then she's looking for a super fight vs. Amanda Nunes in July.
Feb 19, 2018
by Hunter Homistek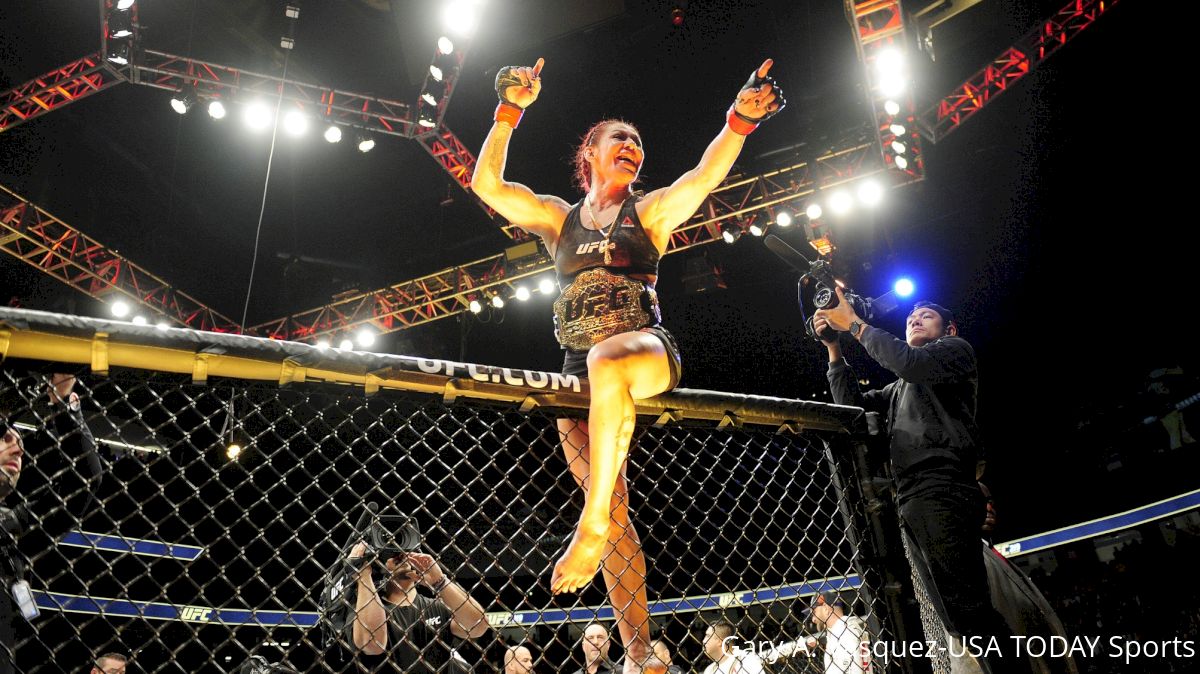 Cris Cyborg didn't hesitate when the UFC asked her to defend her featherweight title on essentially three weeks' notice. A main event was needed for the upcoming UFC 222 pay-per-view card on March 3 in Las Vegas, and Cyborg answered the call.
In fact, Cyborg knows there probably aren't many champions in any organization who would take that kind of risk, but she was ready and willing to save the day when UFC 222 desperately needed a main event.
"There are not a lot of fighters who are willing to put their championship belt on the line with three weeks' notice," Cyborg told FloCombat. "I am hoping that my actions will show the UFC that I am willing to do what is good for the company and that because of this we will see me get a little bit more of the marketing and exposure I have been campaigning for."
Now Cyborg's willingness to step into a main event on short notice helped the UFC stave off a potential cancellation of a pay-per-view card, but it may have also put a knife into an even bigger fight that was on the horizon for the top fighter in all of women's mixed martial arts.
Rumors had been swirling for weeks that Cyborg was going to meet UFC women's bantamweight champion Amanda Nunes in a super fight later this year that would pit two of the best fighters in the sport against each other.
At the time, the matchup made sense, with Cyborg already dispatching arguably her toughest challenger in Holly Holm while Nunes was still waiting on a new No. 1 contender to emerge while Raquel Pennington nursed a broken leg.
Now, however, it seems with Cyborg fighting in March, Nunes may end up being booked for UFC 224 in May with Pennington expected to be ready to go by that time to offer her a new title challenger.
Despite all those potential roadblocks, Cyborg says she plans to win at UFC 222 and then is more than willing to face Nunes a few months later.
"I have heard Amanda Nunes is fighting Raquel Pennington in Brazil," Cyborg said. "I think she still has fights in her division, especially with Cat Zingano facing Ketlen Vieira at UFC 222 to establish the next No. 1 contender at 135 pounds; however, I know the UFC and Amanda have been asking for this fight and have accepted it with my manager, who is now working on making it happen.
"I am hopeful that if we both win our next fights impressively it can happen at UFC 226."
In fact, Cyborg loves the idea of sharing the UFC 226 card with the main event already set as heavyweight champion Stipe Miocic takes on light heavyweight champion Daniel Cormier in the headline fight July 7.
Another champion vs. champion matchup had also been rumored for that same card, with flyweight champion Demetrious Johnson taking on bantamweight king TJ Dillashaw.
Cyborg would love nothing more than to be a part of that kind of huge show.
"I think we are seeing the UFC put together three to four really big pay-per-views a year," Cyborg said. "And if we were able to put a mega-card with essentially six world championships on the card, it would be something historic, something of a flashback to the old-school days.
"It would be the true definition of an ultimate fighting championship."
---
By Damon Martin