By Martial Arts Mindset for FloCombat
---
I don't need to sell anyone on the importance of having a clear, focused mindset in martial arts.
Simply put, it's an absolute must and a well-trained mindset separates the good from the great competitors. Jiu-jitsu legend and three-time ADCC champion Ruben "Cobrinha" Charles says competing is 90 percent mental.
If that's the case, why is it that we train almost 100 percent physically? That gap will cause a number of performance issues that are called "mindset red flags." These are factors that hold fighters and grapplers back from performing to their potential, and unless they are addressed directly, they will not change.
The reason why mindset issues tend to repeat themselves is that most of us try to "outwork" these issues through physical training, or even worse, we just "talk" about them. If we just talked about striking, we wouldn't become a better striker. If we just talked about strength training, we wouldn't get stronger. If we just talked about doing jiu-jitsu, we wouldn't become a black belt.
We actually have to do those things to make changes, and mindset is no different. We must train it daily like any other aspect of our training.
The best way to deal with these red flags is to understand what they are and why they occur, then develop and practice solutions on how to fix them.
Here are five of the most common mindset red flags in martial arts and some basic strategies to conquer each one.
#1 – Better In Training Than In Competition
We all know people who are fierce competitors in training but cannot get the job done in competition.
When I interviewed Cobrinha, he said, "I see black belts that are lions in the academy but act more like domestic cats in competition, forgetting how to do basic technique."
Why is that?
There are many factors that play into this, such as confidence and pulling the trigger. However, this ultimately comes down to treating competition differently than training and making the competition special. Stop that.
When you break it down, competitions and fights are nothing more than live rolling or live sparring but with a referee who is simply there to keep score and maintain order.
Learn how to treat them the same, and you will remove a lot of nerves and doubt.
Actionable Advice: List ways you can make training more like competition and competitions more like training so they become one in the same. For example, if a ref is all that separates the two, one strategy would be to have someone (even yourself) keep score during your live rounds. Hold yourself to the same standards in practice as you would in your competition.
#2 – Giving Good Opponents (Or Competitions) Too Much Respect
Oftentimes when we compete against someone, we put too much weight into certain aspects of their game — where they train, their physical attributes, what their pedigree is, who they have defeated, if they beat you before, what they have won, etc.
Accolades and training backgrounds may make someone a good competitor, but that doesn't mean they're better than you are today. Predator competitors only focus on themselves and are not distracted by prey thoughts about their opponents.
Similarly, we tend to give too much respect to bigger competitions like World Championships compared to local grappling events or bigger fight promotions like the UFC/Bellator compared to the local promotions that earned you the contract.
Actionable Advice: When you get caught up in thinking about the credentials of your opponent, give counter examples of when you or people you know have beaten people with those credentials.
For example, if you're worried about fighting a kickboxer, remember the last time you (or someone similar to you) beat someone with a strong kickboxing background. If they've beaten you before, when's the last time you've avenged a loss? ADCC is no different than NAGA. The UFC is no different than the smaller professional fight promotion that earned you the contract. The objectives are exactly the same; they're just different venues.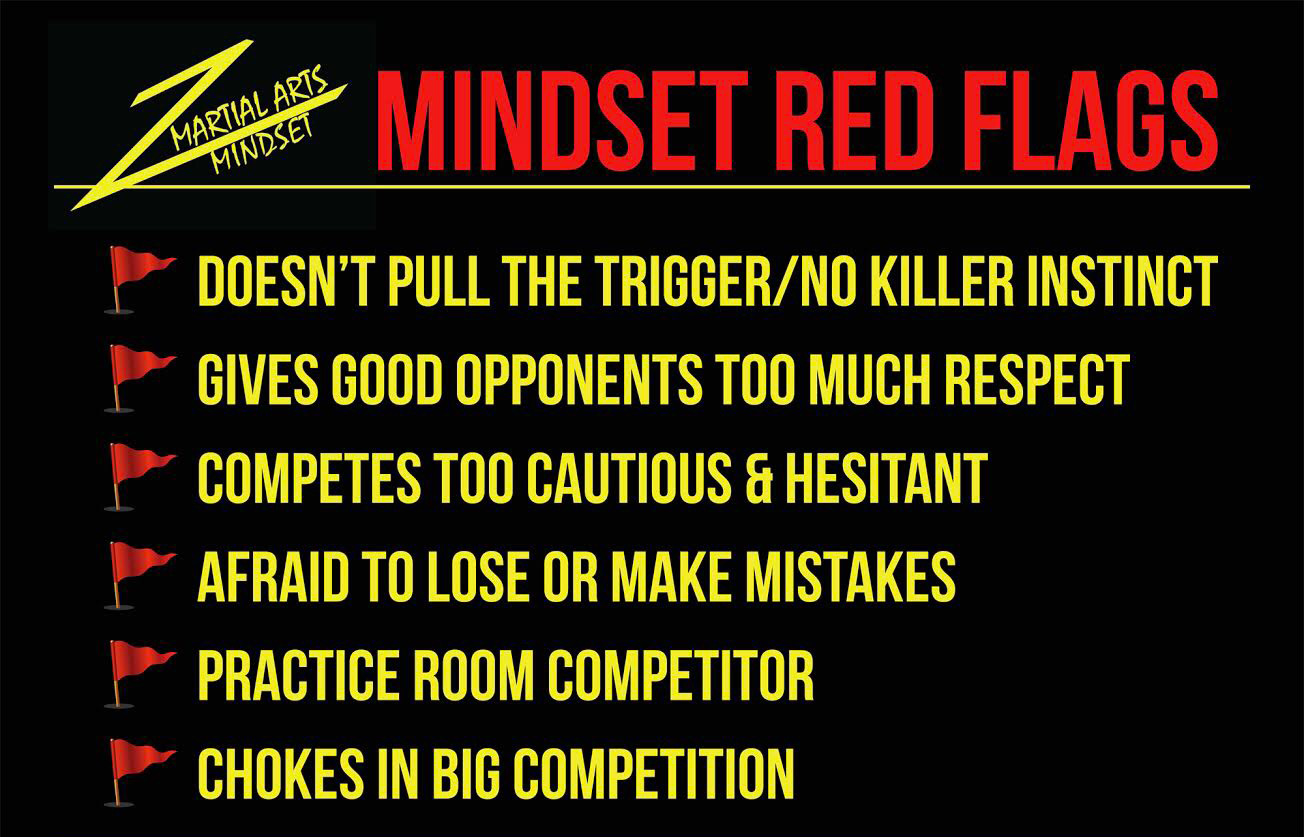 #3 – Pre-Competition Nerves/Anxiety
You can train for an entire six-to-eight-week fight camp just to lose all the hard work in the minutes and hours leading up to the fight because nerves and negative thoughts get the best of you.
Those fights are hard to watch because the fighters get dominated as a result of mentally shutting down. Jiu-jitsu and grappling can be even worse at times because you can train for months to compete in a major IBJJF or submission grappling event just to get knocked out in the first round via an advantage against a lesser competitor that you should have dominated. Your opponent didn't beat you; you beat yourself because your nerves and lack of prior mindset planning (defense mechanisms) outweighed your physical training.
Actionable Advice: Learn how to create a pre-fight routine to quiet your mind before competing. Doing the same exact routine before each fight or competition not only prepares your mind and body for battle, but it also helps you treat every opponent the same.
#4 – Fear Of Losing Or Making Mistakes
This is the No. 1 killer in any competitive sport: fear of failure or mistakes that will lead to it.
Focusing on the outcome (winning or not losing) will prevent a fighter from taking chances (pulling the trigger) in fear of giving up position or getting put in a bad position. If you don't take chances, you won't score points, let alone get the finish. A lot goes into this, from confidence to aggressiveness to killer instinct. However, it boils down to one thing: Are you focused on the outcome or on your performance?
Actionable Advice: Focus on what you can control in a fight — your performance. Specifically, focus on your effort, your attitude, and your aggressiveness. Focus on your performance and the outcome takes care of itself. Focus on the outcome and you lose sight of your performance.
#5 – Doesn't Pull the Trigger/Lack of Killer Instinct
Pulling the trigger breaks down into three key components: clarity, confidence, and aggressiveness.
Clarity — Do you know know what you're best at?
Confidence — Do you believe your best moves will work on anyone you fight?
Aggressiveness — Can you be relentless and take chances without fear of losing or making mistakes? Do you possess the killer instinct?
Actionable Advice: If you want to take chances and pull the trigger in competition, make sure you are pulling the trigger in training constantly. You will compete how you train, so make sure your training reflects what you want to accomplish when you compete.
Stay tuned to FloCombat's future articles to break down in detail how we can turn these struggles into strength, learn how to develop a predator mindset, and maximize our potential in the cage and on the mats.
NEXT WEEK — Learning How To Develop The "Predator Mindset"