UFC 221: AKA Coaches Promise No Beef With Luke Rockhold
UFC 221: AKA Coaches Promise No Beef With Luke Rockhold
AKA coaches Javier Mendez and Bob Cook break down Luke Rockhold's UFC 221 main event vs. Yoel Romero.
Feb 10, 2018
by Hunter Homistek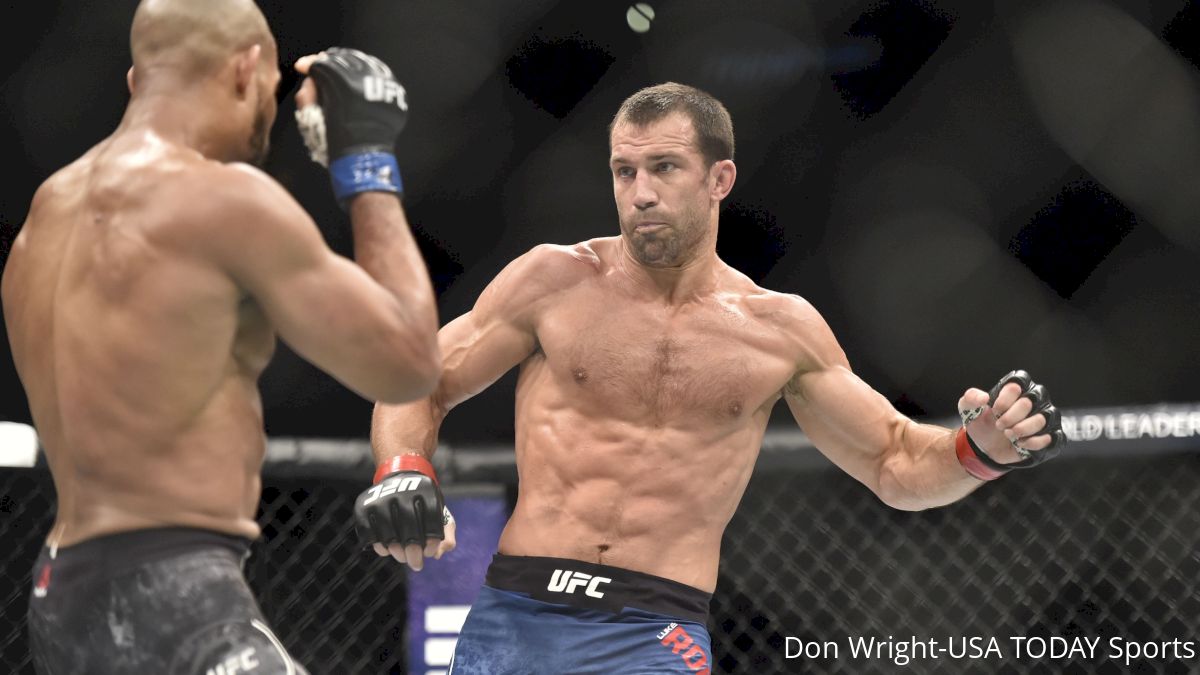 On Saturday night, Yoel Romero and Luke Rockhold will go head-to-head in the main event of UFC 221 in Perth, Australia.
The bout was originally scheduled for the interim middleweight championship, but after Romero missed weight, only Rockhold is eligible to win the title.
It is the promotion's debut event in Perth.
Ahead of the pay-per-view matchup, American Kickboxing Academy trainers Javier Mendez and Bob Cook joined Submission Radio for a wide-ranging interview that touched on what they expect from Rockhold when he enters the cage.
"It's going to be one of the methodical type of fights that, if Yoel doesn't get that lucky strike in -- well, we shouldn't call it lucky because he meant to do it, but that's his only chance," Mendez said. "He's not going to out-point Luke, and he's not going to out-grapple Luke. He can wrestle Luke, but this isn't wrestling. This is MMA."
Cook added, "Something that people don't understand is, when you're in there with Luke, he is so long. And he gets those kicks going and gets moving, I think it's just going to be a methodical, picking him apart [type of fight]."
In recent months, Rockhold has been training in Florida at Hard Knocks 365 to round out his game. That has led to some speculation that there could be tensions between Rockhold and AKA, but Mendez reassured everyone that there are no hard feelings between the former titleholder and the camp.
"With Bob and myself, Luke is AKA, always will be forever. It doesn't matter where he trains. He's in our hearts. He's AKA through and through. We love Luke. We're going to be here supporting Luke whether we're here training Luke or whether we're here just supporting him. But if we're not going to work the corner, we're going to stay home and watch him. *laughs* We ain't coming all the way over here. But Luke needs us, and we're going to be here for him always," Mendez noted.
"There's never been an issue, never will be an issue. Luke's fantastic. He let us know way in advance what was going on, so Luke told Bob and I personally that he was going to do his thing over there, but we're always going to be with him and he's held true to his word. He's always done what he said."
Rockhold was initially set to face off against middleweight champion Robert Whittaker in the main event. However, Whittaker was pulled from the bout after a series of medical issues and replaced by Romero while the interim tag was placed on the fight.
Despite less than one month to train for a new opponent, Cook expects a good fight and knew the matchup would eventually take place.
"It's still the title. Yoel Romero is a very dangerous opponent. It's a good fight. Luke's going to have to fight Yoel regardless. If he fought Whittaker, the next fight would be Romero," he said. "He's that caliber of an athlete, and we're just getting it done now."
Whittaker is known for his impressive stand-up, while Romero won the silver medal at the 2000 Sydney Olympics in freestyle wrestling.
Even though the two men are very different stylistically, Mendez is confident that Rockhold would walk out of the Octagon with the belt around his waist regardless of the opponent.
"It's hard to say because they both have different strengths. Yoel is very explosive, great wrestling, but Whittaker is good everywhere and a very dangerous striker," Mendez explained. "They're both different, but the thing is with Luke, Luke's good everywhere. So Luke can finish those guys in every department, where they can't. They can't finish Luke everywhere. They can't finish Luke on the ground. They can't do this with Luke. Luke can do that to anybody. So he's the more well-rounded of the two and he can finish the fight anywhere with both those guys. That's where I think we have the advantage. Luke's mind is very sharp, and he believes that's exactly what he can do -- finish it anywhere. And he can."
Rockhold (15-3) enters the bout on the heels of a submission victory over David Branch at UFC Fight Night 116 in Pittsburgh back in September. His previous outing was a knockout loss to Michael Bisping at UFC 199, where he lost the middleweight title.
Romero (12-2), meanwhile, is entering his second consecutive interim title fight. At UFC 213 in July, he lost a unanimous decision to the current champion. He will be looking to put Rockhold away to secure the Whittaker rematch for the undisputed belt.
---
By Josh Sanchez