Randa Markos On Camp Changes: 'I Wasn't Getting Enough One-On-One'
Randa Markos On Camp Changes: 'I Wasn't Getting Enough One-On-One'
UFC strawweight Randa Markos discusses her decision to leave the renowned Tristar gym in search of more personal training.
Feb 9, 2018
by Hunter Homistek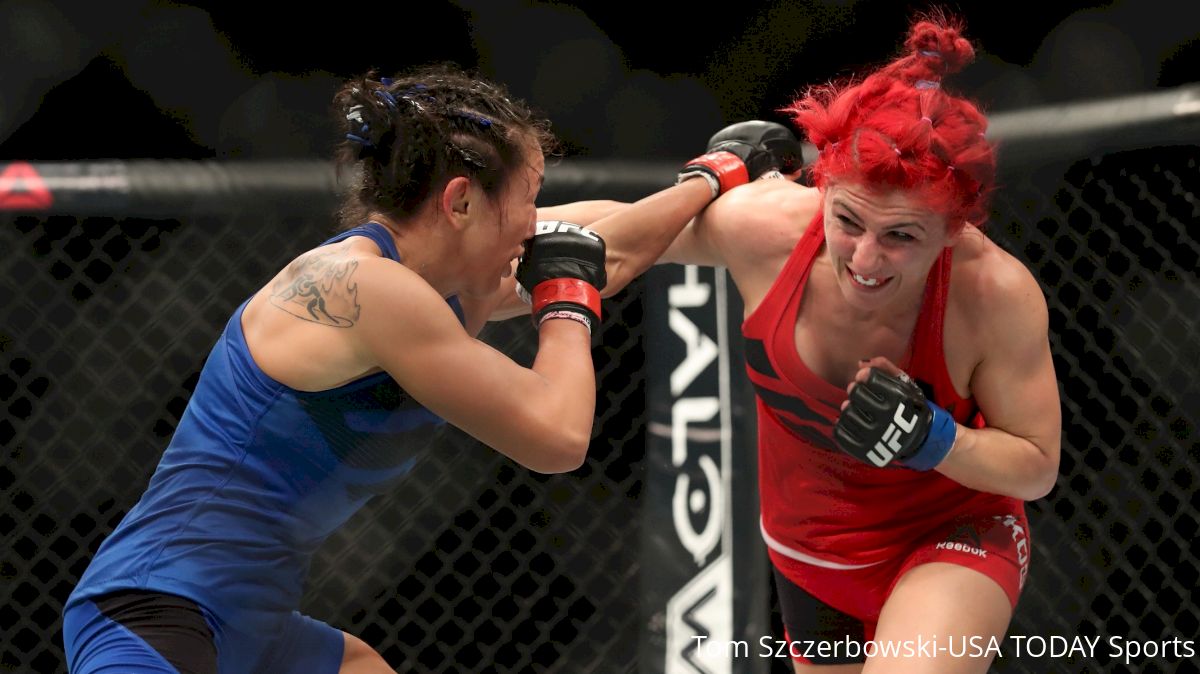 When young MMA prospects suffer setbacks early in their careers, fight fans and pundits alike oftentimes call for them to move to a big, powerhouse gym to work with the sport's best.
Just after his recent loss at UFC Fight Night 125 in Belem, Brazil, for example, Eryk Anders was invited to work with UFC welterweight champion Tyron Woodley.
Is this always the answer to the problem though?
According to UFC strawweight Randa Markos, it is not.
In her interview with the Top Turtle MMA Podcast on FloCombat, Markos broke down her thought process for training and explained why she now prefers to work with smaller camps.
"Since my fight with Carla Esparza (in February 2017), I've really changed things around and took control of my own camp," Markos said.
And that approach involves relying less on others telling her what she needs to improve and more on her seeking the training she believes she needs.
"I really depended on coaches telling me what to do in the past... Lately, I've been focusing on myself and telling myself what I need to do and telling coaches what to teach me," she said. "I feel like I'm doing things right now and I'm on the right track."
The proof is in the results. Since switching to this method, Markos is 2-1, with wins over Carla Esparza and Juliana Lima, whom she defeated just a couple weekends ago at UFC on Fox 27 in Charlotte, NC.
The only loss during that stretch came in August against Alexa Grasso via split decision, a fight which Markos believes she won.
Regardless of the result in that fight though, Markos thinks the move is helping her get the coaching attention she needs to continue succeeding, something she found lacking at her old home.
"I wasn't getting the attention [I needed]. Being at a big gym, there's so many people, especially in a gym like TriStar… everybody needs the attention," Markos said of her time at the renowned Canadian gym. "You end up being pushed aside a bit."
But don't take Markos' words the wrong way. She appreciates the time she spent with Firas Zahabi's team but just doesn't see that as the right environment for her growth.
"You can't blame the gym," she said. "There [are] so many talented people there that are focused on themselves, but I felt like I wasn't getting enough one-on-one [time] and enough focus on one specific fight."
Now, she travels between gyms, seeking specific training at each stop — boxing work with a specific boxing coach, jiu-jitsu work with a jiu-jitsu coach, and another coach who sets up sparring for her.
As a result, Markos finds it easier to focus and easier to make quick progress.
"You don't get the best wrestling at an MMA gym. You don't get the best jiu-jitsu in an MMA gym. It's an MMA gym, you're not really focused on each thing," she said. "It's a lot more clear working with the best people with what they do best."
---
By Daniel Vreeland