Tyron Woodley vs. Nate Diaz Is Fun — But It's All Wrong
Tyron Woodley vs. Nate Diaz Is Fun — But It's All Wrong
It sounds like Tyron Woodley vs. Nate Diaz is going to happen -- but should it? FloCombat's Hunter Homistek sounds off.
Feb 7, 2018
by Hunter Homistek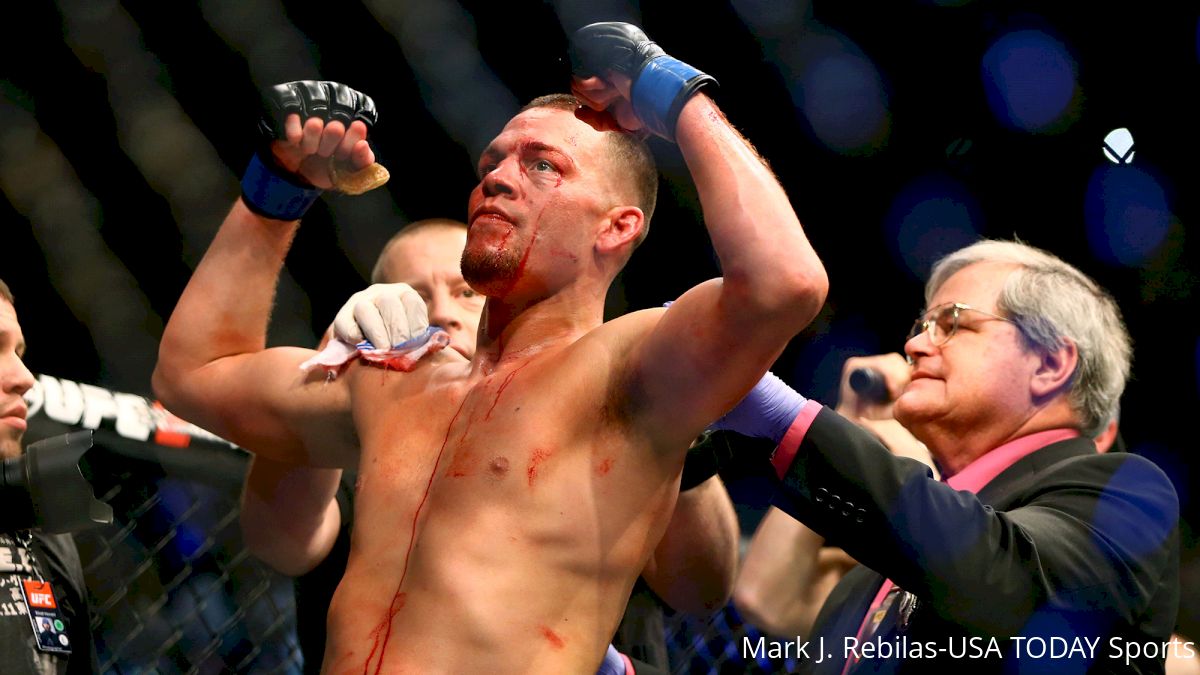 It sounds like Tyron Woodley vs. Nate Diaz will go down this summer, most likely at UFC 225 in Chicago or at UFC 226 in Las Vegas.
Woodley wants the fight.
"I think I'll fight Nate this year, and I think it will be my return to the Octagon," Woodley told ESPN's Brett Okamoto this week. "If I had to bet the house on it, that's my next opponent."
Diaz echoed those sentiments.
"I put that tweet out saying I wanted to fight in May or June, but I didn't say who because I was weighing my options. And now, Woodley is my best option," he told Okamoto.
Let's first remain positive.
Woodley vs. Diaz carries serious appeal at the box office.
Woodley, the UFC's welterweight champion, hasn't lost since 2014, and he's defended his title twice since knocking out Robbie Lawler at UFC 201 (a third title defense ended in a title retention via majority draw vs. Stephen Thompson at UFC 205).
And Diaz? Well, he's Nate Diaz.
The Stockton bad boy hasn't fought since a close majority decision defeat vs. Conor McGregor at UFC 202 in August 2016, but his star power has only grown since then.
His back-to-back bouts against McGregor were legendary both in their build-up and in their execution, and they rocketed Diaz into the mainstream. At one time, UFC President Dana White said Diaz "is not a needle mover" (h/t/ MMAFighting).
Now, Diaz is one of the few fighters on the UFC's roster who can force you to bust out the wallet and pay up.
A bout between Diaz and Woodley would check some boxes where variables like "gate," "pay-per-view buys," and "social media impressions" are concerned. It'd generate some serious attention.
But for what?
Diaz is a natural lightweight. Woodley is a tank of a welterweight.
Yes, Diaz most recently competed at welterweight, but that was against McGregor, who is a natural lightweight himself. Those were fights between two guys who didn't want to cut weight, not matchups between two 170-pound fighters.
Diaz has competed six times at welterweight during his UFC career. He's 3-3 in those bouts, defeating Rory Markham, Marcus Davis, and McGregor and losing to Rory MacDonald, Dong Hyun Kim, and McGregor in a rematch.
Big, powerful, grappling-centric welterweights give him fits. He can handle smaller, striking-first welterweights.
Woodley is decidedly in the former camp.
The UFC champion is arguably the hardest-hitting fighter in the division, and his Division I wrestling background is always at the ready. Diaz struggles against strong, stifling wrestlers.
Furthermore, Woodley has shown an ability to use leg kicks against a rangier, striking-centric opponent. He used the technique perfectly vs. Carlos Condit, and Diaz has failed to successfully defend low kicks throughout his career.
If you went into a laboratory to construct the worst possible opponent for Diaz, he would look a whole lot like Woodley.
So... what's the point?
Woodley is the welterweight champion, and the division boasts at least three reasonable contenders in Colby Covington, Rafael dos Anjos, and Stephen Thompson. If Georges St-Pierre can get his health straightened out and plan a return to the cage, he makes four.
I'm not his friend, family or anything close. I'm his foe. Could give a care less about his patience. I'll deal with him after I finish my scrap with @NateDiaz209 go fight Qweefington if you are impatient and bored https://t.co/Yh4ZS7BGTi

— Tyron T-Wood Woodley (@TWooodley) February 7, 2018
Diaz represents a cash grab and nothing else.
The UFC will arrange it. It will promote it. We'll read endless headlines about it. We'll watch feature after feature, interview after interview.
And then we'll buy it.
...And then the UFC will do it again — because we're MMA fans, and we just never learn.