Tyron Woodley Says Fight vs. Nate Diaz Is Being Discussed For July
Tyron Woodley Says Fight vs. Nate Diaz Is Being Discussed For July
UFC welterweight champion Tyron Woodley says the UFC has attempted to arrange a matchup vs. Nate Diaz in July.
Feb 6, 2018
by Hunter Homistek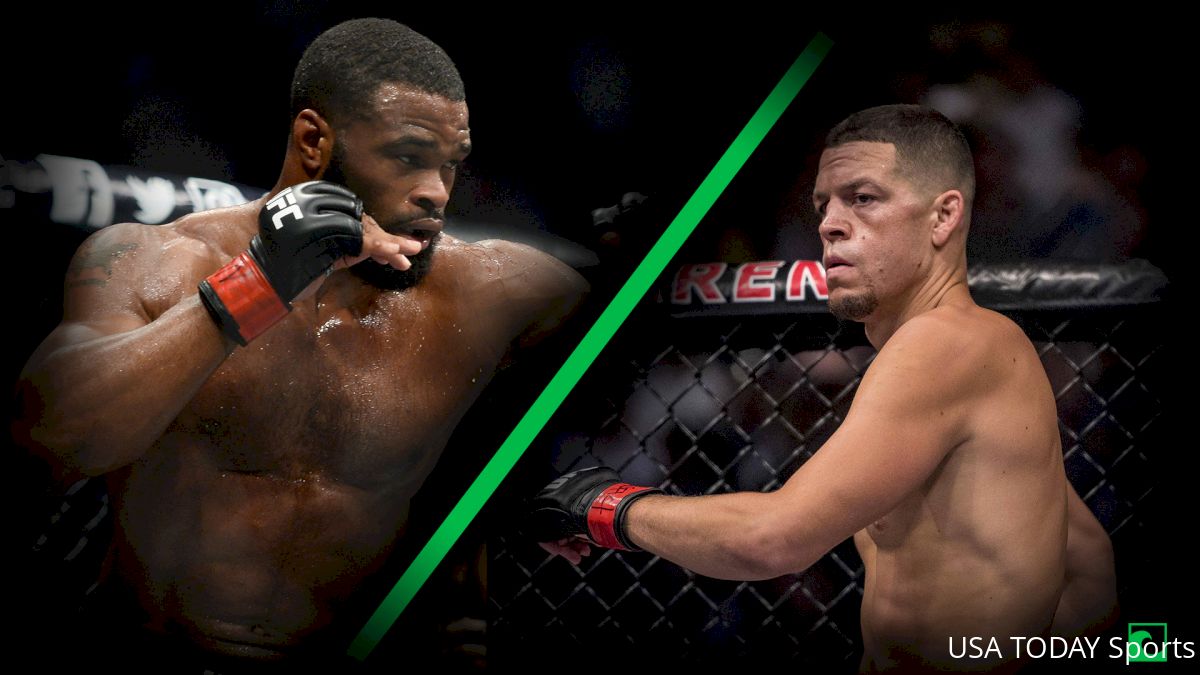 In the sport of mixed martial arts, nothing should come as surprising. But when Nate Diaz vs. Tyron Woodley rumors started to surface late last year, it was safe to say fight fans were caught off guard.
That bout never materialized, however, as UFC women's featherweight champion Cris Cyborg and former bantamweight champion Holly Holm were brought in to save the day at UFC 219 on Dec. 30.
Many believed Woodley vs. Diaz would be tabled for good — that is, until Tuesday morning. In an interview with ESPN, Woodley spoke about his recovery from recent shoulder surgery and indicated the matchup is alive and well, at least in the UFC welterweight champion's mind.
"I think that fight [vs. Diaz] will happen," Woodley told ESPN's Brett Okamoto. "I think it will happen this year. I think it's way more likely than people realize. There are conversations about Nate and I fighting in July. The UFC has offered Nate that fight. They just have to make it worth his while.
"I think I'll fight Nate this year, and I think it will be my return to the Octagon. If I had to bet the house on it, that's my next opponent."
As for Diaz, all signs point toward a potential comeback in the welterweight division, sooner rather than later. Diaz has openly expressed his interest in fighting once again but will only do so for the right price, and against the right opponent.
In an interview earlier this month, UFC President Dana White told the LA Times that Diaz would be more interested in returning to welterweight than lightweight.
Open to the possibility of a catchweight bout, Woodley is looking beyond belts. He feels a potential bout against Diaz is a must for him in order to achieve the type of legacy he wants to live out.
"I just want to do something that's going to push me forward career-wise or push my legacy," Woodley told ESPN. "I need super fights and I need to continue to knock off these rising contenders. I've been fighting the best of the best since Strikeforce. It's not like I'm asking for anything that I haven't paid my dues for. I had to earn this position the hard way."
You never know what you're going to get when a Diaz brother is involved in negotiations, but according to Woodley, things seem to be moving in the right direction.
---
By Nolan King