Derrick Lewis Says Francis Ngannou 'Got To Have A Body Like Me' To Survive
Derrick Lewis Says Francis Ngannou 'Got To Have A Body Like Me' To Survive
UFC heavyweight Derrick Lewis discusses a potential clash with Francis Ngannou -- and it's a fight he says he wants.
Feb 5, 2018
by Hunter Homistek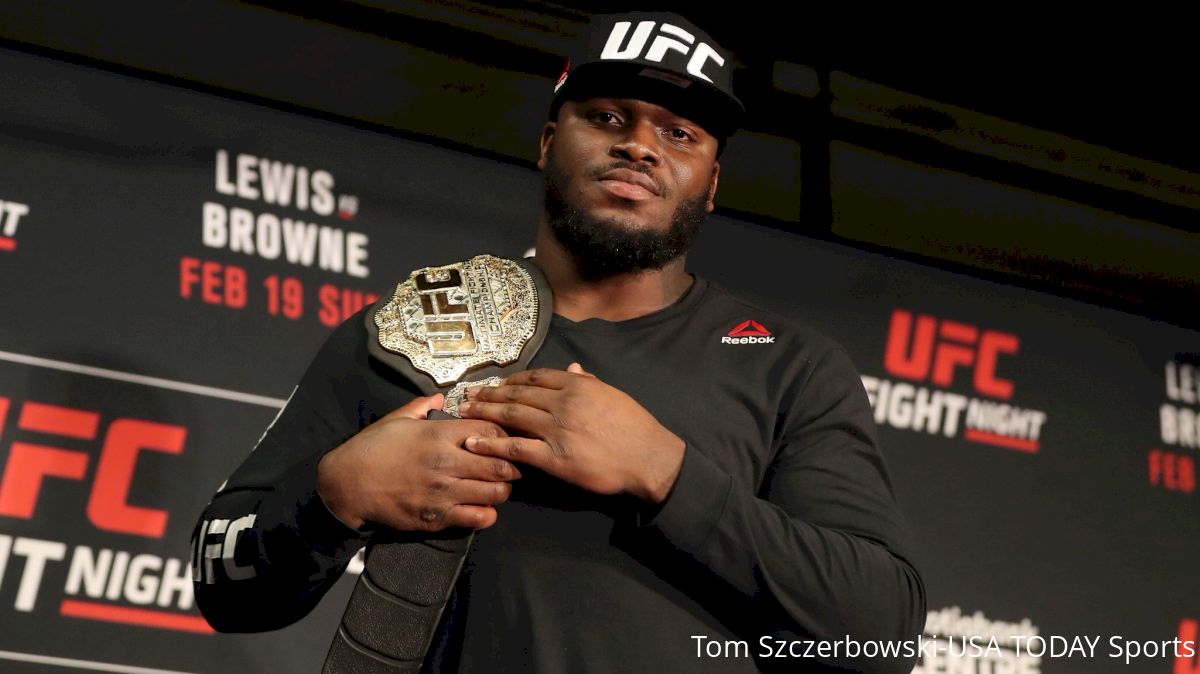 Don't count Derrick Lewis as one of the people who believed Francis Ngannou was the uncrowned champion going into his fight against heavyweight champion Stipe Miocic at UFC 220 last month.
It seemed like Ngannou was already being touted as the king of the division before he even stepped into the Octagon with Miocic, but what resulted was a 25-minute battle that saw the hulking heavyweight lose a lopsided decision after five rounds.
For his part, Lewis saw that coming before the fight even started, although admittedly he didn't actually get to watch the entire five-round affair. Instead, he judged Ngannou's performance thanks to the highlights.
"I watched the highlights of the Francis [Ngannou] fight. I didn't watch the fight 'cause I didn't want to give Francis my money and pay for his pay-per-view," Lewis told FloCombat. "I seen the highlights, and Stipe had him against the cage and Francis is on his knees and Stipe wasn't putting that much pressure on him. All Francis had to do was stand straight up, and Francis couldn't even stand straight up.
"I know I wouldn't just let Stipe hold me down like that."
As ferocious as Ngannou had been leading into the fight, Lewis predicted that the Cameroonian-born heavyweight would suffer the ill effects of carrying around so much muscle that would drain the oxygen from him with each passing minute.
By the end of the opening round, Ngannou was definitely struggling with his conditioning, and Lewis feels like the same problem will continue to haunt Ngannou if he doesn't make some dramatic changes to his training and body composition.
"I knew he wasn't going to walk through Stipe. It was a five-round fight and Stipe is a good wrestler," Lewis said. "I knew that's what Stipe was going to go in there and do. Ngannou had too much muscle. He was going to gas out quick as hell.
"Even in his next fight, it's going to be the same thing unless he loses a lot of that muscle. ... He's got to have a body like me to really survive in there."
All jokes aside, Lewis has long desired the chance to face Ngannou inside the Octagon, and that's still a fight at the top of his wish list should he get past Marcin Tybura at the upcoming UFC Fight Night card in Austin, Texas, on Feb. 18.
"Yeah, I've had interest in fighting Francis," Lewis said. "My coach just believes that I would really destroy Francis. My coach don't like Francis at all either."
There's an argument to be made that Miocic may have just created the blueprint to give Ngannou headaches in future fights by avoiding his power shots early and then dragging him into deep waters as the seconds bleed into minutes with each round.
That may be a sound strategy but Lewis truly feels like he can stand toe-to-toe with Ngannou just as much as he could take the fight to the ground and finish him there.
"I believe that I'm better than Francis all the way around," Lewis said. "Striking, grappling, ground game, submission, whatever. I believe I've got better conditioning than him. I'm better disciplined. I listen to my coaches. I really believe I could beat this guy."
First things first, Lewis wants to get back in the win column in his fight next weekend against Tybura, and then he can turn his attention to Ngannou before hopefully earning a shot at the heavyweight title.
"Hopefully everyone sees a better Derrick Lewis when I step into the Octagon," Lewis added. "You'll see everything much improved."
---
By Damon Martin