Daniel Cormier Talked To Stipe Miocic Before Accepting UFC 226 Fight
Daniel Cormier Talked To Stipe Miocic Before Accepting UFC 226 Fight
UFC light heavyweight champion talked to heavyweight champ Stipe Miocic before accepting to fight him at UFC 226. Here's what was said.
Jan 31, 2018
by FloCombat Staff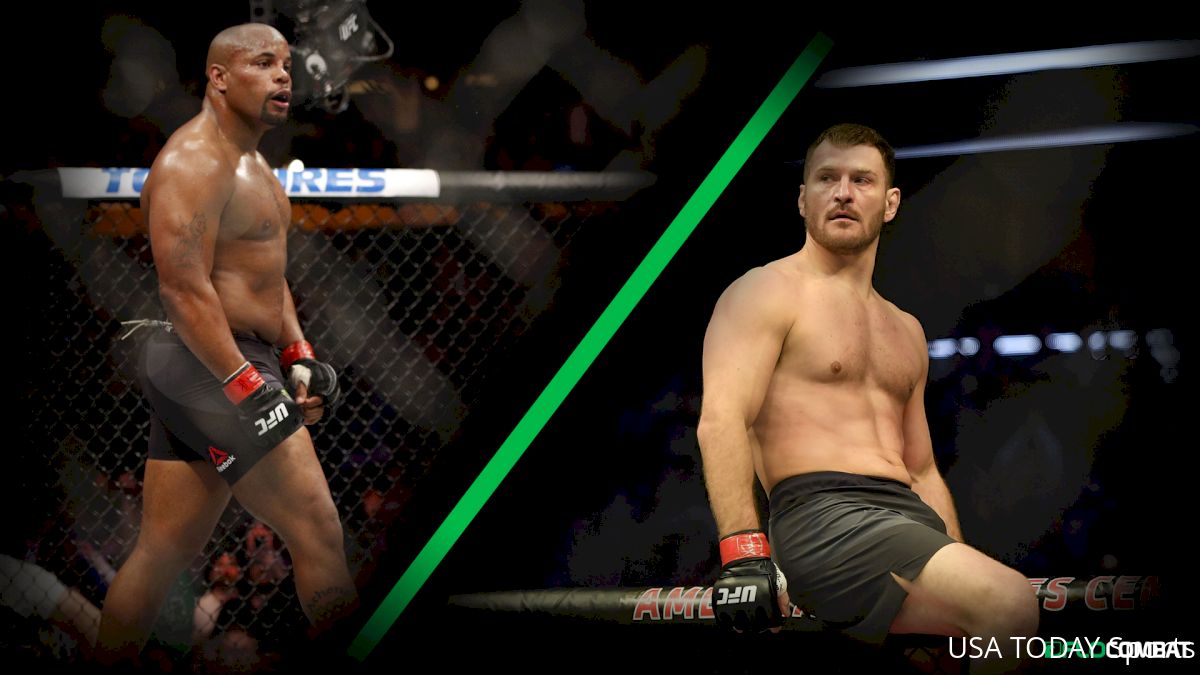 Daniel Cormier really had no plans to fight Stipe Miocic.
Ahead of his last fight against Volkan Oezdemir at UFC 220 in Boston, Cormier repeatedly said his days as a heavyweight were finished.
Cormier admitted that, while his time in the division was successful — he was 13-0 — it was more about not wanting to cut too much weight after a disastrous outing at the 2008 Olympics rather than a desire to compete at heavyweight that initially led him to the big boys' division.
Add to that, Cormier didn't want to come into conflict with his teammate and close friend Cain Velasquez, who is a former UFC heavyweight champion with designs on regaining that title once he returns to action later this year.
That's when UFC President Dana White made a call to Cormier following his win over Oezdemir and sold him on an idea for the fight with Miocic that went beyond financial gain.
White played a tune that was the best possible music to Cormier's ears.
"History. The guy doesn't only sell you on financial incentives, he sells you on history," Cormier told FloCombat when explaining how White convinced him to take the fight. "He has worked with me for a number of years now so he knows the types of things that make me perk up."
White laid it on thick — and it worked.
"'History, Daniel, history. Epic. Something that no one has ever done,'" Cormier continued. "Sure, 170 [pounds] and 185, 155, and 145, yes, but no one has legitimately tried as the light heavyweight champ to go fight the heavyweight champ.
"'This is the battle for the baddest man on the planet.'"
Now, White may have sold Cormier on the idea of fighting Miocic for the heavyweight title, but the UFC didn't get an affirmative from the light heavyweight champion until he made one more call.
That one went to Miocic.
Cormier personally called the current heavyweight king to discuss the possibility of this fight before either one of them signed on the dotted line.
"I did speak with him. I spoke with Stipe, I called Stipe," Cormier revealed. "Obviously, you know, great guy, I got to spend some time with him, fantastic champion, just a pillar of his community. I can't say enough good things about Stipe Miocic.
"With that being said, I told Stipe for $500,000, I'm not fighting Stipe Miocic. I threw out a big[ger] number and said for that number, I'm fighting Stipe Miocic. He goes, 'I fu*king love you.'
"That's what he said. I said for the right numbers we need to do this. His wife is in the back going, 'Yes, DC!'"
Miocic also confirmed that he spoke with Cormier before the fight was signed, and from the sound of things, they came to some sort of mutual agreement that if they were going to square off in a matchup of this magnitude they both needed to be paid like champions.
"I wanted to make sure it was right financially and everything, too," Miocic told FloCombat. "It's a super fight, so I had to make sure it was right financially and make sure it was OK with my wife, too. And make sure it was OK with him. It's a two-way street. We were both OK with it. Why not? Let's do it. It's what the fans want to see."
Cormier couldn't agree more as they put their friendship aside to face off in what both expect to be one of the biggest fights in the history of the sport July 7 at UFC 226.
There's obviously no bad blood between these two competitors, but Miocic and Cormier are both ready to go to war to not only make a stack of cash but to secure their place in the record books to do something that's never been done before.
"It's a deal where this one is not about ill will. This one is not about rivalry. This one is not about any of that stuff," Cormier said. "This is a competition between two of the heaviest guys who are champions to see who walks this Earth with that title. That's it."
---
By Damon Martin