Michael Bisping: 'I Was Never 15-0 At [205], And I'm Not Fighting Rashad'
Michael Bisping: 'I Was Never 15-0 At [205], And I'm Not Fighting Rashad'
Former UFC middleweight champion Michael Bisping discusses the rumors that he'll fight Rashad Evans next.
Jan 31, 2018
by FloCombat Staff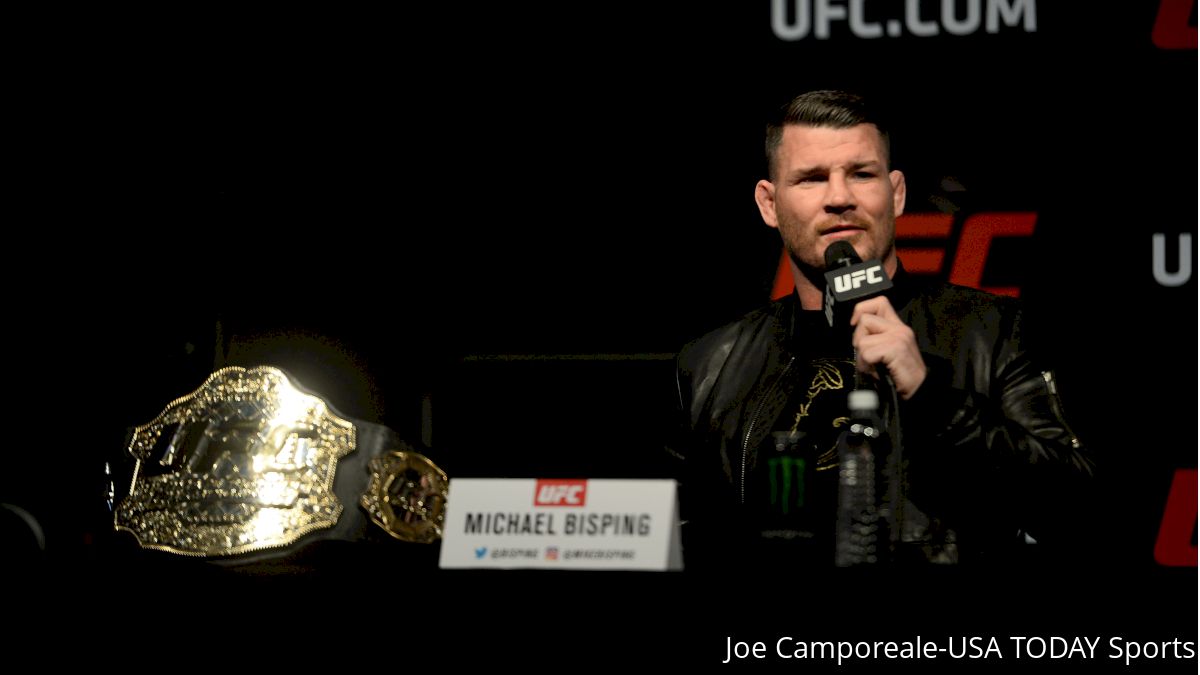 Michael Bisping's cheeky meter is out of control.
The former UFC middleweight champion has long teased one last fight, potentially taking place March 17 at UFC Fight Night 127 in London.
While that seemed the plan, Bisping then shut the door on that possibility, sending a tweet which stated plainly, "I'm not fighting [at UFC London]" (h/t MMAFighting.com).
But with Bisping, the plot just keeps thickening.
He has since deleted that tweet, and even though he told Ariel Helwani he wouldn't be fighting on that card, Bisping's tune during the latest episode of his "Believe You Me" podcast sounds like a return is in the works.
"I'm going to have one last fight, maybe," Bisping told his co-host, stand-up comedian Luis J. Gomez, early in the episode. "...If some two-bit journalists out there on the internet f*cking have picked up some information, that's great. But I'm not going to publicly go out and say things when I can't say them. Because you know what, Luis? I'm a professional."
Specifically, Helwani reported a Rashad Evans vs. Michael Bisping bout could be on the table.
A main event fight between Michael Bisping & Rashad Evans is on the table for the London card on March 17. It's currently being discussed/considered but not finalized yet. A decision will be made soon. Would be a rematch of UFC 78's headliner, which Evans won via split decision.

— Ariel Helwani (@arielhelwani) January 27, 2018
Bisping did a little dancing when diving into that topic.
"Yes, people are reporting it," he said. "But I am not. So apparently there is a rumor going around about me and Rashad. I will say this. I will say this... I don't know what to say. (laughs) Let's start with the obvious. Rashad fights at 205. I fight at 185. So that doesn't even make sense."
When Gomez pointed out that Evans' last fight was at 185, Bisping turned the tables right back — then the cheekiness hit in full force.
"I believe he's officially gone back to 205," Bisping said. "It's not like I was 15-0 at light heavyweight. I was never 15-0 at light heavyweight, and I'm not fighting Rashad Evans. There you go."
Bisping and Evans have history. Both men won "The Ultimate Fighter" (Evans in season 2 and Bisping in season 3), they're both former UFC champions, and they've previously fought, with Evans taking a close split-decision victory in 2007. It marked the first loss of Bisping's career and prompted his drop to the middleweight division.
These points were noted by Gomez, and Bisping responded.
"You're saying that I used to fight at light heavyweight and I could return back there," Bisping said. "You're saying that he was the first guy to hand me a controversial split-decision loss that a lot of people thought I won and that perhaps we're both getting towards the end of our careers and it would be a logical matchup in London. Huh.
"It would be very unprofessional of me to spill the beans. Listen, there's nothing official. I can tell you that right now, hand on [my] heart. Hand on heart, there's nothing official, and I may or may not be fighting again. We'll see."