Nate Diaz Wants Fight In May, June; Eddie Alvarez Volunteers
Nate Diaz Wants Fight In May, June; Eddie Alvarez Volunteers
UFC lightweight standout Nate Diaz hinted at a return to the UFC Octagon — and Eddie Alvarez is ready to welcome him back.
Jan 24, 2018
by Hunter Homistek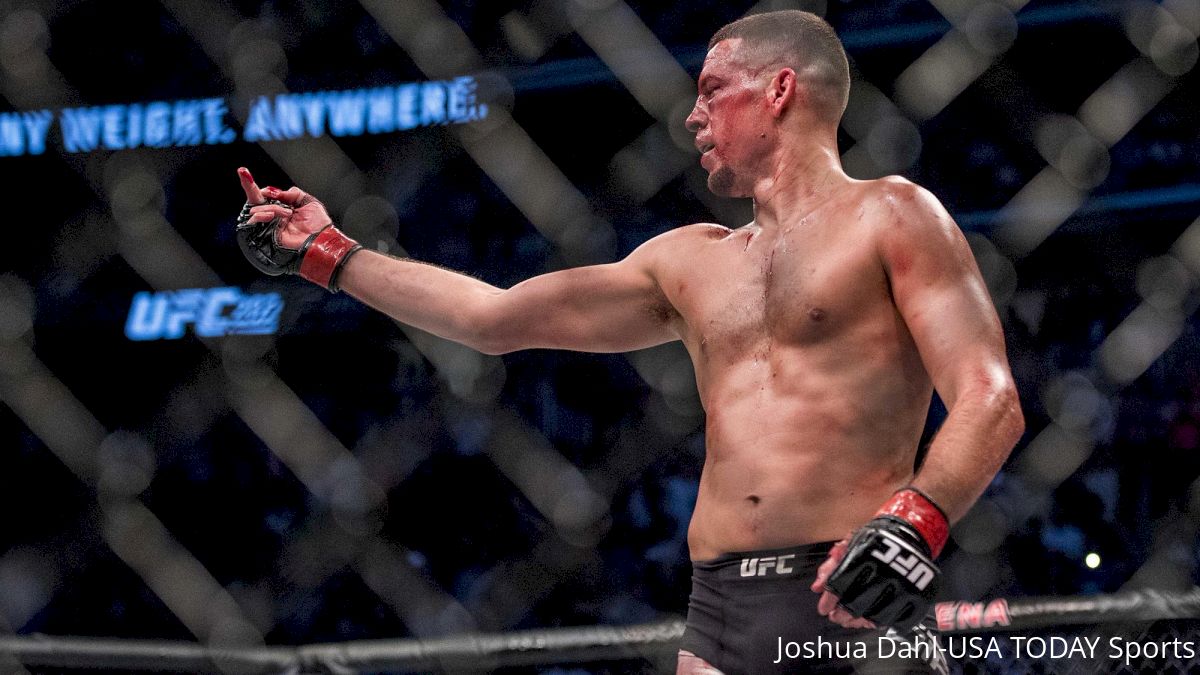 Nate Diaz sounds ready to return to the UFC Octagon — and two top 10 lightweights are ready to greet him.
Ranked No. 8 in the 155-pound division despite last competing in August 2016, Diaz is perpetually in the running for a high-profile affair inside the cage. His name carries weight, his personality resonates with fans, and his fighting style delivers each and every time, making him a can't-miss attraction.
Taking to Instagram, Diaz hinted that his lengthy layoff would soon come to an end.
"The Real Champ," as Diaz deems himself in the post, wants to return around May or June, and that timeline seems to suit another top lightweight contender just fine.
Eddie Alvarez, ranked No. 3 in the division, responded immediately with a tweet.
May-June is perfect @NateDiaz209 , see you then big guy #Eastcoastbeastcoast #Ufcmostviolent

— Eddie Alvarez (@Ealvarezfight) January 24, 2018
Since Diaz's last fight at UFC 202 vs. Conor McGregor, Alvarez has competed three times inside the UFC Octagon.
First, he lost his lightweight title to McGregor at UFC 205 in November 2016, then he followed that up with a no-contest vs. Dustin Poirier at UFC 211 in May 2017. In that rock-em, sock-em bout, Alvarez hit Poirier with a series of illegal knees, rendering him unable to continue and forcing the ruling of a no-contest.
After those back-to-back missteps, however, Alvarez turned in one of his finest showings to date.
Facing the then-undefeated Justin Gaethje at UFC 218 last month, Alvarez engaged in a wildly entertaining and violent scrap that earned Fight of the Night honors. After nearly 14 minutes of swangin' and bangin', Alvarez closed the show with a perfect knee from the clinch.
Against Diaz, who has only been finished with strikes once in his 30-fight professional career, Alvarez would need to showcase that heart and grit once more, and the results would likely be stellar.
However, Alvarez wasn't the only fighter who had a response for Diaz on Tuesday night.
Kevin Lee, ranked No. 7 in the division and coming off a loss to lightweight titleholder Tony Ferguson at UFC 216, also threw his name into the mix.
Put yo money up then @NateDiaz209 Or shut the fuck up and go back to riding bikes around the park https://t.co/g0DrhPY2zR

— Kevin MTP Lee (@MoTownPhenom) January 24, 2018
While nothing is official yet, there is no doubt intrigue behind this matchup. But as is the case with any rumblings of a Diaz scrap, don't hold your breath until the papers are signed.