UFC 220 Results: Stipe Miocic Breaks UFC Record
UFC 220 Results: Stipe Miocic Breaks UFC Record
UFC heavyweight champion Stipe Miocic made history at UFC 220 in Boston. Here's exactly what went down.
Jan 21, 2018
by FloCombat Staff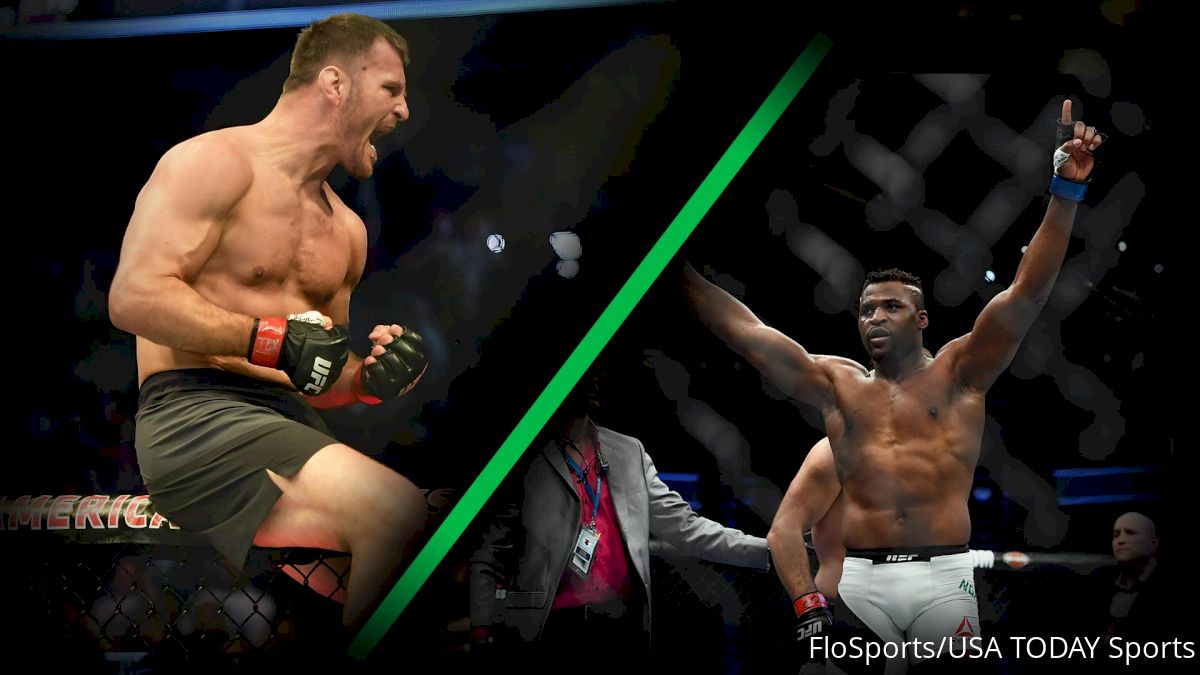 In the main event of UFC 220, one of the most exciting heavyweight matchups in recent memory took place, with Stipe Miocic putting his title on the line against heavy-handed contender Francis Ngannou.
Miocic (18-2) entered the bout on a five-fight winning streak. All five victories have come by stoppage due to strikes, with the last four coming in the very first round. With a win over Ngannou, Miocic would break the UFC record for most consecutive heavyweight title defenses (three).
For Ngannou (11-2), Saturday was an opportunity to prove that he was deserving of all of the hype he has received since joining the UFC.
The Cameroon-born fighter, who has hauled off 10 wins in a row, has won all six of his UFC fights by stoppage. Like Miocic, his last four wins have come within the first five minutes.
Ngannou opened up the fight with an early head kick, but Miocic was able to immediately transition to a single leg and pinned Ngannou against the cage after he fought out of the takedown attempt.
Ngannou was throwing the heavy leather as Miocic retreated, but the champion was using good head movement to avoid any big shots. Miocic was landing big right hands of his own while constantly moving and landed a huge left right down the pipe before taking the fight to the ground.
Miocic dominated once the fight hit the mat, but an exhausted Ngannou eventually worked his way back to his feet with one minute remaining. Miocic was wearing damage from Ngannou's heavy hands under his left eye.
OOOOOOHHHH!

The champ is in great form tonight! #UFC220 pic.twitter.com/CPkya7PWtI

— UFC (@ufc) January 21, 2018
The two men continued exchanging blows when the second round was underway. Ngannou was noticeably slowing down and Miocic took advantage with a big overhand right. Ngannou returned fire and cracked Miocic with a heavy shot of his own, but the champion immediately shot for a takedown and got the challenger back on the mat.
Miocic continued to lean his weight on Ngannou, attempting to wear his opponent down. Miocic rode out top position for the remainder of the round. It marked the first time Ngannou entered a third round in his UFC career.
#UFC220 pic.twitter.com/bm3C4efZCz

— UFC (@ufc) January 21, 2018
Miocic remained fresh in the third round and stuck to his strategy, taking Ngannou down and keeping his weight on him. There was a glimmer of hope for Ngannou after a big right hand rocked the champion, but Miocic was able to once again rely on his wrestling advantage to get the fight to the mat. Miocic moved to half control and was throwing massive ground-and-pound as Ngannou searched for a way out.
Miocic stuck to his strategy and completely overwhelmed Ngannou in Round 4.
Ngannou was turtling up on the mat while Miocic was landing heavy ground-and-pound and controlling the next of the challenger. Ngannou had nothing left and was taking unanswered left hands to the head with repetition, before raining down shots to the body.
Ngannou threatened for a few seconds with a guillotine attempt in the final frame, but he didn't have the strength to finish off the submission. Miocic cruised off of his comfortable cushion and road out an impressive and dominant win to retain his title.
Miocic earned the decision victory (50-44, 50-44, 50-44) as he broke the record for consecutive title defenses in the UFC heavyweight division.
HISTORY IN BOSTON!@StipeMiocicUFC becomes the first HW to successfully defend the belt three consecutive times. #UFC220 pic.twitter.com/PwFUg7meTD

— UFC (@ufc) January 21, 2018
The full UFC 220 results can be seen below:
Stipe Miocic def. Francis Ngannou by unanimous decision (50-44, 50-44, 50-44) - for the heavyweight title

Daniel Cormier def. Volkan Oezdemir by TKO (punches). Round 2, 2:00 – for light heavyweight title

Calvin Kattar def. Shane Burgos via TKO - Round 3, 0:32

Gian Villante def. Francimar Barroso via split decision

Rob Font def. Thomas Almeida via KO - Round 2, 2:24

Kyle Bochniak def. Brandon Davis via unanimous decision (29-28, 29-28, 30-27)

Abdul Razak Alhassan def. Sabah Homasi via KO - Round 1, 3:47

Dustin Ortiz def. Alexandre Pantoja via unanimous decision (29-28, 29-28, 29-28)

Julio Arce def. Dan Ige via unanimous decision (30-27, 30-27, 29-28)

Enrique Barzola def. Matt Bessette via unanimous decision (30-27, 29-28, 29-28)

Islam Makhachev def. Gleison Tibau via KO - Round 1, 0:57