Back To The Future: A Deep Dive Into Bellator's Heavyweight Grand Prix
Back To The Future: A Deep Dive Into Bellator's Heavyweight Grand Prix
FloCombat Senior Editor Duane Finley takes an in-depth look at the pros and cons of Bellator's Heavyweight Grand Prix.
Jan 12, 2018
by Duane Finley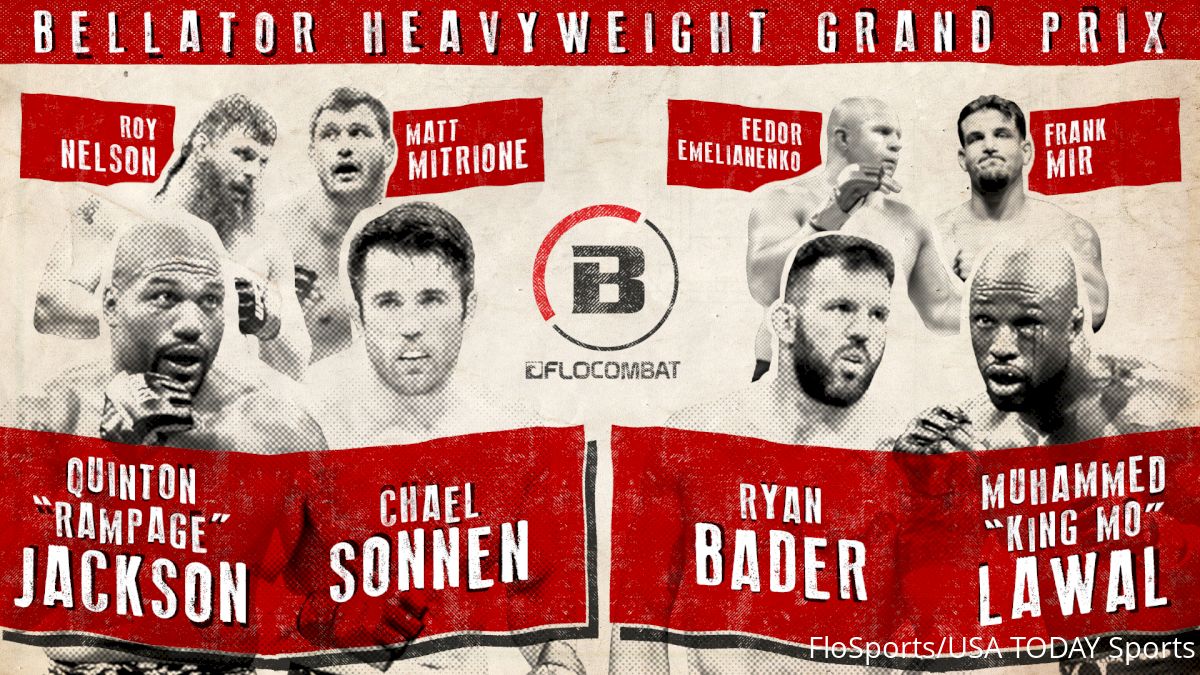 Mixed martial arts has undergone incredible changes in the 25 years since its arrival on a cold night in Denver. Granted, the concept of mixed discipline combat had existed long before the UFC made its debut in 1993, but what the upstart promotion offered to the public that night in 1993 became the mold that shaped what the sport would become in the years that followed.
And while MMA as we know it today is as close to mainstream acceptance as it has ever been, the road to the here and now hasn't always been the smoothest. There have been experiments that have yielded great success ("The Ultimate Fighter") and failure alike ("The Ultimate Fighter"), freakshow matchups that captured public interest, and the rise of stars who have emerged to lead the sport to greater visibility.
As a variety of eras came and went, a passionate fan base emerged. And there's nothing this collective grasps onto more than nostalgia. From the wild, wild West days of open-weight fighting before sanctioning to the time when Japan and Pride ruled the world, there's nothing MMA diehards love more than the way things used to be.
And that's what Bellator's upcoming heavyweight tournament is aiming to give them.
YOU HEARD IT HERE! @Rampage4real and @ChaelSonnen just made their #Bellator192 fight even more interesting! ? ? #BellatorWGP

Check out the complete first episode of #BellatorCountown here: https://t.co/JaXwR6d6uI pic.twitter.com/Uv35PqYIVr

— Bellator MMA (@BellatorMMA) January 8, 2018
The surging promotion has been steadily building its heavyweight roster over the past two years but has been patient and calculated in its approach to do so. A title, or even an interim tag, could have been slapped on any of its high-profile fighters at any point, but Bellator kept the concept of a heavyweight crown on a low simmer.
Once the promotion gathered enough recognizable heavyweight names — and recruited a few of its light heavyweight stars to roll the dice — the eight-man, three-round tournament that will crown the heavyweight champion was officially formed.
And while the UFC currently has several huge fights on the docket, and a slew of potential matchups to book that will set the sport ablaze, the Bellator Heavyweight Grand Prix carries enough anticipation and intrigue to make it one of the biggest offerings of the year before a single punch has been thrown.
That's an impressive accomplishment by any measure, but there will be plenty of battles and uphill climbs to make before a new heavyweight champion is crowned later this year.
Let's dive in.
Throwbacks, Throwdowns, And Throwing Shots At History
Every fighter dreams of winning world titles and receiving life-changing paydays, but it's also the goal of every competitor who straps on the gloves to leave a mark that will endure through the ages.
The recipe for creating a legendary moment requires a variety of ingredients and a touch of circumstance sprinkled on top. When all the right elements come together, something special unfolds and fight fans are given battles the likes Dan Henderson vs. Mauricio "Shogun" Rua, or heart-stopping moments in which a titan is felled the way Ronda Rousey or Jose Aldo saw their runs come crashing down.
Winning a tournament is also a way to stamp the history books, but not all tournaments are created equal.
The odds of shaping a legendary accomplishment via a tournament increase greatly based on the caliber of said tournament's participants. Wanderlei Silva's run through Pride's Middleweight Grand Prix in 2003 doesn't pop epic without the inclusion of Quinton "Rampage" Jackson, Chuck Liddell, Alistair Overeem, and Kazushi Sakuraba.
.@Rampage4real has been putting in the work and is ready to take home the Heavyweight belt for his team at #Bellator192. Watch Part 2 of #BellatorCountdown here ? https://t.co/gHJoBHxecJ pic.twitter.com/Jw7EoB0sy3

— Bellator MMA (@BellatorMMA) January 12, 2018
If you doubt this ideology then ask yourself how many legendary wins came out of seven seasons of Bellator tournaments? Better yet... if you point to Michael Chandler emerging from the 2011 lightweight tournament to put on an epic clash with Eddie Alvarez, ask yourself just how memorable was Chandler's run through the tournament to earn that opportunity?
While defeating Marcin Held and Patricky Freire were solid feathers in Chandler's cap, there wasn't an overall sense of awe in him doing so. But that bloody, ruckus-filled scrap with Alvarez was pure fire that will echo in the hallowed halls of sanctioned violence. Of this there is no doubt.
When examining the layout of Bellator's heavyweight tournament, it's clear the caliber of participants gives it the potential to be memorable. Granted, the age of each participant and points of individual careers factor in (we'll get into this more in-depth in a bit), but the collective resumes are nothing to scoff at.
Nearly all of the contestants have either held titles or competed for them in major organizations in the sport. Fedor Emelianenko ruled as the undisputed king of Pride's heavyweight division for a decade. Frank Mir and Quinton Jackson are former UFC champions, and Chael Sonnen competed for multiple world titles in multiple divisions under the same banner. Muhammed Lawal held the belt in Strikeforce, and Ryan Bader currently holds the 205-pound strap in Bellator.
While Roy Nelson never fought for a title inside the Octagon, he did grab championship gold in the now-defunct International Fight League. In fact, the only competitor in the tournament to never hold a belt or compete in a title fight in a major organization is Matt Mitrione (King of Wings Wingstop belt is an unsanctioned title), but funny enough, "Meathead" is the odds-on favorite to win this Bellator ruckus.
This narrative is precisely the intangible ingredient necessary to craft something special. Glory rediscovered or finally achieved is something fans can lock into their minds, and when that occurs, an accomplishment will endure.
Don't Threaten Fight Fans With A Good Time
While there is no doubting hand-to-hand combat is serious business in which the athletes involved put their personal well-being and future arithmetic skills on the line each time they step into the cage, there is also an element of entertainment present that oftentimes is tampered down.
"Freakshow" fights and high-profile crossovers rightfully evoke the "spectacle over sport" talk because there is little fun to be had watching squash matches. That said, what happens when equally talented and capable competitors step into the cage to let the leather fly with reckless abandon? I know it's hardly recognizable on the current landscape, but the answer you're looking for is "fun."
It my boys birthday today @kingmofh Everyone wish him a happy bday! @BellatorMMA #sexualchocolate pic.twitter.com/AfJwfJ49CR

— Roy Nelson (@roynelsonmma) January 11, 2018
The current state of MMA has plenty of serious and pressing topics hovering. Will Conor McGregor ever return to defend his title? Will Tony Ferguson and Khabib Nurmagomedov finally step into the Octagon? Can Stipe Miocic derail the nuclear-powered nightmare that is Francis Ngannou in Boston?
The aforementioned storylines are the ones currently driving the sport, and for good reason. On the flip side, much like dessert after dinner, there is always room for a bit of fun in MMA. And that's precisely what I believe the Bellator Heavyweight Grand Prix brings.
Every fighter involved has a tasty bit of redemption lingering in the balance, and their respective pursuits of it make for solid entertainment. With this tournament coming in the heavyweight variety, there is also a greater chance for victory or defeat being ushered in with brutal force and at a quicker rate.
That's basically a fancy way of saying there's a buffet of knockouts on deck, and who doesn't love buffets?
#BellatorCountdown episode 2 drops tomorrow at 10am PT/1pm ET on @YouTube. While you wait, here's a poem or a #ChaelSonnet #Bellator192 #YoureWelcome pic.twitter.com/fPtToepTHn

— Bellator MMA (@BellatorMMA) January 11, 2018
Furthermore, and on the specific angle front, watching Chael Sonnen — who has spent the bulk of his career fighting the best middleweights on the planet — make a run at heavyweight gold is an interesting arc to follow. Sonnen has always touted the old-school mentality of a fight being a fight, and his willingness to engage at any time or place and his track record have served as validation for this philosophy.
Sonnen signing on to compete in this tournament is another notch on his old-school belt, and the "American Gangster" will have his hands full in every possible matchup he could be faced with. That said, Sonnen is as game as they come in the hurt business, and he's proven it time and time again.
And while entering Bellator's Heavyweight Grand Prix isn't quite the same as jumping up a weight class on short notice to face the pound-for-pound GOAT in Jon Jones, Sonnen knowing he'll likely give up 30 to 40 pounds to any opponent he could face is a tall order by any measure.
Everything Has A Downside
When looking at the Bellator Heavyweight Grand Prix lineup, the first thing that jumps out at you is the age of the participants. At 34 years old, Ryan Bader is the youngest fighter involved in the tourney — that's hardly spring chicken status — and the elevated average of years on the planet among the Grand Prix's eight participants has brought some criticism to the collective.
And there's no denying that is a fitting knock. That said, if the tournament was filled with 38-year-old fighters with no accomplishments or who were established fighters on serious downturns then you have a passable offering.
That's just not the case.
Mitrione, Nelson, Bader, Sonnen, and Lawal are coming into the tourney on a win or with multiple victories at their backs. Of this pack, Bader has the longest current streak with four straight wins, rolling with Mitrione notching three consecutive victories.
Put your ? up for the King! ?
Happy birthday @KingMoFH! Can't wait to see you in #SanJose for the #BellatorWGP! pic.twitter.com/iuVgaCe4y0

— Bellator MMA (@BellatorMMA) January 11, 2018
Those coming in off a loss will be Jackson and Emelianenko, but both men who defeated those fighters -- Lawal and Mitrione, respectively -- are also in the tournament. The only fighter coming in under different circumstances will be Mir, who hasn't competed since March 2016. The former UFC heavyweight champion suffered a defeat at the hands of Mark Hunt and then was pushed to the sidelines for a lengthy stretch due to failing his post-fight drug test.
Do those statistics trump the fact that every competitor in the tournament is working in the latter stages of his career? No, it doesn't. But the one things those statistics do show is each man is still chucking leather with force and intention, which lays a foundation of serious competition for the tournament itself.
Are we going to see the best versions of some of the fighters we've ever seen? In some cases that answer is also a negative, but it's arguable that Mitrione and Bader have looked better than ever on their respective roads to the tournament.
Furthermore, both Bader and Mitrione will face first-round matchups against opponents who pose serious threats to their current winning streaks. Nelson finished Mitrione in the first round of their first meeting under the UFC banner back in 2012, and "Big Country" will look to duplicate his performance when they square off inside the Bellator cage Feb. 16 at Bellator 194.
Great to see @HerschelWalker a part of tonight's #NationalChampionship as the @FootballUGA honorary captain! #BellatorNation pic.twitter.com/M7FU1NA6v8

— Bellator MMA (@BellatorMMA) January 9, 2018
While Bader has looked crisp over the past two years, he'll be entering the unknown in 2018 as he makes his inaugural jump into heavyweight waters. On the flip, Lawal has competed up in weight several times and will enter their bout in May with experience. Will that be enough? Well... that's why we watch.
And I'm convinced the MMA community will do just that once this thing kicks off at Bellator 192. Sonnen and Jackson will get the dance started Jan. 20, with Nelson and Mitrione bringing the next chapter in February. Emelianenko and Mir will take the third slot on a card in April, with Bader and Lawal stepping in for the final bout of the first round in May.
Bellator President Scott Coker has targeted a full wrap up of the Heavyweight Grand Prix by the end of 2018, and while that is an ambitious target, it leaves plenty of room for mystery and adventure to unfold. No matter what transpires over the course of the Grand Prix, the one guarantee will come in the form of entertainment. This tournament will absolutely deliver in that department, and that is all that ultimately matters in the end.