UFC 220: Stipe Miocic vs. Francis Ngannou
UFC 220: Francis Ngannou Promises To Finish Stipe Miocic 'Under Two Rounds'
UFC 220: Francis Ngannou Promises To Finish Stipe Miocic 'Under Two Rounds'
UFC heavyweight title challenger Francis Ngannou says champion Stipe Miocic won't make it to Round 3 at UFC 220.
Jan 12, 2018
by Hunter Homistek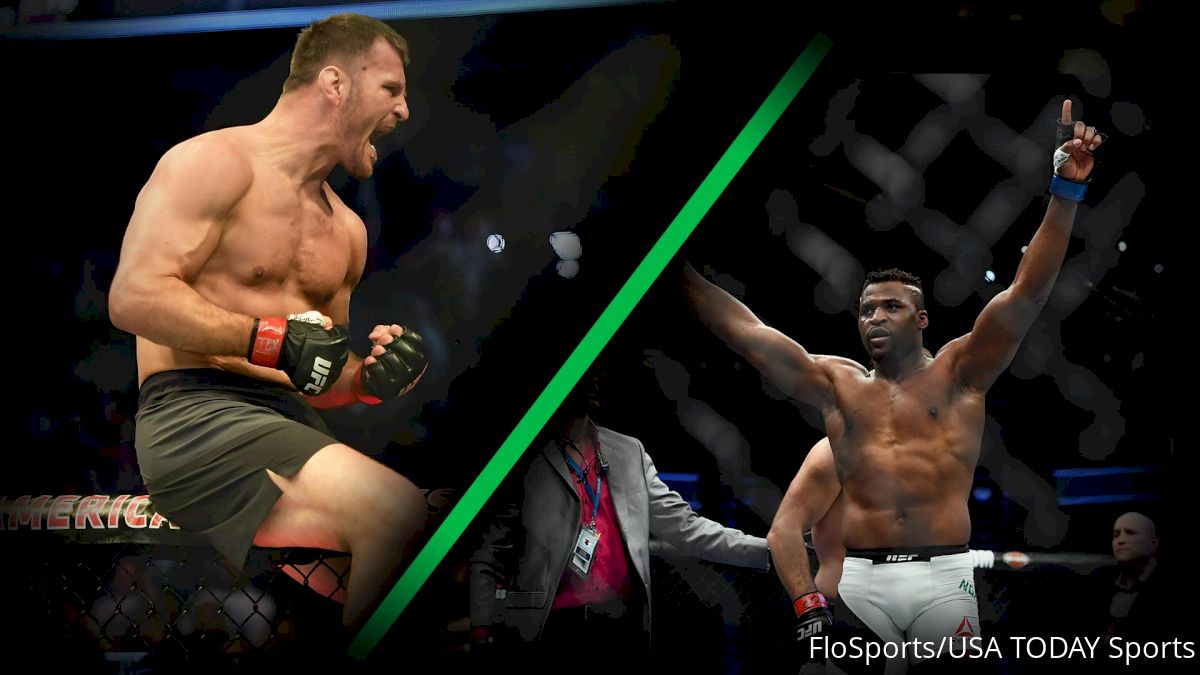 Francis Ngannou can't help that he's finished all of his UFC opponents inside two rounds.
The fearsome top-ranked heavyweight contender has become one of the most talked-about fighters in the sport as he prepares for his first championship fight Jan. 20 against Stipe Miocic at UFC 220 in Boston. This is thanks in large part to his jaw-dropping knockouts.
Ngannou only served to further his own legend at UFC 218 last month, when he snapped former title contender Alistair Overeem's head back like a Pez dispenser with a left-handed uppercut from hell. That effort earned Ngannou Knockout of the Year honors on several media lists, and it is an image that will forever be burned into the minds of those who witnessed it.
While Ngannou possesses arguably the most vicious punching power the sport has ever seen, there still remain questions about other aspects of his game going into the fight with Miocic, who is a former Golden Gloves boxer with NCAA Division I wrestling credentials at Cleveland State University.
Ngannou has finished four opponents by submission. However, he's never gone past 10 minutes in a fight, and he's about to step into the Octagon for five rounds against one of the best-conditioned athletes in the heavyweight division's history.
Ngannou may be the favorite on the betting lines, but the expectation built around the Cameroonian native is that he can finish Miocic in the first round. If that doesn't happen, is Ngannou prepared to outduel the heavyweight champion for 25 straight minutes if necessary?
"I've never been in that level but I always train for that level," Ngannou said on Thursday during the UFC 220 media conference call. "When I go to my training camp, I train my conditioning, everything, I prepare [for] a regular fight, for the regular round fight. Even the fight against Alistair Overeem, I was already prepared for five rounds because I knew I was going to have Stipe after that.
"That is the problem because people always want to believe what they see."
Ngannou will never apologize for making quick work of his opponents, but he promises the preparation is being done just in case he's forced to fight for five rounds.
That being said, Ngannou can't help but think his streak will stay intact at UFC 220 because he just doesn't see a way Miocic survives past the second round.
"I think it's going to be a long time before they really see that because on Jan. 20 I don't see myself going [to the] third round, fourth round," Ngannou said. "No, I'm not going to do that.
"I'm just going to finish Stipe in under two rounds."
While those are strong words from the top-ranked contender, Ngannou has backed up everything he's said so far in his career, and he doesn't plan to stop now.
He may not be walking into the main event at UFC 220 as champion, but Ngannou has an air of confidence around him that feels like he's just waiting for the moment when he can wrap the belt around his waist next Saturday night.
In many ways, the expectations for Ngannou might be even greater than the pressure heaped on Miocic's shoulders as the reigning and defending champion, but the 31-year-old "Predator" wouldn't have it any other way.
"I do embrace [the pressure]," Ngannou said. "I think I had [more] pressure on my last fight against Alistair [Overeem] than I do for this one. As I said before, I couldn't avoid [talking] about these two fights and I had that pressure for two fights. Now it's only one fight.
"Now I'm more confident. I know I have everything to win this fight. It's something that [I've dreamed] about my whole life. Now I get my mind set for that and we're going to do it on Jan. 20."
---
By Damon Martin