Kamaru Usman Respects Emil Meek, Says Colby Covington Declined Fight
Kamaru Usman Respects Emil Meek, Says Colby Covington Declined Fight
UFC welterweight Kamaru Usman says Colby Covington turned down a fight with him and discusses his UFC St. Louis bout vs. Emil Meek.
Jan 12, 2018
by Hunter Homistek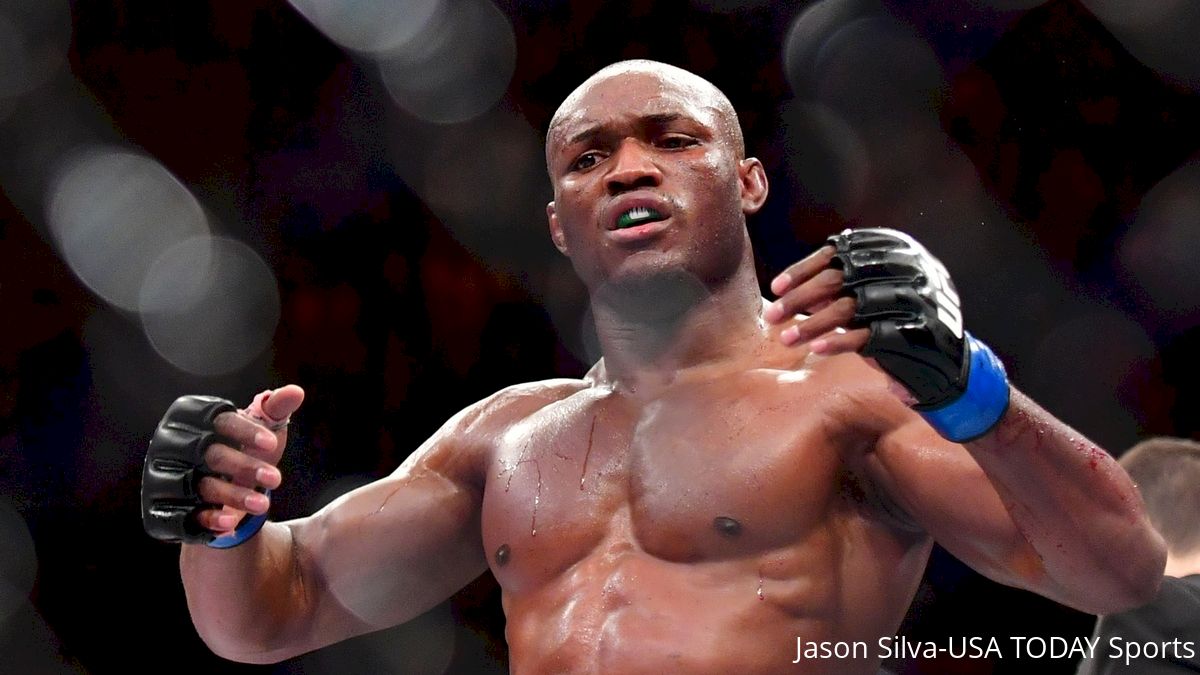 Kamaru Usman and Emil Meek will throw hands inside the Octagon at UFC St. Louis this Sunday, but Usman is already bringing the heat.
Ahead of his fight, Usman sat down with MMAJunkie.com's John Morgan, discussing his fight with Meek, welterweight standout Colby Covington, and much more.
Starting with his opponent, Usman dished out a level of respect but said that won't much matter once the cage door closes.
"I respect him as a fighter," Usman said. "I think he's a tough guy. He's a guy that I believe likes to fight. There [are] certain types of fighters — some guys just love to fight. There [are] a couple guys in the division, that — and I keep my eye on everybody in the UFC — not just in my division, but guys like him and Darren Till. I think these guys like to fight.
"For me, it's not so much, I don't really like fighting. It's competition. I'm going to beat you at this. So I think he likes to fight. He doesn't care whether he wins or loses... so that makes him very, very dangerous. And I respect that."
Skill for skill, however, the unranked Meek doesn't concern Usman.
"As far as skill breakdown, breaking him down, I don't think there's anything he does better than me," Usman said. "I am the best at everything when it comes down to it. If I'm not now, trust me, I will be by the year's end. I've been a lot of work into this, and I know that everywhere he excels, I excel better."
Coming off a vicious knockout of Sergio Moraes at UFC Fight Night 116 in Pittsburgh in September, the No. 10-ranked Usman figured to take a significant leap up the welterweight ladder. That, however, didn't happen. Instead, he drew Meek, who, despite being a tough competitor, offered little in way of ranking or name value.
For that, Usman says something needs to change, and he intends to rectify the problem after his UFC St. Louis showdown.
"That's a magical question that I hope the UFC — and I'm going to sit after this fight, luckily, hopefully, with the grace of God — we're going to go and sit down with the UFC and we're going to figure this out," Usman said. "Because it just really doesn't make sense on paper to continue [for me] to fight [this] level of guys when I've proven time and time again that I can dominate all these guys."
3 days away from #WorkTime #Jan14th #UFCSTL #NigerianNightmare pic.twitter.com/UQjUP5OfeK

— KAMARU USMAN (@USMAN84kg) January 11, 2018
The situation is especially baffling to Usman, who says he's doing everything the UFC has asked of him. When told to call out a fighter and create a buzz around the matchup he wants, he did.
And nothing happened. In fact, the fights went to the No. 3-ranked Covington, who generated massive amounts of attention in 2017 as the "heel" of the 170-pound class.
"I called out Demian Maia while he was sitting right next to me. I didn't get that fight. Colby Covington did," Usman said. "I called out Dong Hyun Kim. I didn't get that fight. Colby Covington did. I called out RDA [Rafel dos Anjos]. I didn't get that fight. He picked Robbie Lawler.
"So it's not that I'm not doing everything right. I'm doing it right. In a sense, it's these guys realizing that, 'That's probably the most difficult fight that I could possibly be in in this division that could really hurt my career.' Everyone wants to move up the ladder. Nobody wants to fall down."
Why, then, did Usman take a fight with Meek when it falls squarely into that potentially damaging category?
"Corey Anderson stated this: 'I'm into this to be the best. So it doesn't matter who I fight.' Which is why I chose to go through with this fight," Usman said. "I could've said, 'No, I don't want this fight,' and sat and waited. But I'm in this to be the best, and so it doesn't matter who the fight is. A fight is a fight. Anything can happen in that fight, so I respect all. But make no mistake, I am the best at what I do."
With Covington seemingly snatching all the opponents Usman wanted, one would think Usman would then target Covington for a future scrap — and they'd be right.
Furthermore, Covington carries significant hype and pull in the division, making it doubly intriguing for Usman moving forward.
"It's a fight that has to happen," Usman said. "It's a fight that has to happen because I believe this is fate. This fight has been written. How much of a small world do we live in? I was a little boy born in Auchi, Nigera, in a country full of over 200 million people, in a small farm town. To get to the point where I immigrate here, I'm in America, to where I get to college and I cross paths with the people that I have.
"Let's just summarize this a little bit: Me and Jon Jones crossed paths senior year of high school. We met at senior nationals, a big wrestling tournament, and after that, we became friends. 'Hey, I'm going to go to school in Iowa next year.' He said, 'I'm going to go to school in Iowa [too].' That's great. We stayed in touch. My fall break, I went up to his school, spent time with him all fall break. We hung out all week. I stayed in his place, his dorm, their apartment there, which happened to be the room that Colby Covington stayed in the following year when he moved to school there.
"How small of a world that is, to where, take things further, we both live in South Florida, literally 20, 30 miles away from each other. We train at rival gyms. We have mutual friends, and I mean mutual friends that we see daily, we talk to daily. So this is something that's set in stone that's been written."
Wetin de wan do!!! #NigerianNightmare #TUF21Champ #Naijanodeycarrylast pic.twitter.com/4KuPQts9iI

— KAMARU USMAN (@USMAN84kg) December 29, 2017
Then Usman dropped the bomb. According to him, UFC St. Louis was supposed to be headlined by an Usman vs. Covington clash.
"A lot of people don't know, but we were supposed to be the main event for this card, which is why it took so long to get a main event scheduled," Usman said. "But, once again, he declined the fight, and so, here we are. He can run, but you can't hide forever."
Turning his attention back to Meek, Usman wants one thing: pure dominance. To him, that means breaking Meek's spirit, not just turning out his lights.
"If I go in there and I breathe on him and he falls over in a minute, hey, I'll take that," Usman said. "But he's a tough guy. He brings a lot of intensity and he comes to fight. So I expect a fight from him.
"But the one thing that I want to make clear, that I really want to clear up, is: A lot of these guys go into detail and they say, 'I want to be in the Fight of the Night. I'm here for the Fight of the Night.' I have no interest in Fight of the Night. At all. I'm here for Performance of the Night. If I'm here to put on Performance of the Night and you're here to put on Performance of the Night, that's how Fight of the Night happens.
"Fight of the Night doesn't just happen with one guy getting the shit kicked out of him," he continued. "That's not how it happens. And that's what I do. My fights are one-sided. I'm going to beat you down from start to finish. So I have no interest in Fight of the Night. I have no interest in taking damage."
Listen to Usman's full interview via MMAJunkie below.