TJ Dillashaw: 'I'm Not A Conor McGregor — I'm Not Afraid To Fight'
TJ Dillashaw: 'I'm Not A Conor McGregor — I'm Not Afraid To Fight'
UFC bantamweight champ TJ Dillashaw calls Demetrious Johnson 'scared' and promises to defend both titles once he wins the flyweight strap.
Jan 9, 2018
by Hunter Homistek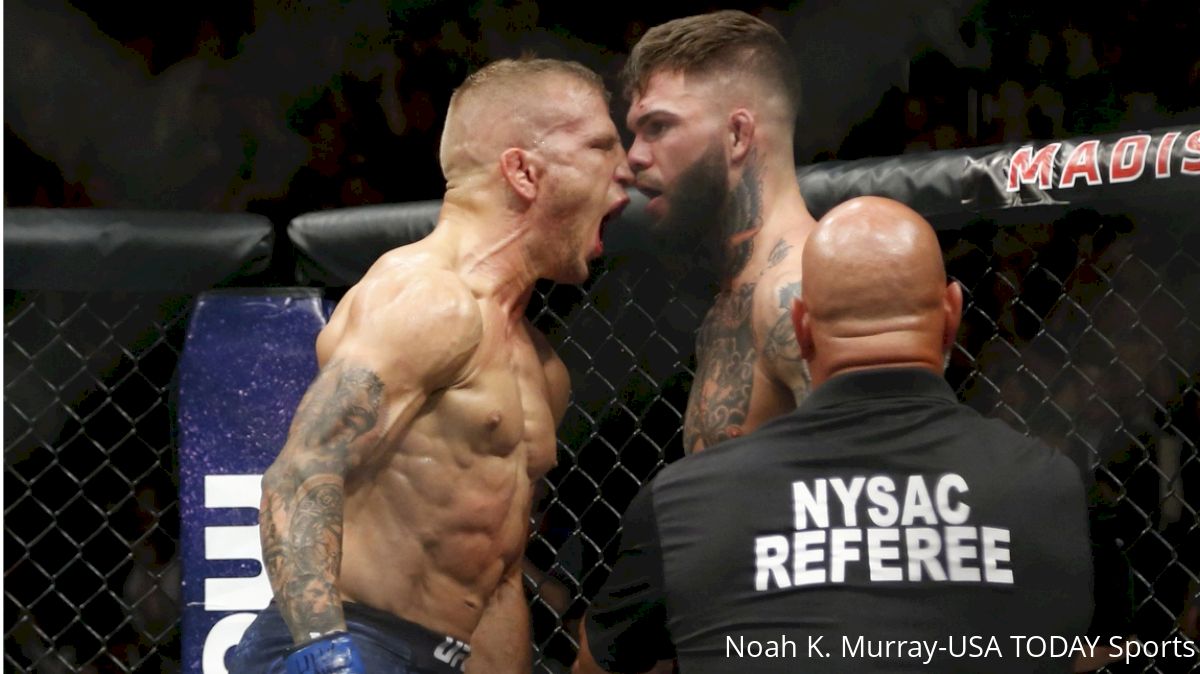 UFC bantamweight champion TJ Dillashaw never wants to accuse another fighter of being scared to face him, but that's the feeling he's starting to get when it comes to flyweight king champion Demetrious Johnson.
While Johnson has run roughshod over the best fighters in the world at 125 pounds en route to breaking the all-time consecutive title defense record in the UFC, he's also enjoyed being a massive favorite for the majority of the fights on his current win streak.
In fact, the last time Johnson was less than a two-to-one favorite going into a fight was for his rematch against Joseph Benavidez in 2013.
Meanwhile, Dillashaw has proven himself to be the best fighter in the world at 135 pounds, fresh off his knockout win over Cody Garbrandt at UFC 217 in November. Now he's ready to make the cut down to flyweight to finally give Johnson a worthy opponent.
Johnson has earned his place as the No. 1 pound-for-pound fighter in the sport, but Dillashaw believes the reigning and defending flyweight champion is worried by the idea of facing an opponent who could beat him.
"They always talk about Demetrious Johnson and what record he's about to break. They always talk about Demetrious Johnson and the win streak he's on or Demetrious Johnson being No. 1 pound-for-pound fighter in the world. But they're never talking about Demetrious Johnson and who he's fighting," Dillashaw told FloCombat. "Now he has a chance to lose, and that's a scary thing for him.
"I am that person. I'm that person that's going to bring that threat. You're going to be glued to the TV because for once you don't know what's going to happen."
Dillashaw has been on a mission to face Johnson since last summer when the prospect of the fight was dangled in front of him by UFC President Dana White. However, the matchup never came together.
Johnson complained that Dillashaw had never fought at flyweight before and wasn't even the 135-pound champion at the time. Instead, Johnson ended up facing Ray Borg, whom he toyed with for four rounds before finally finishing the fight with a mind-blowing submission in the fifth.
That slight never sat well with Dillashaw, who has held onto the grudge ever since Johnson turned down the fight with him. Now, he's using that as motivation to not only make the weight at 125 pounds but to also go out and dethrone the most dominant champion in UFC history.
"I want to prove a point. He insulted me saying I couldn't make the weight, that I wasn't worthy of a 125-pound title shot and he knows that I was," Dillashaw said. "I think he's scared, and I want to prove that.
"He's saying all this nonsense that I wasn't worthy when I was in the pound-for-pound rankings. I feel like that was a pretty big slap in the face, and I'm going to bring it back to him."
While beating Johnson is the real prize in this fight, Dillashaw can't deny that becoming a two-division champion would also be a special moment for his career. Not only would Dillashaw join an elite list of fighters who have held belts in two different divisions but he would also be the only athlete in UFC history outside of Conor McGregor to win titles in two weight classes simultaneously.
Unfortunately for McGregor, his reign as a two-division champion was rather short, as the UFC stripped him of one of those belts just a few weeks later. Dillashaw hopes he has the opportunity to win two titles and then defend them, because, unlike McGregor, he wants to stay as active as possible and take out every single contender thrown his way.
"This is a way to put a stamp on my legacy," Dillashaw said. "I was a little hurt losing that split decision [to Dominick Cruz] and not being on a 13-fight win streak and being called the pound-for-pound best in the world. In my mind, I should be No. 1. So it comes down to beating Demetrious Johnson to prove I'm the best, and it's a huge thing for my legacy to be the double champ in two weight classes.
"I'm not a Conor McGregor. I'm going to be active defending my belts. I'm not afraid to fight."