Valentina Shevchenko Ready For Flyweight Run, Wants Third Nunes Fight
Valentina Shevchenko Ready For Flyweight Run, Wants Third Nunes Fight
Former UFC women's bantamweight title challenger Valentina Shevchenko is ready to make a run at the women's flyweight title.
Jan 2, 2018
by Duane Finley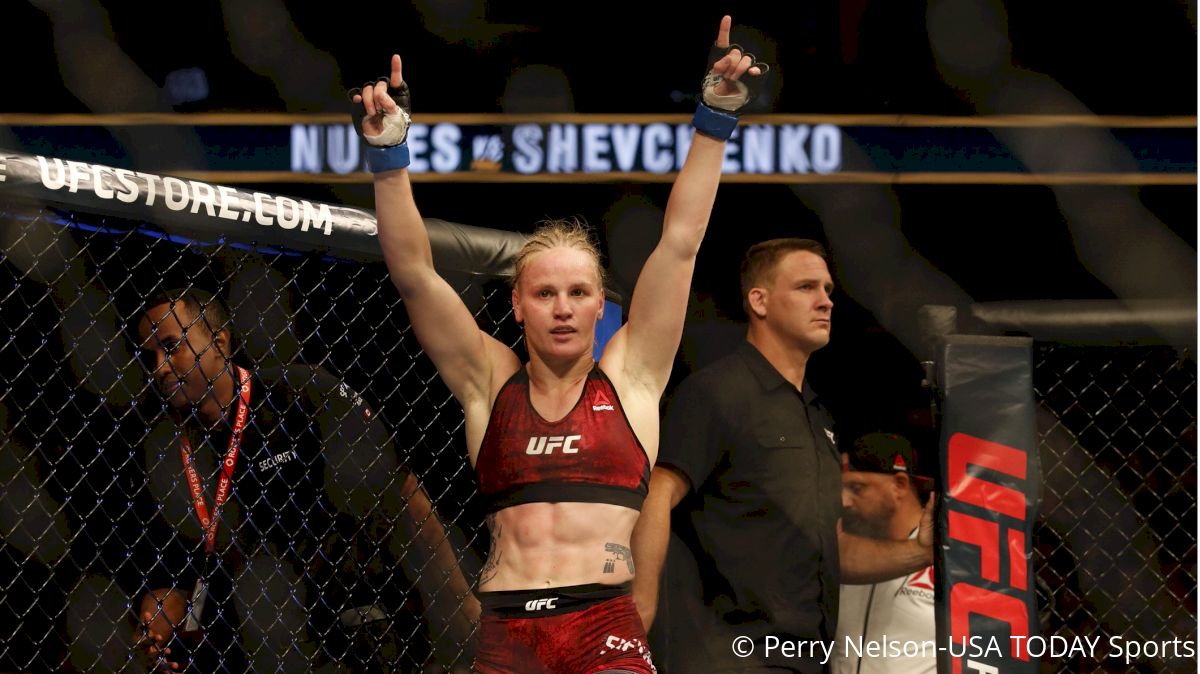 Valentina Shevchenko is focused on the future, but that doesn't mean she's forgotten about the past.
Just weeks away from her official flyweight debut in the UFC, Shevchenko has already been rated as arguably the best fighter at 125 pounds after putting together an incredibly impressive resume while competing at bantamweight.
Shevchenko is just a fight removed from a razor-close title tilt against champion Amanda Nunes this past September. The loss still leaves a sour taste in Shevchenko's mouth, and while she is absolutely ready to fight at a more natural weight class, she's not giving up on taking another shot at the UFC women's bantamweight champion.
"I think about rematch with Amanda but I don't see it happening right now," Shevchenko told FloCombat. "I think it will be sometime in the future. I think I won this fight and I think it will happen in the future. My next fight I will do in 125-pound division."
Shevchenko will make her UFC flyweight debut on Feb. 3 when she faces newcomer Priscila Cachoeira at UFC Fight Night 125 in Belem, Brazil.
Prior to her career in the UFC, the majority of Shevchenko's fights took place at weights much lower than 135 pounds. This was especially the case during her time competing in Muay Thai, a discipline in which she was a multi-time champion.
Now that she's returning to flyweight, Shevchenko predicts a very bright future lies ahead as she kicks off the next chapter of her career in 2018.
"I think this is the perfect weight class for me," Shevchenko said. "Because I fought at 125 naturally and I don't have to cut weight for 135. This is my normal walk weight and I can cut with just a little bit of a diet before the fight. It will be very good for me. I feel like every time when I fought at 135, I know my opponent is much taller than me, with much longer arms, legs. And that's why I have to think about distance and not receiving punches back when I move out from a close distance.
"I think in the flyweight division I will fight with the same size of girls like me. I will have more opportunity to explore and show more techniques and more skills and abilities that I have that I will be able to show like I did in Muay Thai. Now I will show it in MMA."
Shevchenko would like nothing more than to win her flyweight debut and then begin looking toward the opportunity to compete for the title at 125 pounds, which currently belongs to "Ultimate Fighter" winner Nicco Montano.
Make no mistake, Shevchenko is only thinking about her career in the flyweight division for now, but that doesn't mean she's going to forget about the unfinished business she has with Nunes at 135 pounds.
She is realistic when acknowledging that a third fight against Nunes will be tough to get considering she's already fallen to her on two past occasions, even though both contests were close.
Still, Shevchenko feels like a potential champion versus champion matchup would be the perfect way to entice Nunes back into another fight, assuming she wins the UFC women's flyweight title later this year.
"I will go forward because martial arts is what I love to do. I will do the same as what I did in [2017] and I know if it's not right now, I will have my rematch with Amanda," Shevchenko said.
"Now I can focus on 125 but in the future a fight between two champions will be more exciting for everyone."
---
By Damon Martin