Bethe Correia Refocused, Planning International Training For Next Scrap
Bethe Correia Refocused, Planning International Training For Next Scrap
UFC bantamweight Bethe Correia is refocused and ready to continue her road to gold. She discusses her career moving forward here.
Dec 15, 2017
by Hunter Homistek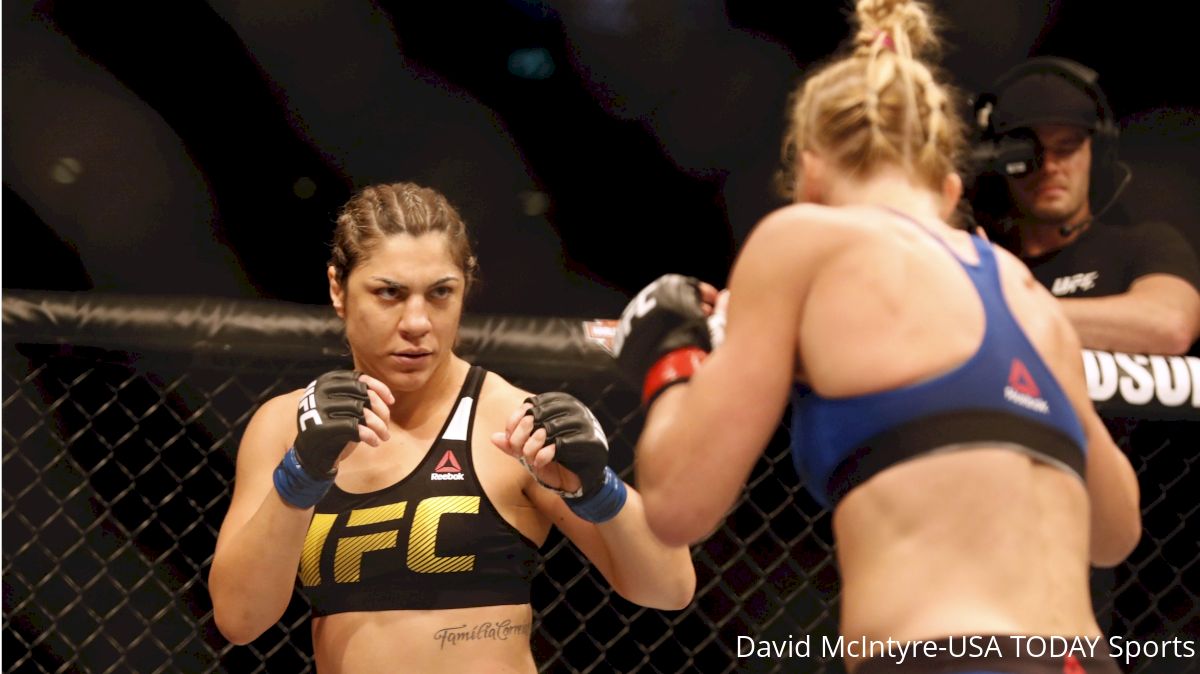 By AG. Fight for FloCombat
On August 1, 2015, Bethe Correia stepped into the Octagon for the biggest fight of her life.
That UFC 190 main event opposite Ronda Rousey ended with Correia getting knocked out only 34 seconds into the bout, and the "Pit Bull" has struggled ever since, getting only one win in her next four fights.
Totally aware of the crisis, Correia has plans to get back into the win column, but those plans don't include a move to the newly created flyweight division.
"I don't intend to go down to flyweight," Correia told AG. Fight for FloCombat. "I think that, at the moment, my division really is bantamweight, but I'm very happy to see the UFC opening another division. That shows that female MMA has come to stay. We'll soon get to a point where women are fighting in every division."
Personally, though, Correia is currently more focused on herself after having suffered her third defeat in five fights via head-kick knockout courtesy of Holly Holm in June.
Despite experiencing a rough patch after having won her first nine professional fights, Correia isn't too shaken by the current state of her career.
"Every athlete goes through this, it's normal to have this type of crisis at some point in a career," she said. "It's a moment of instability where you've got to pause and make changes. I've lost, so I'm thinking about my training and my life, so I can get out of this period of instability. I want to win again so that I can get back on the road to the belt."
Originally set to face Irene Aldana next January, Correia had to withdraw from the fight after suffering an injury to her retina last October. After having surgery done on her eye, the Brazilian assured that she's recovering well and that her return to the cage will happen sooner rather than later.
"I had a problem with my retina and I had to have an emergency surgery," Correia said. "I had a tough fight scheduled, it was very frustrating because I was already starting the camp, I was already organizing everything for my training according to my opponent.
"I was planning on making this camp a really good one, different from everything I've ever done in my life. But, everything has its time and this will have to wait until the next opportunity comes. This retina problem can happen to anyone, fighter or not. I don't know if that's something I suffered in training or if it happened in a fight, but what matters is that I'm recovering well and that I will be back soon."
With no date set for her next fight yet, Correia is now planning on investing in herself until she has a contract in front of her. Having been to Thailand before, "Pit Bull" is considering going back to the country where the art of the eight limbs has its roots.
On the other hand, while being known for her aggressive Thai boxing, wrestling is something that Correia has struggled with in the past, which is why she's also contemplating going back to the U.S. to get hours in on the mats.
"I've spent time at AKA [American Kickboxing Academy] and it was really good," Correia said. "I've been training with champions and with athletes from around the world. AKA really is a gym with a lot of opportunities to exchange knowledge. You see people from all over the world training there, so it's a great learning experience.
"It's a place that I will always come back to. I learned a lot there. I'm also thinking about going back to Thailand, but I would like to go back to the U.S. Only temporarily, and mainly to evolve my wrestling."