Lauren Murphy Opens Up On 'Shi*ty' The Ultimate Fighter Experience
Lauren Murphy Opens Up On 'Shi*ty' The Ultimate Fighter Experience
UFC flyweight Lauren Murphy drops bombshells regarding her time on The Ultimate Fighter and previews her next step inside the cage.
Dec 13, 2017
by Hunter Homistek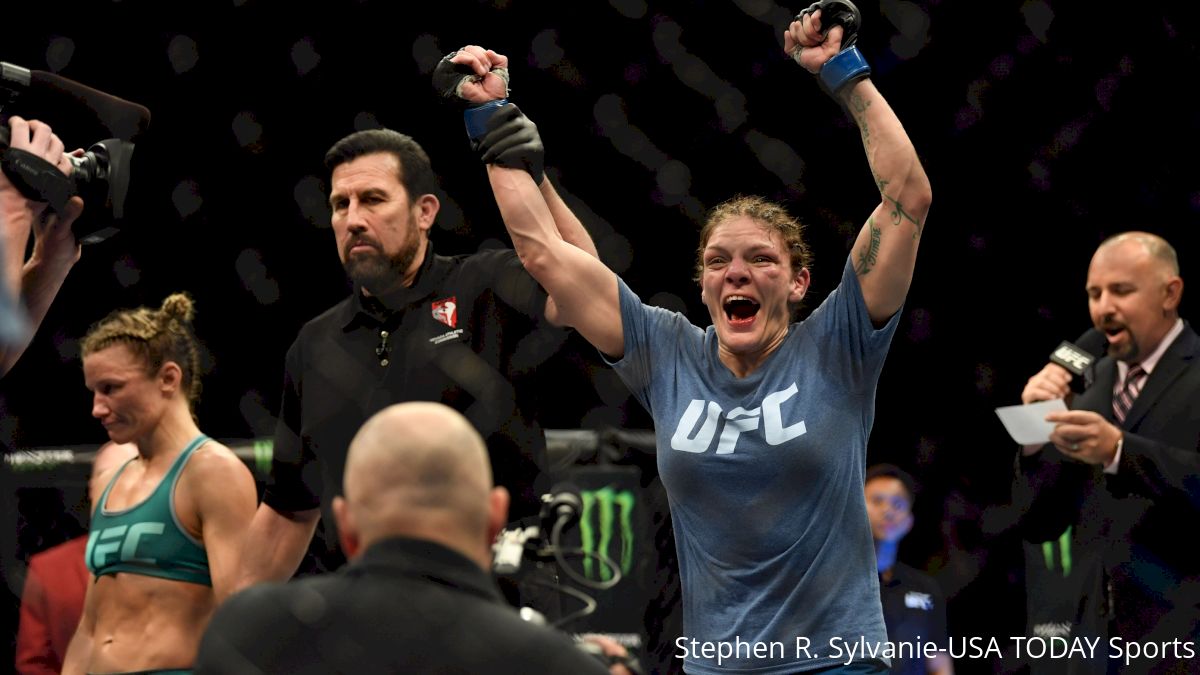 By Josh Sanchez
Former Invicta FC champion Lauren Murphy had an up-and-down experience while on season 26 of "The Ultimate Fighter."
Entering this year's tournament as the No. 3 seed, many had predicted Murphy would make a deep run to contend for the title.
Murphy was among those who went into the show with high expectations.
"I thought, 'This is going to be crazy, but I am going to love it.' I thought three distinct things that turned out to be really wrong," Murphy told FloCombat. "First, I thought I was going to win that shit. I know, I know. Totally arrogant or whatever. I don't care. I had been training daily at one of the best gyms in the world [The MMA Lab] for 3 1/2 years straight. I had an awesome camp just for TUF. I felt like I was ready, and that my time had come to finally be successful.
"Second, I didn't think I would miss my son and husband so badly. There were times on TUF when my chest would be aching because I missed them so much. It sucked way worse than I thought it would. And three, I thought it was going to be awesome to introduce myself to the world a little bit. I was excited about that."
Things took a negative turn when, in the first round of the tournament, Murphy dropped a unanimous decision to No. 14 seed Nicco Montano, who would go on to win the inaugural UFC women's flyweight championship on Dec. 1.
After her loss, an explosive relationship with coach Eddie Alvarez began, leading Murphy to eventually switch to Team Justin Gaethje. But it wasn't just the loss that caused the blow-ups between the two.
"I was annoyed by a bunch of little crap leading up to the fight — just stupid stuff that made me feel like Eddie and I didn't really click. There were two bigger things in particular I was really annoyed by," Murphy said.
"One, I didn't think we got enough rest days. We were worked out seven days a week for a couple of weeks in a row and worked hard right up until our fights. It was weird. I wanted and needed some time for my body to heal and my mind to clear. Two, he brought in a shitload of coaches. Team Alvarez literally had 15 or 16 coaches in the span of five weeks. That's not an exaggeration. It drove me crazy. There was no consistency."
When Murphy dropped the decision to Montano, things really escalated.
"Then I lost my fight, which bummed me out badly," she said. "Eddie had been a dick to me the day of my fight, and I was resentful about that. This does not mean I 'blame' Eddie for my loss on the show. I should have fought better no matter what was going on around me, but that doesn't mean the way he treated me in the locker room that day was OK. Then the whole rest-day debacle, and pretty much after that Eddie and I kinda hated each other."
While their personalities clashed, Murphy did note that a big factor in the relationship souring was the emotion of a loss.
"I was pissed and lonely and not in the mood to put up with someone's bullshit day after day for four more weeks," she said. "Eddie also wasn't happy with me, so he was probably over it as well. The two of us have personalities that just clash if we get to be around each other too much. Add the stress of TUF, the heartbreak of a loss, and the loneliness of being away from our families on top, and it's a recipe for an emotional disaster."
However, it wasn't all a negative experience for Murphy. While the animosity with the coaching staff and the drama of the season was heavily featured, there were bonding moments in the house that the editing crew left out.
"They didn't show any of the fun, good shit," Murphy said. "They didn't show some of the good talks Eddie and I had, about competition and what it means, or when we talked about taking a rest day after I fought.
"They didn't show us making cards and origami animals for each other in the house, or cooking for each other. They just show the fights and heated scenes and not the rest."
Eventually, Murphy made the switch to Team Gaethje as the season was winding down. But there was once again some controversy when Sijara Eubanks was struggling to make weight and Murphy saw an opening to return to the competition so she immediately jumped in the sauna.
"Before the sauna scene, they didn't show Sijara laying in bed, eating peanut butter with chocolate chips in it, out of a cup, using pretzels as a spoon, every night," Murphy said. "So obviously she was probably going to have a struggle making weight. It wasn't rocket science to see that happening. But they don't show that kind of stuff. Maybe people would have felt differently about what I did if they could have seen how undisciplined and irresponsible with her diet she was.
"I knew when that part aired it was going to go over like a fart in church."
With every season of TUF, there is a "villain" on the show, and this year, Murphy watched the show back and realized it was her, though the revelation was a surprise.
"Honestly, it's pretty shitty. I hate watching myself on TV and I'm not a fan of the way I was portrayed on there," Murphy said. "It's weird, and it's hard not to take it all personally. I'm not a bad person, but I'm not perfect either, and I think TUF went out of its way to show only the bad parts of me because they needed a villain for the season.
"Stuff that shouldn't have been a big deal — like asking about training to fight your own teammates comes up every season of TUF — became a big deal because there was no other drama at all on the show," she continued. "I wasn't even the only one to make those comments. Another woman from Team Alvarez had the coaches watch tape on the person she thought she was meeting in the quarterfinals before either had fought their preliminary fights. But that got left on the cutting room floor because she wasn't the bad guy of the season. So things like that are hard not to take personally. It's been a process, and I'm better for it, but I'm really glad it's over."
As for whether she would ever go through the TUF experience again, Murphy said "hell no."
Montano, who upset Murphy on the season, went on an incredible run to the TUF 26 Finale, where she topped No. 1 seed Roxanne Modaferri for the inaugural title. Modaferri had stepped up on short notice to replace Eubanks, who once again had weight-cutting issues.
That also opened up an opportunity for Murphy to score a big bout on the TUF Finale card. Murphy was in Las Vegas as an alternate and was ready to jump at any chance given.
"It was really good practice for me to just stay focused on myself and not let my mind get taken up with worry about what other people were doing. That was one of the biggest lessons I learned on TUF, so to have an opportunity to practice it was great," she said of waiting to learn if she would secure a fight.
"The UFC played the wrong walkout song for me, too, and I was able to just shrug it off and not worry about it, even though a few months ago that would probably be something that really bothered me. So honestly, it was a great week for me to find out just how strong I can be mentally, and to practice doing things better in that department."
Murphy landed a bout with the No. 2 seed Honchak at the finale and came away with a big win to put her immediately in the flyweight title picture.
"When Roxanne and Barb were set to fight, I figured that was the No. 1 contender fight in this division," Murphy said. "Now that I've stepped into that spot, I feel I'm either the No. 1 contender or something close to it. This division is so open and undeveloped right now it's hard to say, but I am ready to prove myself again if I need to."
And as you would expect, Murphy is chomping at the bit to get that rematch.
"I would love to get a rematch with Nicco, of course. I felt that in the house we had the closest fight," she said. "I still think our fight should have gone to a third round. I would like to see that third round in the Octagon."
There is no word on what is next for the women's flyweight division, but if the UFC turns to a Montano vs. Murphy rematch, there will be plenty of history and promotion there.
For Murphy, it would be a perfect way for the TUF experience to come full circle.