Cris Cyborg Still Hunting Ronda Rousey, Wants Match At Wrestlemania
Cris Cyborg Still Hunting Ronda Rousey, Wants Match At Wrestlemania
UFC women's featherweight champion Cris 'Cyborg' Justino still wants to settle her rivalry with Ronda Rousey.
Dec 12, 2017
by Duane Finley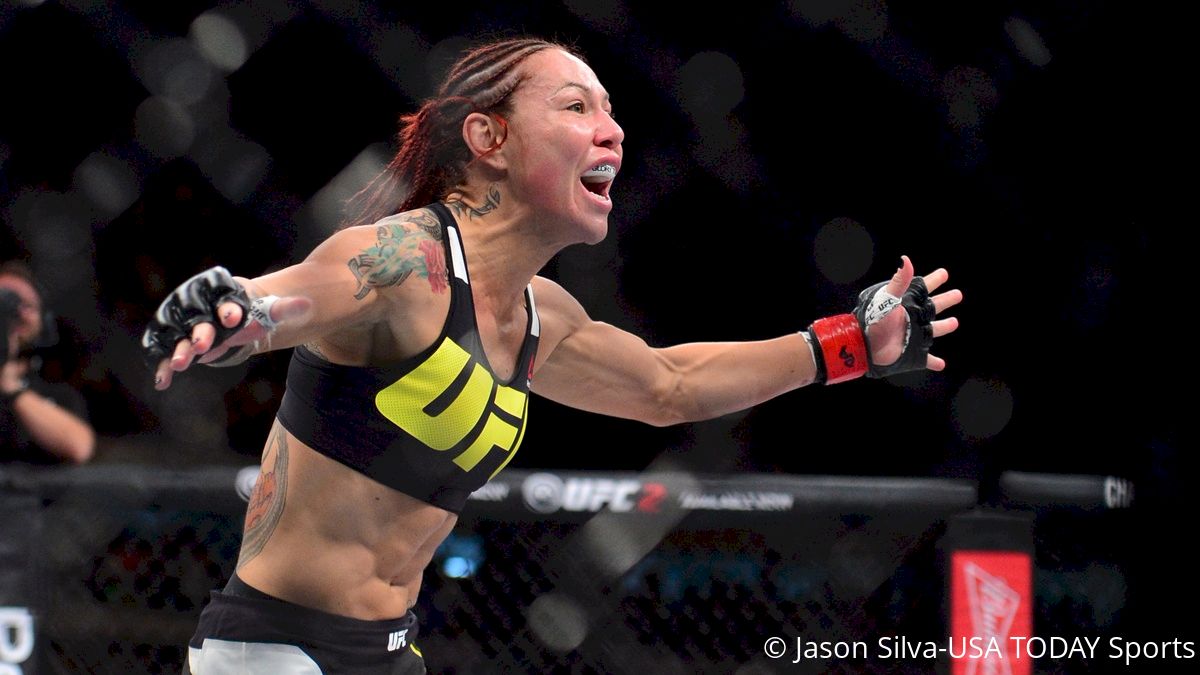 By Damon Martin
Over the past few years, it's been tough for Cris "Cyborg" Justino to talk about any upcoming fight without the name Ronda Rousey being mentioned as a possible future opponent.
A constant stretch of hurdles prevented the matchup from happening, and then Rousey suffered back-to-back drubbings at the hands of Holly Holm and Amanda Nunes, knocking the former judo Olympian off her perch and into self-imposed retirement from mixed martial arts.
That said, Justino hasn't stopped hunting Rousey down in the slightest.
Justino is set to defend her UFC featherweight title against Holly Holm at UFC 219 in Las Vegas on Dec. 30, but that doesn't mean locking up with Rousey isn't still on Cyborg's mind.
Rousey's name has been attached to rumors she is close to inking a deal with World Wrestling Entertainment (WWE). Several high profile WWE superstars including Charlotte Flair have expressed interest in welcoming Rousey to the squared circle, but now there's a new contender throwing her hat in the ring as a possible opponent as well.
Cyborg vs. Rousey never materialized under the UFC banner, therefore Justino thinks Wrestlemania would be a fine place to settle their business once and for all.
"I think Ronda Rousey in the WWE would be an amazing thing," Cyborg told FloCombat on Monday. "I just recently attended my first WWE event live when RAW was in [Los Angeles] filming and I absolutely loved the experience. If she really is done fighting and not returning to the UFC, I think the idea of a WWE match between us for the fans is still something everyone could get excited about.
"Could the Brazilian Vale Tudo Fighter beat the American shoot fighting champion? That seems like a pretty natural story line to a WrestleMania if you ask me. I know 70,000 fans who would still be willing to pack a stadium to see Cyborg vs. Rousey even if it took place in a three-rope ring instead of a cage."
It's an interesting proposition given the real-life animosity that Cyborg shared with Rousey for so long when she was still an active fighter in the UFC.
While Rousey has moved onto new adventures, including her latest acting gig — she's starring alongside Mark Wahlberg in the film "Mile 22," which is currently filming in Atlanta — Cyborg is still focused on her fighting career.
Right now, Cyborg is in the final stages of her training camp for her return to action on Dec. 30 while also preparing for her own "Cris Cyborg Nation" video series documentary that she will be releasing on fight week via her website.
That all leads to her fight against Holm, which will also serve as the first defense of Cyborg's 145-pound women's title.
As it turns out, Cyborg has actually had her sights set on Holm for more than a year after nearly being matched up with her on two previous occasions. Justino believes the timing for this fight at UFC 219 was the perfect storm to finally make it happen.
"We tried to make this fight both times I fought in Brazil at 140 pounds; however, we were unable to come to terms with Holly's side," Cyborg said. "I think waiting to make the fight was a good idea because it gave me back my strength and cardio. I kept a lot of the footwork and speed that I gained by going down in weight, however when my team did the rebuild to 145 pounds they really focused on my explosive power and cardiovascular endurance.
"This is a fight I will be well trained for and I think it is happening when it was best for me in my career. "