Kelvin Gastelum: Robert Whittaker Took 'Easy Road' With Luke Rockhold
Kelvin Gastelum: Robert Whittaker Took 'Easy Road' With Luke Rockhold
UFC middleweight contender Kelvin Gastelum shares his thoughts on Robert Whittaker choosing to face Luke Rockhold for title defense.
Dec 8, 2017
by Duane Finley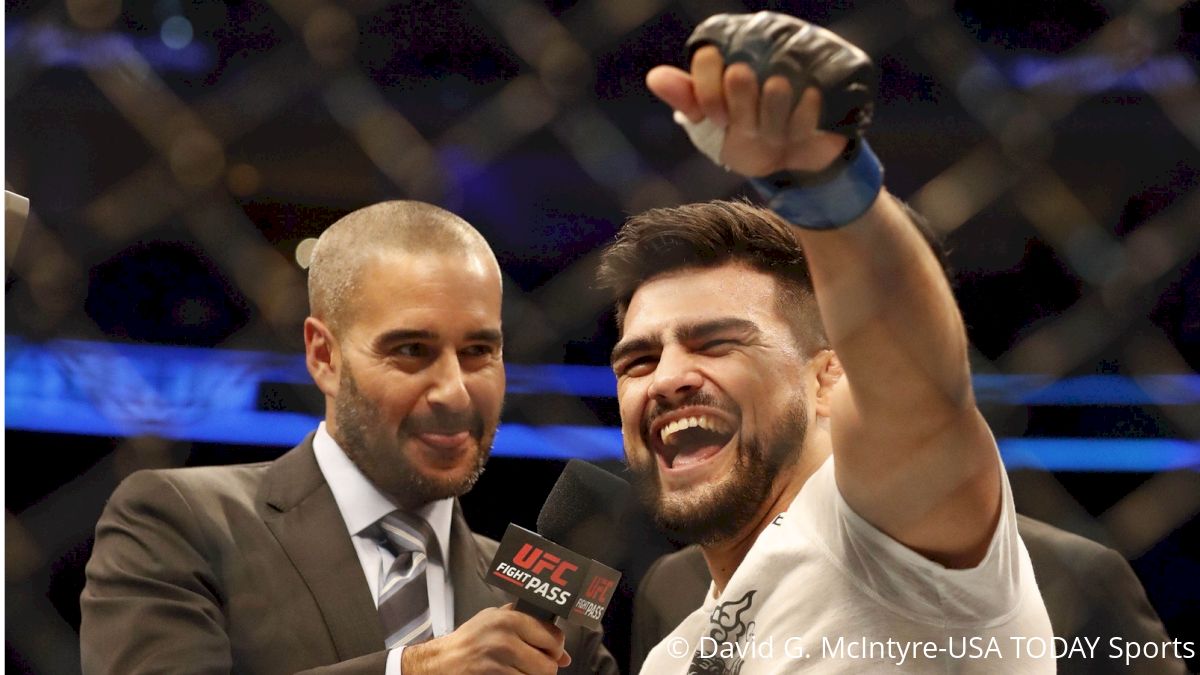 One would be hard pressed to find a competitor in the fight game more humble than Kelvin Gastelum.
The 26-year-old middleweight prefers to let his work inside the cage serve as his representation and has chosen to leave the trash-talk and promotional antics to others. Once the cage door closes, Gastelum's default setting of laid-back Cali chill gives way to a beast mode function that operates with aggression and devastating power.
Once the chaos subsides, the maelstrom ceases, calm waters return and Gastelum gets on with getting onto the next challenge that comes his way. Whether it's The Ultimate Fighter tournament or divisional climbs in two separate weight classes, Gastelum has held true to form regardless.
Until now.
When news of a bout between UFC middleweight champion Robert Whittaker and former titleholder Luke Rockhold broke public, it's safe to say Gastelum was none too pleased with the situation.
Gastelum believed his brutal drubbing of former champion Michael Bisping in Shanghai should have put him on the short list of options, but the UFC giving Rockhold the nod quickly put that notion in check. Furthermore, once Gastelum learned how the selection process actually went down, biting his tongue was no longer an option.
"I knew Luke Rockhold and I were both in the front-running for this fight," Gastelum told FloCombat. "I was then told Robert Whittaker wanted the tougher fight and he picked Rockhold. In my opinion that is the easier fight because I feel I'm the toughest fight for anyone in this division. I think Whittaker took the easier fight by going with Luke.
"He's [Whittaker is] absolutely worried about me and for good reason. He and I have trained together in the past and know what the other is all about. We know what the other brings to the table.
"The situation bothers me a little bit with him choosing to fight Rockhold over me. Luke has pretty much been out for two years then comes back and fights David Branch, who wasn't even competing in the UFC a year ago. He beats Branch and gets the title shot so I don't know what that says about [the UFC] but it's not good."
Another key piece of the middleweight title puzzle fell into place when newly crowned champion Georges St-Pierre announced he was vacating his post. The former welterweight king was diagnosed with colitis and said the illness would prevent him from defending the strap he took from Michael Bisping at UFC 217 Nov. 4 in New York City.
With the undisputed title now vacant, the interim strap held by Whittaker becomes the official crown, and that's what will be on the line when the hard-hitting New Zealand native and Rockhold collide at UFC 221.
And while some in the MMA community have placed blame on St-Pierre for returning to fight for a title he had no intention of ever defending, Gastelum pointed his finger elsewhere.
"That situation is the UFC's fault because I felt like they knew it was happening," Gastelum said. "They went ahead and got GSP to fight anyway. I feel like everyone knew Georges wasn't going to defend the belt. I don't blame him at all. He came back, got the win, won another title, got paid and gets out. I don't blame him at all. I blame the UFC because they made the matchup.
"GSP knew what was up. He's a smart guy. He got in there, got paid and got out. That's awesome."
With the middleweight title picture moving on without him and beyond his control, Gastelum plans to switch gears back to chill mode and appreciate the fruits of his labor to close out 2017. Although the year came with both ups and downs, leveling a former champion the likes of Bisping served as definitive proof he's getting closer to competing for championship gold.
"It's always about progression for me and my mindset is a big part of that process," Gastelum said. "I either win or I learn out there and being able to find the positives in all situations has allowed me to continue my growth. I'm still very young in this game. I'm nowhere close to my prime and I'm only getting better.
"I'm going out there and doing what I know I can do. This comes as no surprise to me, but it may come as a big surprise to some people who see me winning these fights they don't believe I'm capable of winning. I go out there thinking I should win the fights and do so in devastating fashion. I'm going out there and proving to the world what I already believe in my heart and mind to begin with.
"It feels good to stack up these highlight reels," he laughed. "Before every fight, they put together these highlight reels and I just keep adding to it. I'll get one and think it's cool then I'll get another one in the next fight. It's just me proving to the world what I already know. I can knock out anyone in my division and probably submit anyone as well. I can do it all and I'm going to keep proving it."