Dustin Poirier Wants To Settle Score With 'Piece Of Sh*t' Eddie Alvarez
Dustin Poirier Wants To Settle Score With 'Piece Of Sh*t' Eddie Alvarez
Surging UFC lightweight Dustin Poirier shares his thoughts on the reason a rematch with Eddie Alvarez is the only fight to book.
Dec 7, 2017
by Duane Finley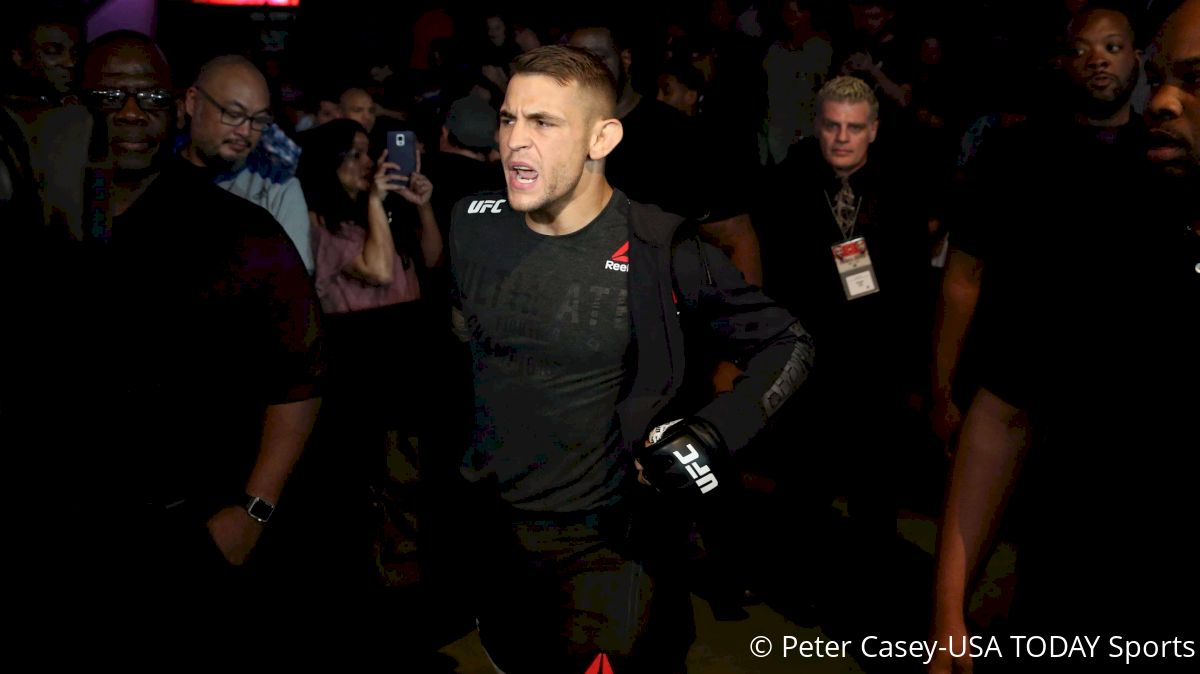 By Damon Martin
Dustin Poirier will be the first to admit he was once a fan of Eddie Alvarez.
Watching the Philadelphia native put on some of the most exciting fights in the lightweight division throughout his career caught a young Poirier's attention in full. No matter the stage or promotion Alvarez always brought the fight, and Poirier respected his warrior spirit inside the cage every time he competed.
That all changed earlier this year in May when Poirier faced Alvarez inside the Octagon at UFC 211 in a bout that very well could have put the winner close to title contention.
As the fight got underway, Poirier stunned and hurt Alvarez, backing up the former champion and nearly finishing him with a barrage of strikes. Alvarez weathered the storm and ended up catching Poirier with a counter shot that then had the Louisiana native in trouble as the fight continued.
Unfortunately, Alvarez ended up blasting Poirier with a pair of illegal knee strikes on the ground that brought a stop to the fight. The bout was determined to be a no contest and took the steam out of an exciting and high-stakes tilt.
Ever since that moment, Poirier has been clamoring for another shot while Alvarez has claimed that his opponent that night wanted out of the fight.
Poirier initially defended the illegal strikes as accidental, but after hearing the former champion's claims his opinion of Alvarez has changed rather dramatically.
"I don't like the guy personally," Poirier told FloCombat this week. "I used to be a big fan of him. I still respect his fighting style. He's a dog, he's a warrior, he's down but never out in fights. I believe that truly. But I used to really respect the guy and look up to him. Now he's a piece of shit.
"The way he's lied to himself and lied to people and said stuff about me and about the fight. So I don't have any respect for the guy."
I'm gonna get ya pic.twitter.com/guAi43GD5P

— The Diamond (@DustinPoirier) December 6, 2017
Poirier's comments come just days after Alvarez knocked out Justin Gaethje at UFC 218 in one of the best fights of 2017. Poirier is humble enough to show respect to the war Alvarez and Gaethje just went through, although there's a part of him that knows he probably should have been in that fight against one of them rather than sitting on the sidelines as a spectator.
"Eddie went in there with a good game plan, used good body work and like I said real good in and out movement," Poirier said about the fight. "Gaethje stands real flat-footed, and if (you) move in and out on a guy like that, you can really finesse him."
Poirier wanted the rematch with Alvarez immediately after their first fight ended but now believes there's truly no other option than for the UFC to put them back into the Octagon together. The two lightweight contenders have a score to settle, and that's the only matchup Poirier will entertain.
"He's the highest-ranked guy that's open right now and it makes sense. We have unfinished business and we have to do it," Poirier said.
"I'm going to go out there and outclass him on the feet and give him another boxing lesson. I'm going to stop his shots and I'm going to beat him up."
I'm gonna punish him https://t.co/HIriZWkvim

— The Diamond (@DustinPoirier) December 6, 2017
Both before and after his fight with Gaethje at UFC 218, Alvarez touted the matchup as the way to determine "the most violent" fighter in the UFC — a title he believes he claimed with that third-round knockout.
Poirier is anxious to get his second shot at Alvarez to show him what violence is really all about.
"I'm going to pry it from his hands," Poirier stated.
As of now, the UFC hasn't booked either fighter for his next bout in 2018, but Poirier is patient and believes he'll get his shot at Alvarez. Furthermore, Poirier feels a victory will lead to the ultimate opportunity.
"It's writing itself. I called it after I beat [Anthony Pettis on Nov. 11]," Poirier said. "I'm going to fight the winner [of Alvarez vs. Gaethje]. Now it's gonna be me and Eddie, winner gets a title shot."