John Lineker's Plan: Defeat Jimmie Rivera, Rematch TJ Dillashaw For Title
John Lineker's Plan: Defeat Jimmie Rivera, Rematch TJ Dillashaw For Title
UFC bantamweight knockout artist John Linker believes he can land a title shot with a victory over Jimmie Rivera at UFC 219.
Dec 7, 2017
by Duane Finley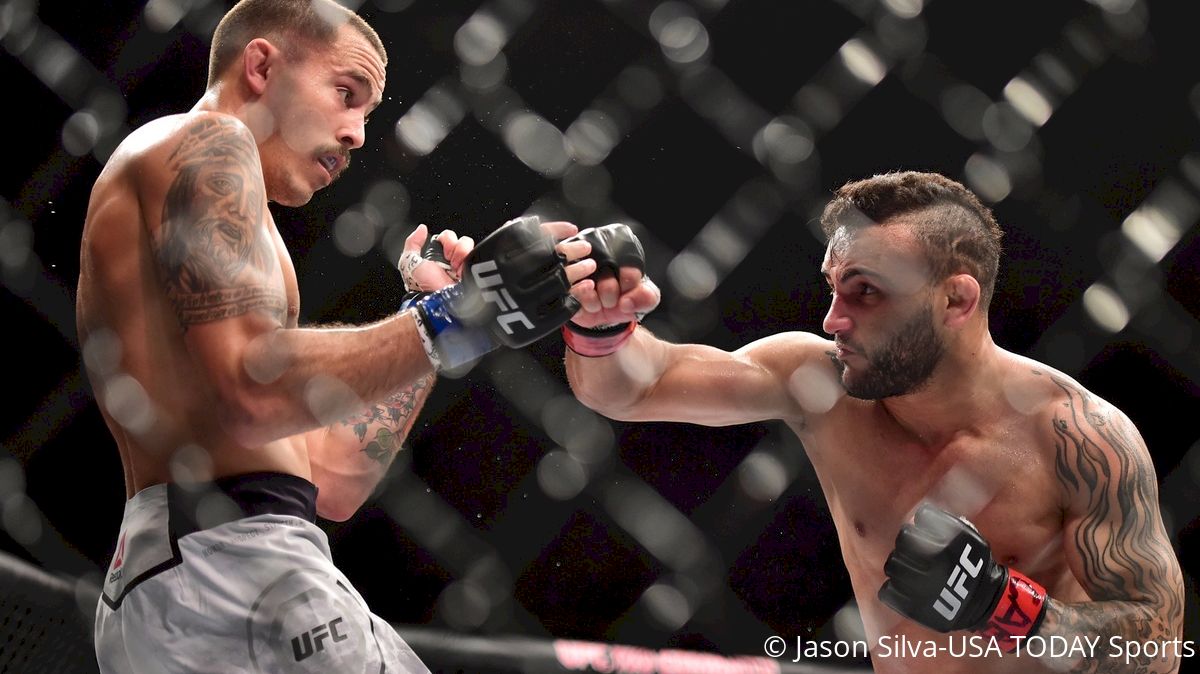 For FloCombat via A.G Fight
John Lineker knows an opportunity when he sees it.
When former UFC bantamweight king Dominick Cruz suffered a broken arm and was forced to step out of his scheduled bout with Jimmie Rivera at UFC 219 on Dec. 30, "Hands of Stone" was quick to step up and take that challenge.
With a win in Las Vegas, Lineker hopes to close out the year in spectacular fashion and take a big step closer to a rematch with current champion TJ Dillashaw.
Lineker was bested by Dillashaw in 2016 and wants nothing more than another go at the unorthodox striker inside the cage. Yet, a lingering issue besides his upcoming fight against a game Rivera is the current 135-pound champion's pursuit of a superfight with flyweight king Demetrious Johnson.
And that doesn't sit well with Lineker.
"This business of challenging people in other divisions, I don't like this," Lineker said. "Every fighter has to stay quietly in his division and stay in his corner. But the UFC is now giving these opportunities to fight in other weight categories."
Still, Lineker doesn't believe the rumored superfight would hold up the bantamweight division for all too long if it does materialize.
"Stagnation will not happen, because [TJ Dillashaw] still has the bantamweight belt," Lineker said. "Either way, he'll have to defend the title. But in my opinion, everyone should stay in their division instead of challenging people elsewhere to fight."

Currently ranked fifth within the UFC's increasingly competitive bantamweight division, Lineker is set to face No. 4 in Rivera.
This means there won't be many names ahead of the winner of their bout, and for that reason, Lineker is convinced an impressive performance at UFC 219 can get him within reach of the belt.

"I believe I deserve a title shot if I win," Lineker said. "I've been looking for this from the beginning of my career in the UFC and I think I'm ready. In fact, I don't just think so, I'm sure that I'm ready. I had a loss against TJ Dillashaw, but I went back home and reviewed the mistakes. Sure enough, with a convincing win [against Jimmie Rivera], I think I deserve my opportunity to fight for the title.

"The fact that I lost to TJ Dillashaw and him being the current champion doesn't get in the way [of a potential title shot] because it's a fight. Every fight has its own story, so I want to beat Rivera and get my chance to fight for the title."

That being said, Lineker won't underestimate Rivera, who sports an impressive resume with only one loss as a professional. And while Lineker admires his opponent for what he's done so far, he's confident a second loss will be added to his opponent's resume on Dec. 30.
"The matchup with Jimmie Rivera is very good for me, stylistically," Lineker said. "Especially in the striking department because he is a guy who also likes to exchange, who comes forward, and so it's sure to be a good matchup for me, too. I think Rivera is one of the toughest opponents I'll face in the UFC. He's a tough, tough guy. He has great skills. I think his strategy will be to pretend to seek a standup fight in the beginning and then to take me down."