Max Holloway On Conor McGregor: 'I Got Under His Skin A Bit'
Max Holloway On Conor McGregor: 'I Got Under His Skin A Bit'
UFC featherweight champion Max Holloway shares his thoughts on the standing friction with Conor McGregor.
Dec 6, 2017
by Duane Finley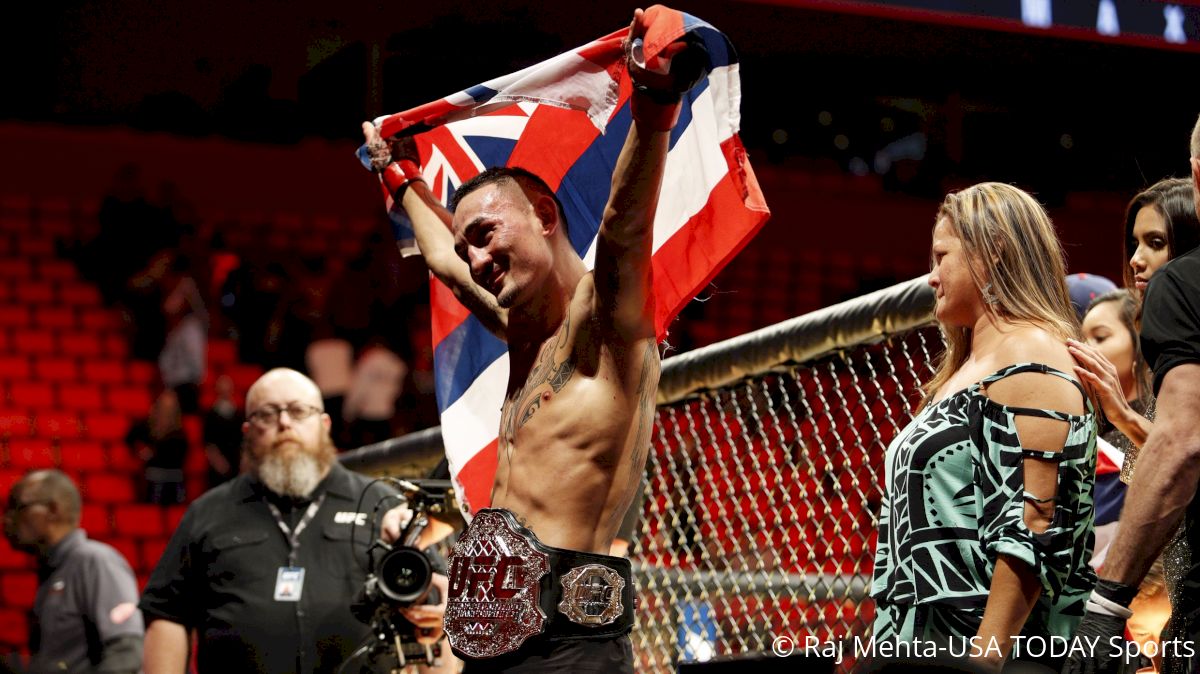 By Damon Martin
Conor McGregor doesn't do anything these days without a purpose.
The outspoken UFC lightweight champion hasn't fought since August, when he lost his professional boxing debut by 10th-round TKO to Floyd Mayweather, and McGregor has appeared sparingly in interviews or social media since that time.
When McGregor does speak, or take to Twitter or Instagram, he's usually doing it to get his message out to the world. Whether that's regarding contract negotiations with the UFC, explaining his reasons for jumping into the Bellator cage and getting into an altercation with a referee, or taking a veiled shot at UFC featherweight champion Max Holloway after his second consecutive win over Jose Aldo.
This past weekend, Holloway dismantled Aldo for a second time at UFC 218. At the post-fight press conference, Holloway was asked by FloCombat about a potential rematch with McGregor considering he is riding a 12-fight win streak and it's been four years since the Irishman handed him a defeat.
"Right now Conor is talking about fighting Paulie Malignaggi in MMA," Holloway said on Saturday night. "Just let that sink in, you know. Paulie Malignaggi in MMA. I don't know what to say. I don't know what to say after that."
Well whatever Holloway said it was enough for McGregor to take a shot at him on social media less than a day later. That reaction told Holloway he'd ruffled some feathers and that left a smile on his face.
"I got under his skin a little bit," Holloway said with a laugh when speaking to FloCombat on Tuesday. "I laughed. When a bully pulls your hair, you punch him in the face. That's what I did. It was funny. This guy... we fought several years ago when we was kids on the undercard of a 'Fight Night.' We made $12K, I think he's happy holding onto that.
"I told you guys when I talked about this new contract I got just before this fight, the UFC asked me about [fighting] him at 155 [pounds] and I was up for it. His coach said I'm the best but we heard he was asking for Paulie Malignaggi in MMA instead. What is going through this guy's mind? I don't know what to tell you."
Miss the sunglasses? I bet you also miss 2015 brother. Retired fighters love the past. pic.twitter.com/UWGnJG2KEe

— Max Holloway (@BlessedMMA) December 3, 2017
McGregor has referenced his 2013 win against Holloway numerous times when discussing a possible rematch or his reign over the featherweight division — a title he never actually defended.
McGregor contends that he knocked out Jose Aldo in 13 seconds and already holds a win over the current champion so what more does he need to prove?
"Supposedly only he got better from the last fight and I didn't," Holloway said about McGregor. "It's funny. Just know, if the fight with Conor McGregor never happens — like never, ever — it's not going to be because of my side. Their team said I'm one of the best of the guys in the world. Go Google it if you don't believe me. But supposedly only one guy can get better after every fight and I guess I'm not that guy. I don't care."
Of course, Holloway would like the chance to avenge the last loss of his career, but there are other things on his mind that carry priority.
"It's all fun and games until the guy gets salty," Holloway said. "He's getting salty. He's acting out. He's been acting out of character lately. We'll see where it goes. If he wants to come back, he's more than welcome, but at the end of the day, I've got a belt to defend. I'm not going to go on a hiatus from my throne. I'm here to fight. I'm here to conquer. All these guys can get it."