Cub Swanson Blocking Out Static, Focused On 'Royal Performance'
Cub Swanson Blocking Out Static, Focused On 'Royal Performance'
UFC featherweight contender Cub Swanson shares insight into his personal motivation for his upcoming bout with Brian Ortega.
Dec 1, 2017
by Duane Finley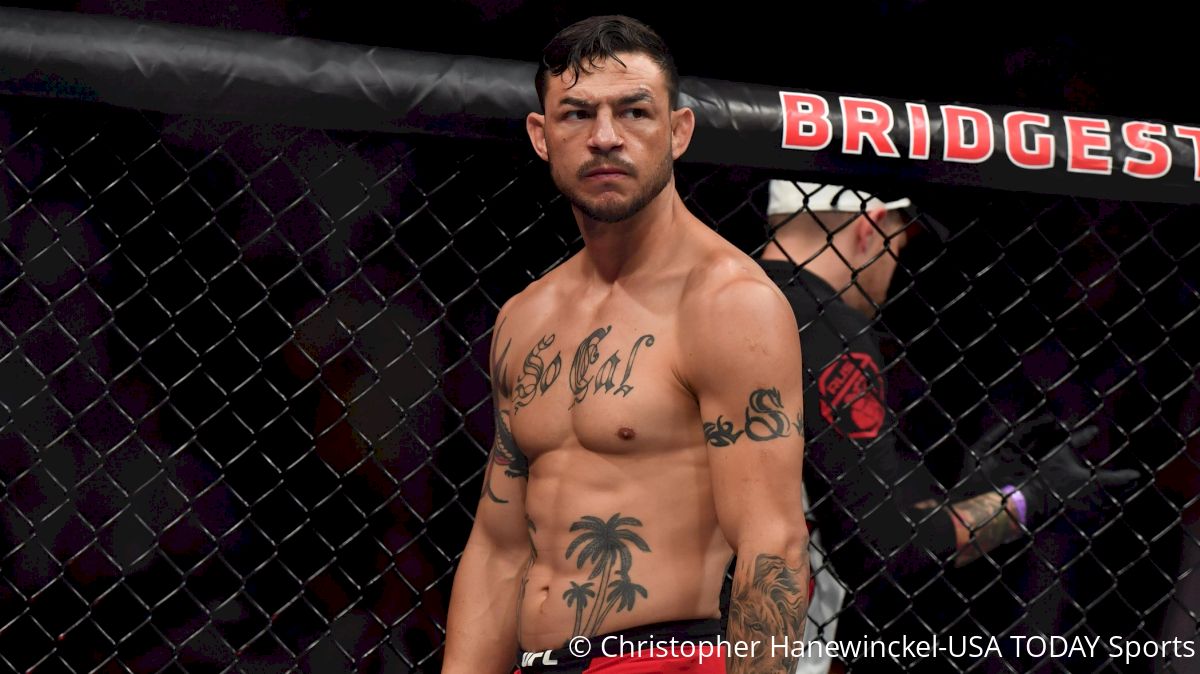 The ability to find calm inside the chaos is what has made Cub Swanson one of the best featherweight fighters in the world. As the pressure, either literal or figurative, has built around him in the fight game, the SoCal representative has consistently found a way to combat and overcome what he's facing.
Even in setbacks or times of adversity, the same rules have applied because his head-down, nose-to-the-proverbial-grindstone approach. And while testing free agency and being passed over yet again for a UFC title opportunity has introduced new elements to Swanson's overall conflict equation, there's also been a huge addition on the zen side as well.
Several months back Swanson and girlfriend Kenda Perez welcomed their daughter, Royal Swanson, into the world, and the concept of his family's future has the longest-standing featherweight on the UFC roster in rare form as he prepares to return to the Octagon.
"Killer Cub" will face Brian Ortega in the main event at UFC Fight Night 123 in Fresno, CA, on Dec. 9. With the matchup right around the corner, Swanson isn't thinking about contracts or a title shot promised and taken away. Instead, he's thinking about painting a picture of poetic violence to fulfill the inspiration provided from a special source.
"Beautiful destruction is always the tone, but the mentality going into this fight is a 'Royal Performance," Swanson told FloCombat. "That's what I'm going for. My daughter is heavily on my mind and has been my motivation throughout this camp. I want to make her proud. Not just on my fighting ability, but also my ability to take care of my family and put them in the right position going forward.
"She gives me extra motivation, and at the same time, having that perfect performance is all wrapped into one."
While the fight with Ortega will come front and center next Saturday night, it's the additional storylines hanging in the balance that have served to ratchet up the pressure surrounding Swanson's next outing.
After a decade of competing under either the WEC or UFC banners, the 34-year-old contender has opted to fight out his contract and test free agency, with past treatment in regard to title opportunities being one of the key factors. Furthermore, there was additional static when Frankie Edgar was forced out of his title bout with Max Holloway, and the Tru MMA leader was once again passed over for a different option.
Everything combined into a perfect storm of publicity which only served to highlight Swanson's ongoing battle for respect from the promotion, but those are tides he's learned to temper in the interim. The only thing on his mind in the here and now is the fight with Ortega, and everything else is truly everything else.
"I'm blocking it all out and keeping my focus on the important things," Swanson said. "That's what distractions do... they pull your focus away from your goals. My goal is to give my best performance and that's what I'm going to do. All of the other things are certainly there, but at the same time, I feel like there's never been a time where the fans have been more appreciative of who I am and how I fight than they are showing right now. They've spoken up and acknowledged all my hard work and sacrifices and I'm very grateful for that.
"You know me, man. I don't ask for much of anything. I go out there and give my all every single time because that's what I've signed up to do. I've put in the work and believed things would come when the work was invested. Do I feel like I've been passed over on things I have earned and deserved? Yes, of course I do and it's been a battle that has gotten me down at times. But this latest turn, I felt so much love from the fans that it made it much easier to deal with.
"I've put in the work and have been doing so for a long time. I just want what I think I'm worth."
Even though Swanson has blocked out the friction for peace of mind, he still can't keep himself from finding strange humor in the entire debacle.
"I actually had to sit back and laugh a bit because the UFC has always said how when the people speak up they listen and make it happen," he added. "Well, the people sure enough spoke up and they went another way. I feel like I've done a good job of making my voice heard, the fans have responded, and it's on the UFC to make it right.
"That opportunity has passed for now, but I still have a fight to give the fans and it's going to be something they can enjoy. I'm looking forward to that."
Although Swanson has been a wrecking machine during his current four-fight winning streak, he's also been around the fight game long enough to know nothing and no one can be underestimated. He's certainly keen on what Ortega brings to the table and acknowledges his upcoming opponent's rise through the ranks. In Swanson's mind, Ortega has earned the buzz he's built, but that doesn't change anything about the task at hand.
During his time inside the Octagon, Swanson has gone toe-to-toe with the best of the best and that experience is something Ortega hasn't scratched the surface of. In fact, their tilt in Fresno will be "T City's" first bout against an established upper-tier contender, and Swanson has every intention of showing the young upstart he's not quite ready for prime time.
"This is a great fight for me from a stylistic perspective," Swanson said. "[Ortega] is definitely talented on the ground and has put a lot of work into his striking game. He's gotten a lot better and I've seen improvements in all of his fights. This is a big step up for him though because I feel I'm better everywhere. That's the way I see it but whatever. Let's do it.
"I know he's headlined some smaller shows and this will definitely be a different stage, but I can't prepare as if that will affect him. I've put all the focus on myself and making sure I go out and give the performance I know I can and I'm confident I will. I've been in many big fights, and I'm used to the bright lights so that won't bother me in the slightest. I've prepared for him at his best, but there's a chance all of that does factor in a bit. And if so, that's just that much more in my favor."
With an extensive run through the chaotic realm of mixed martial arts, Swanson is certainly well aware that nothing is given in such an unforgiving sport. He knows the next few years will hold crucial sway because they will be his last at his fighting prime, and with a family to take care of, the emphasis to make this chapter count is of the utmost importance.
Yet and still, for all things to take shape he must first go out and put a stamp on his performance against Ortega. And he's determined to do just that.
"The first thing I need to do is win this fight because the outcome changes things depending on what happens," Swanson said. "It all comes back to going out there and putting on a perfect performance. I do that and this will take care of itself. After that... my manager and the team I've put together to determine what's next will takeover and it's on them. I'll be able to go into Christmas with my family and be able to relax and trust in the process."