Michael Bisping Gets 60-Day Medical Suspension After Shanghai
Michael Bisping Gets 60-Day Medical Suspension After Shanghai
The official list of medical suspensions following UFC event in Shanghai.
Nov 29, 2017
by Duane Finley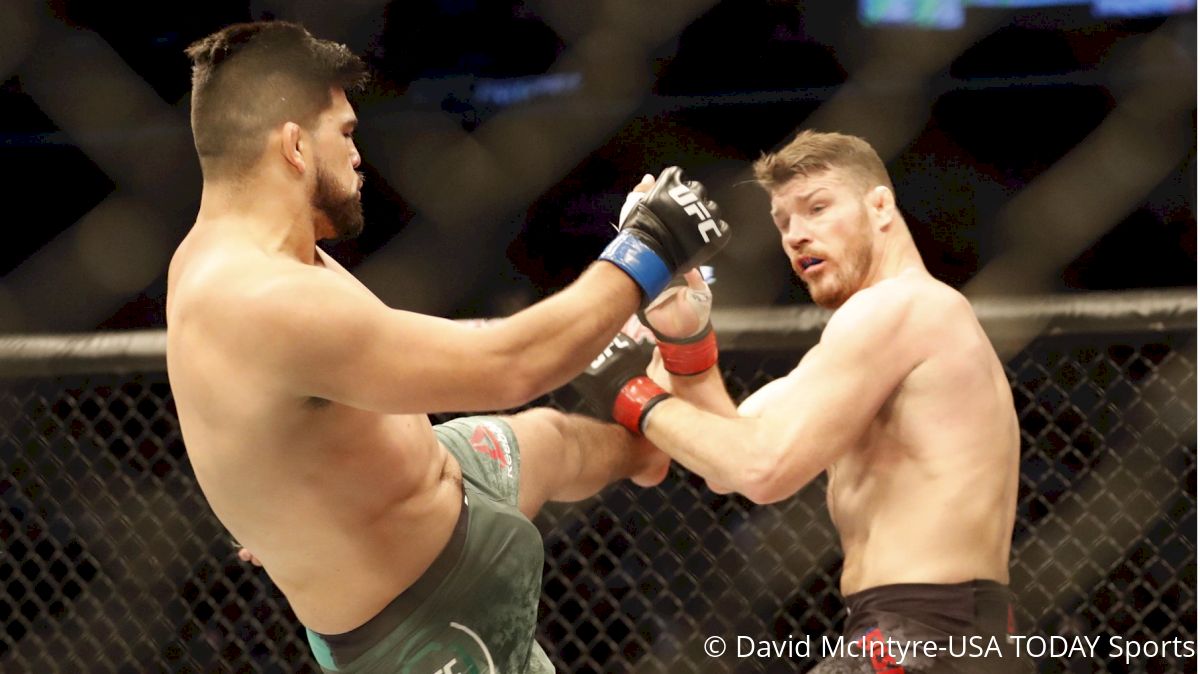 By Josh Sanchez
Last Saturday, former middleweight champion Michael Bisping took on Kelvin Gastelum at UFC Fight Night 122 in Shangai.
Bisping accepted the bout on just three weeks' notice after losing his belt to Georges St-Pierre at UFC 217 in New York, but the risk did not pay off. In just 2 1/2 minutes, Bisping caught a left hand from Gastelum right on the button that knocked him unconscious.
As a result of the knockout loss, Bisping has been suspended for 60 days with no contact for 45 days.
The medical suspensions, issued by the UFC, were released to MixedMartialArts.com.
Co-main event participant Zak Ottow was suspended for 180 days following his loss to Li Jingliang, while Song Yadong and Gina Mazany also received 180-day bans.
The full medical suspensions from UFC Shanghai can be seen below:
Kelvin Gastelum: 7 days due to mandatory rest
Michael Bisping: 60 days due to knockout with 45 days no contact
Li Jingliang: 7 days due to mandatory rest
Zak Ottow: 180 days or until his right hand hand is cleared by an orthopedist with 30 day minimum suspension and 21 days no contact
Wang Guan: 7 days due to mandatory rest
Alex Caceres: 45 days due to right eyelid laceration and 30 days no contact
Muslim Salikhov: 7 days due to mandatory rest
Alex Garcia: 7 days due to mandatory rest
Zabit Magomedsharipov: 7 days due to mandatory rest
Sheymon Moraes: 30 days and 21 days no contact due to hard bout
Kenan Song: 7 days due to mandatory rest
Bobby Nash: 45 days and 30 days no contact due to TKO
Kailin Curran: 30 days and 21 days no contact due to hard bout
Yan Xiaonan: 45 days due to lip laceration and 30 days no contact
Song Yadong: 180 days or right foot cleared by orthopedist and 30 day minimum suspension and 21 days no contact
Bharat Kandare: 30 days and 21 days no contact due to hard bout
Chase Sherman: 45 days and 30 days no contact due to TKO
Shamil Abdurakhimov: 180 days or left thumb cleared by orthopedist, 30-day suspension minimum and 21 days No Contact
Wu Yanan: 30 days and 21 days no contact
Gina Mazany: 180 days or left toe X-rayed and cleared by a physician and 30-day suspension minimum and 21 days no contact
Wuliji Buren: 30 days and 21 days no contact due to hard bout
Rolando Dy: 7 days due to mandatory rest
Cyril Asker: 7 days due to mandatory rest
Hu Yaozong: 30 days and 21 days no contact due to hard bout