TJ Dillashaw: Cody Garbrandt Will Have 'Tough Road' Back To Title
TJ Dillashaw: Cody Garbrandt Will Have 'Tough Road' Back To Title
UFC bantamweight champion TJ Dillashaw shares insight as to why he wants to fight Demetrious Johnson rather than Cody Garbrandt.
Nov 27, 2017
by Duane Finley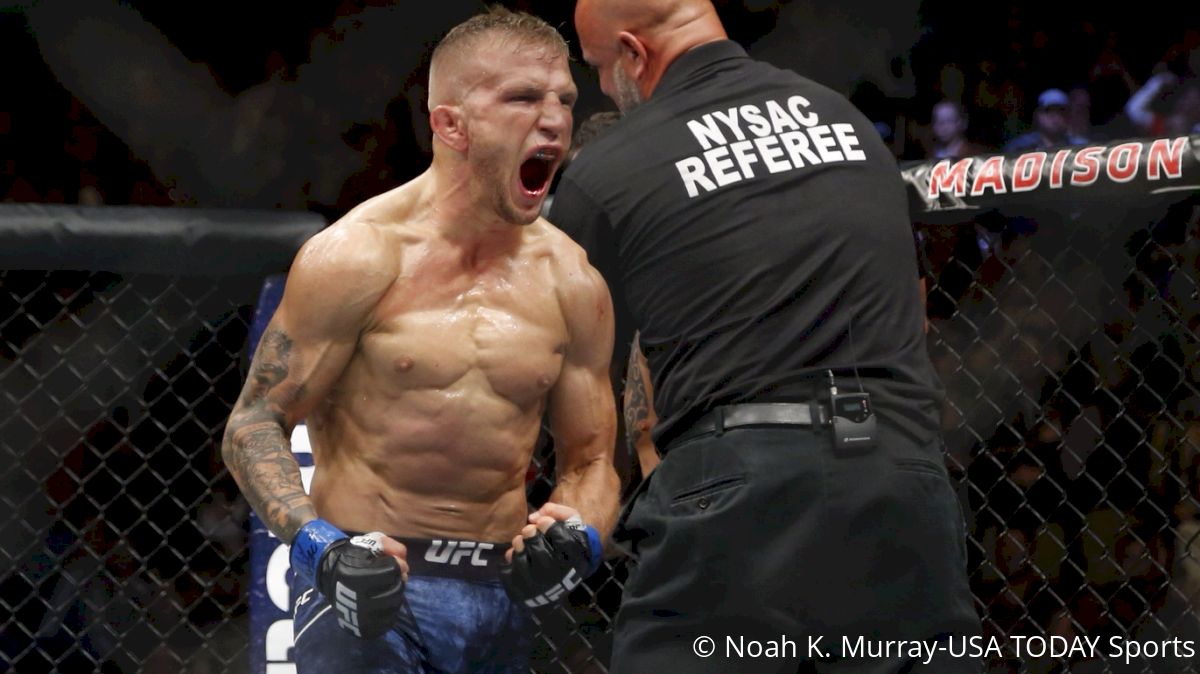 By Damon Martin
T.J. Dillashaw may have closed the book on his rivalry with Cody Garbrandt once and for all after knocking out the former champion at UFC 217 earlier this month.
Following a season coaching opposite each other on "The Ultimate Fighter" and then months of trash talk being hurled between the former teammates, Dillashaw and Garbrandt anxiously awaited the chance to settle their business a few weeks ago in New York.
Garbrandt had the upper hand early with a quick knockdown at the end of the first round, but Dillashaw got his revenge with a vicious TKO just a few minutes later to become a two-time UFC bantamweight champion.
Considering all the harsh words that were shared leading up to the fight, Dillashaw admits that it was nice to silence Garbrandt with such an emphatic statement. However, there is a part of Dillashaw that wishes the fight didn't end so early.
"Getting the finish, getting the win is the most important thing. I almost would have preferred to beat his ass for five rounds," Dillashaw told FloCombat. "To really prove that I was the better fighter and finish him in the fifth round like I do in some of my fights, later in the championship rounds to really prove a point. But, obviously I'm going to take advantage of stopping fights.
"I think I have the most finishes in bantamweight history now. It's because of my killer instinct. I'm always going for it."
After losing his belt, Garbrandt mentioned the possibility of an immediate rematch, but Dillashaw quickly shot that down considering the exclamation point he put on their fight with a second-round TKO.
Dillashaw is also not so sure Garbrandt is ready to go through the murderers' row of contenders at 135 pounds to earn another shot at the title.
"He definitely doesn't deserve a rematch," Dillashaw said. "He never actually defended his belt. In my mind, you're not even really a champion until you defend your belt. He never ever once defended it, and he got knocked out in the second round. I lost a split decision against [Dominick] Cruz when the owners of the UFC told me they thought I won the fight. You tell me how that makes sense. No, he's going to have to build his way back up.
"He is good enough [to earn another title shot], but he does have holes in his game and I think I've proved that now. I also don't believe he has a chin. I think a lot of people are scared of his power, and there are some guys in the weight class that can hang with [him]. It's going to be a tough road. He's definitely good enough to do it, but it's going to be tough."
As much as Garbrandt will hate hearing that, Dillashaw has already moved on his mind to the next order of business, and that's pursuing a fight with flyweight champion Demetrious Johnson.
Dillashaw had already previously offered to drop down to 125 pounds to face Johnson earlier this year, but "Mighty Mouse" declined the fight and instead wanted to take on Ray Borg, whom he later dispatched in impressive fashion at UFC 216.
Now that Dillashaw is back on top of the bantamweight division, he said there's nowhere left for Johnson to run. The potential pairing is one of the biggest fights to make in the sport, and it's time they made it happen.
"I'm coming for Demetrious Johnson," Dillashaw said. "It's the fight that makes sense right now. It's the fight that the fans want to see. It's the fight the UFC wants right now. It's the fight Demetrious needs.
"He wants to be known as the real pound-for-pound [best], then he's got to step up and take this thing."