Can Brazil Still Produce World-Class Fighters?
Can Brazil Still Produce World-Class Fighters?
FloCombat takes a look at the state of mixed martial arts in the land where it all began.
Nov 26, 2017
by Duane Finley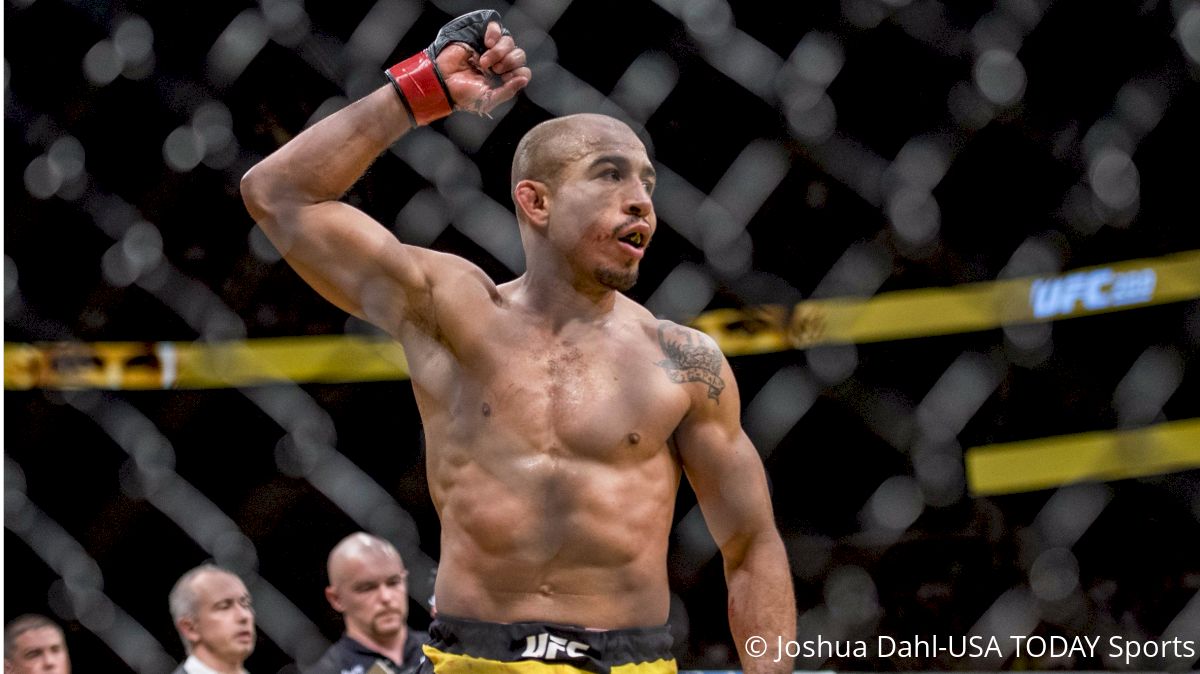 For FloCombat via A.G Fight
Brazilian MMA has long become accustomed to being a factory of champions, and given that many of the sport's roots can be traced back to the country, it is no wonder that the sport has grown so much in so little time there.
However, one development has become more obvious every year, and that is that most of the country's stars are moving to the States – or elsewhere – to get their training in.
Vitor Belfort, Fabrício Werdum, Rafael dos Anjos, Amanda Nunes and Cris "Cyborg" represent just a few of the names that nowadays plaster gyms in the United States. For athletes who have chosen to remain faithful to their roots, though, as it is the case with the likes of José Aldo and Demian Maia, the question is if they're merely exceptions to a perceived rule or if anyone can get to their level, even without moving to another continent.

For coaches who have preferred to go about their careers in Brazil, it seems clear that it is entirely possible to reach the pinnacle of the sport without leaving home soil. However, those coaches also admit that if fighters decide to remain in Brazil, they must be aware of the consequences that decision might bring, which is mostly a perceived lack of support and infrastructure.
Nothing that can't be fixed through passion and discipline, in their eyes.
If you ask Gilliard "Parana", coach to fighters such as top UFC strawweight Jessica Andrade, careers like the one of former two-time UFC featherweight champion José Aldo aren't an exception to a rule, but rather a goal that can be achieved by anyone, anywhere, through talent, drive and heart.
With Andrade's recent win over Claudia Gadelha, a Brazilian who now trains in the US, "Parana" doesn't lack a good argument for his case.


"I have the best female team in Brazil - and probably the world - in terms of the number of athletes and results in the events we participate in," the coach said. "We have fighters in Europe, in Rizin, in Invicta, we have two UFC athletes... And we achieved all this only through our work in Brazil, so I think it's possible to keep on training at the highest level in our country. It depends on the dedication of the athlete and the guidance of their teachers."

Sharing that view is Eduardo Alonso, MMA manager and head coach of "Vila da Luta", an academy located in São Paulo that is headed by Demian Maia. Alonso believes that there is a lot of work to be done if Brazil is supposed to keep developing world champions on its own.
"It is possible, with absolute certainty, provided people are going about it with intelligence and the humility to acknowledge the disadvantages [that training in Brazil comes with]. I don't think cases like Demian [Maia] and José Aldo are so sporadic. I think what's missing is the development and keeping up with other places.
"I think it's a snowball effect. If it's not going so well, it gets more difficult to have a good market over here, and it hurts the development. That way, it also gets difficult to build up younger fighters, which is also caused by the migration of coaches to other countries, which makes it worse."
Demian Maia doesn't view the situation quite as badly.


"Many go to the United States because of security, because of logistics or other issues," the former two-time UFC title challenger said. "Sometimes, with a certain standard of living, you can have a life that is quieter [in the US], whereas Brazil is more of a jungle, it's a bigger rush. But training here or training there – I think you can train well anywhere, it doesn't matter.
"There are excellent coaches and sparring partners in Brazil, you can get healthy food anywhere. It's up to you. The psychological [aspect of the sport] is the same anywhere, and even the greatest crop of good fighters we had, they all trained in Brazil. I think it's more a case of athletes going after a higher quality of life in a more organized country where you know things work."

Lack of infrastructure

As one of Brazil's biggest MMA and jiu-jitsu gyms, the staff at Nova União, including head coach Andre "Dedé" Pederneiras, believe that Brazil can continue to produce big names continuously. However, the Rio de Janeiro based team's head coach admits that those who choose to train in Brazil have to know that they might run into difficulties that are not as common abroad, such as sponsorships.

"I certainly think it's possible to reach the top while training in Brazil," Pederneiras said. "It has always happened, and it won't change now. The advantages of training somewhere else, in my view, are the sponsors who don't exist here. I think the US is also ahead when it comes to nutritional supplementation."

Even Olympic sports are having trouble building a functioning infrastructure in Brazil. Under these circumstances, Eduardo Alonso believes it's going to be hard for a fairly new sport such as Mixed Martial Arts to break through and get the support needed to build a functioning infrastructure.

"If you already have difficulties to support some Olympic sports, imagine what it is like for MMA, a sport that has evolved a lot but that still carries some burden of prejudice," Alonso said. "I think it's a consequence of this mentality that the MMA market is convalescent here, that it is basically in ICU.

"The biggest difficulty I have today, that any team I think has right now, is to develop new athletes, to keep them motivated on a day to day basis and the mentality to keep struggle to a minimum. Today's culture in MMA, where big promotions seem to only worry about a fighter's record and not what it really consists of, it ends up creating a culture where nobody wants to take a risk. Because it's not worth taking a risk for so little money. Sometimes you fight with very little preparation time and then the events might not even pay well, because they have no support."
The other way around

Another fighter who has made a name for himself in Brazilian MMA is Erick Silva. The "Tiger", who sports a 7-7 record in the UFC, chose the opposite direction. Silva moved to the US to train but later returned to his home country to set up his own academy, located in Espirito Santo. Silva used the experience of training in the US to broaden his horizon and apply what he learned back home.

"It was a gigantic experience," Silva said of his time in the States. "I have evolved quite a lot as far as muay thai and wrestling are concerned. It was a time dedicated to technical improvement. I really enjoyed this time, I was very happy with the people I met, with the work that was done and with the structure I had."

Andre Benkei, head coach at Silva's "Tiger's Den", agrees in the sense that it might take some travelling to sharpen up one's repertoire enough to be able to then get proper training at home.
"I think with greater investment into schools and with the creation of teams that will invest in the quality of their athletes, especially in exchange with different visions, mostly in the case of wrestling, I don't think it would be necessary to travel abroad. But nowadays, it is still necessary precisely for the quality of the training when it comes to the various aspects of MMA. That's the significant difference [between Brazil and the US]."