Amanda Nunes Angry With Lack Of UFC Push: 'They Want Cute Blondes'
Amanda Nunes Angry With Lack Of UFC Push: 'They Want Cute Blondes'
Reigning UFC women's bantamweight champion Amanda Nunes blasts organization for failure to promote her as a champion.
Nov 25, 2017
by Duane Finley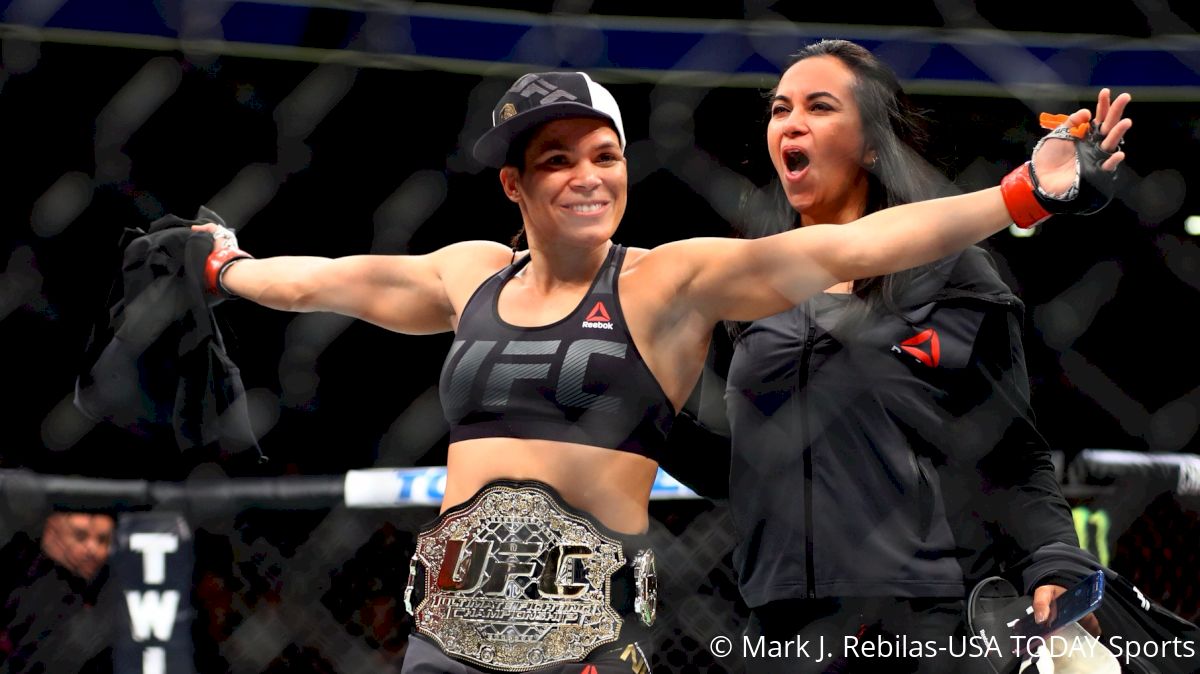 For FloComat via A.G Fight
With six consecutive wins, two of them title defenses, UFC women's bantamweight champion Amanda Nunes has reached the pinnacle of her sport. That doesn't mean "The Lioness" is completely happy with her situation, though.
While having loads of success inside the cage, the road outside of the Octagon is a bit rougher for the Brazilian bomber. And that, according to Nunes, is mostly on the UFC because the promotion simply refuses to give her a significant marketing push.
Furthermore, after withdrawing from UFC 213's headliner the day of the event for health reasons last July, UFC President Dana White even attacked his champion publicly.

"There's a point where, sometimes, I'd rather wait a bit and get a fight that sells," Nunes said.. "It's all about pay-per-view, everything revolves around that and I don't really get a part of that. I don't really fit the profile of a UFC champion, but they have to do [business] with me, even though they're never going to promote me to a level like they did Ronda Rousey or Holly Holm. They want blondies, cute little girls who fight and take pictures. Let's face it, I have to face the girls who sell best."

Nunes even goes as far as claiming that the UFC wants her off their bantamweight throne – and she's not afraid to tell the bosses about her perception.

"They're not idiots, they know what they do," Nunes said. "It's all about marketing. That's why it's the UFC, that's why they're doing it. They want to get someone to beat me for me to get out badly. I told them about it, I know that's what they want, someone that they can really promote and make money with."
That being said, Nunes doesn't plan to change anything about herself to be able to draw more fans to her fights.

"Why?," Nunes asked. "I'm not going to be who I am [if I try to cater to the market]. It doesn't make sense for me to change. You have to be who you are."

That's not to say that Nunes doesn't sometimes struggle with the disadvantages that come with being lesser known than some of her counterparts at the top of the sport.
"Every athlete depends on the money they make [with their sport]," Nunes said. "Obviously, I want to make money. Having the belt is a dream come true, but ultimately, you've got to have something in your bank account to be able to do your thing. It's a good thing, but without the necessary publicity and marketing, things like sponsorships are difficult to get.
"The UFC only shows the good moments of some people and only the bad ones of others, which is the case with me, and every fight I have, it's like this."