Dustin Poirier To UFC: 'Don't Call' Unless It's Gaethje vs. Alvarez Winner
Dustin Poirier To UFC: 'Don't Call' Unless It's Gaethje vs. Alvarez Winner
UFC lightweight contender Dustin Poirier recalls his victory over Anthony Pettis and looks ahead to a showdown he's been waiting for.
Nov 20, 2017
by Duane Finley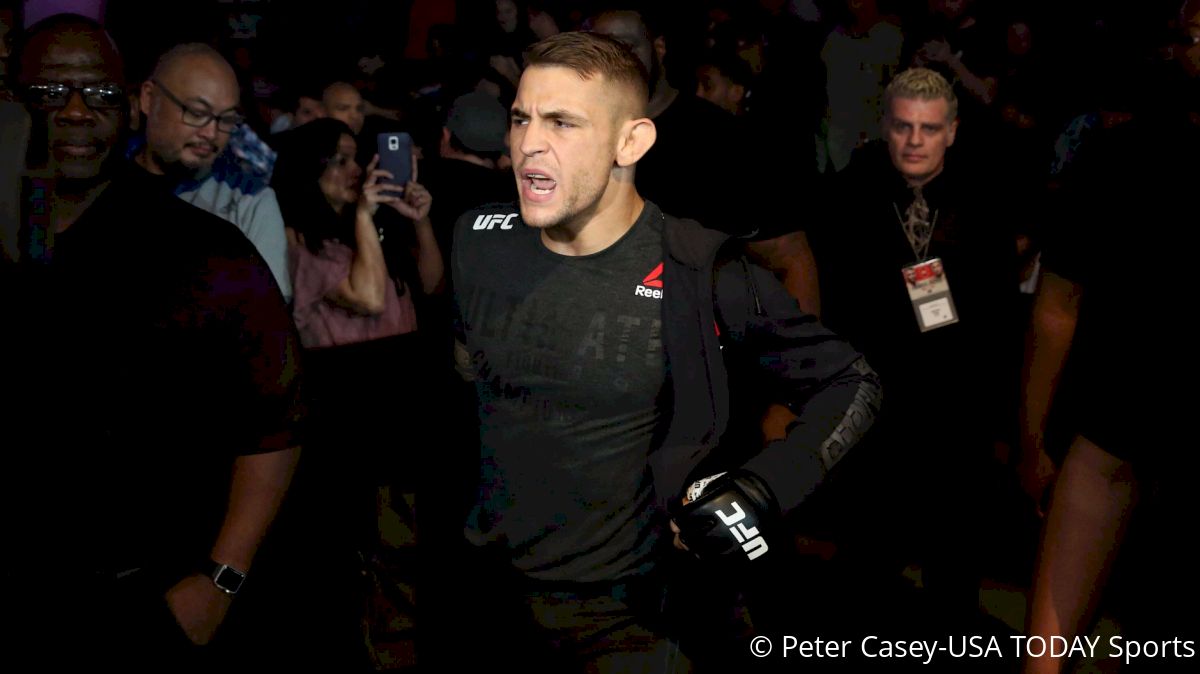 In a business commonly referred to as the fight game, Dustin Poirier puts his emphasis on the most important term in the combination and drops the latter. It's all about the fight where he's concerned — the games are better left to other players.
In fact, it's the business side of it all that has the Louisiana native a bit ruffled.
Nevertheless, with a family to feed and championship ambitions to pursue, the American Top Team (ATT) product isn't sitting around waiting for past grievances to be made right. Instead, "The Diamond" has cemented his place firmly in the hunt for the UFC's 155-pound title after beating Anthony Pettis at UFC Fight Night 120 in Norfolk, Virginia, on Nov. 11.
Poirier came out from the opening bell and took the fight to the former lightweight king. The 28-year-old stalked and battered the Milwaukee native until a rib injury suffered by a bloodied Pettis forced a stoppage in the third round of the tilt.
"I was out there hunting," Poirier told FloCombat. "It wasn't 'survive,' it was 'thrive' out there. That's what was on my mind. This was my 21st fight with the company, and I finally felt like myself where I just don't give a f*ck what people think anymore. I'm confident in who I am and I know how good I am. And I believe it showed in that fight.
"When we started exchanging, I could tell he knew I had more firepower, but we knew this going in. My training partner Thiago Alves has been saying this for 10 weeks leading up to this fight. Thiago said, 'Dustin, I'm telling you... once he feels how strong you are he's going to want no part of it.'
"I stayed in his face and made it a dirty fight," he added. "I knew I would beat him there and that's exactly what I did."
While Poirier's striking was certainly on point during the fight, it was his efficiency in the close-quarter exchanges that made a huge difference in the outcome. Despite the blood and sweat that no doubt made the tie-ups slippery, Poirier was able to hold position during tense scrambles, and his ability to do so ultimately produced victory when Pettis became injured after an exchange on the canvas in the third round.
"I've been meshing it all together very well," Poirier said. "From the wrestling to the jiu-jitsu to the positions and the punching... just the total MMA game is something I have been putting together for a while now. Ever since I joined ATT, that's been a big part of my overall improvement."
While media loves to attach certain labels to standout performances of the caliber Poirier displayed in Norfolk, the proud husband and father believes those would be better off saved for an up-and-coming talent.
Poirier is confident in what he's displayed inside the Octagon, and he believes it's time the UFC gives him his due.
"I think those terms like 'star-making' or 'career-making' performances are better used on guys we don't know about," Poirier said. "I've proved myself time and time again in there. In my performance against Pettis, I believe it was more of the same I've always shown, but maybe more of it at a higher level. Some of the things I've shown flashes of my entire career I was able to put together into one great performance.
"I feel like everything is unfolding just the way it should be. I'm very happy with where it's going, but I would like some respect. I've put in a lot of work in this sport, and I've fought the best guys. I've never missed weight or pulled out of a fight. Everything I said I was going to do, I showed up and I fought. Win or lose, I left it all out there every single time and I've never had a boring fight.
"I believe I deserve respect — not just from fans but from the UFC as well."
In his post-fight interview, Poirier further aired out his frustrations with the UFC over not receiving a rematch with Eddie Alvarez following their bout at UFC 211 back in May, which was ruled a no-contest after Alvarez landed an illegal knee to Poirier's head.
While on the mic, Poirier told UFC brass he's getting the winner of the upcoming bout between the former champion Alvarez and Justin Gaethje, who are set to compete Dec. 2 at UFC 218. Outside of a late-notice call-up to compete for a title shot, that is the only fight Poirier is will to accept, and he doubled down on that point to close out the interview.
"I'm not asking for it... I'm telling them what I want next and what needs to happen," Poirier said. "I was jerked around with the Eddie [Alvarez] thing. He was rewarded for cheating and getting out of a fight he was losing. I've been living with this in my head for months. I took another fight just to focus on something else, but it's not forgotten.
"This needs to be made right, but whatever I have to do to become world champion is what matters. I'm not chasing Eddie Alvarez. I'm chasing gold.
"Don't even call me with anything else."