Joanna Jedrzejczyk: 'My Next Fight Will Be For The Belt'
Joanna Jedrzejczyk: 'My Next Fight Will Be For The Belt'
Joanna Jedrzejczyk says she's met with the UFC and her next fight will be for gold. Full comments here.
Nov 16, 2017
by Hunter Homistek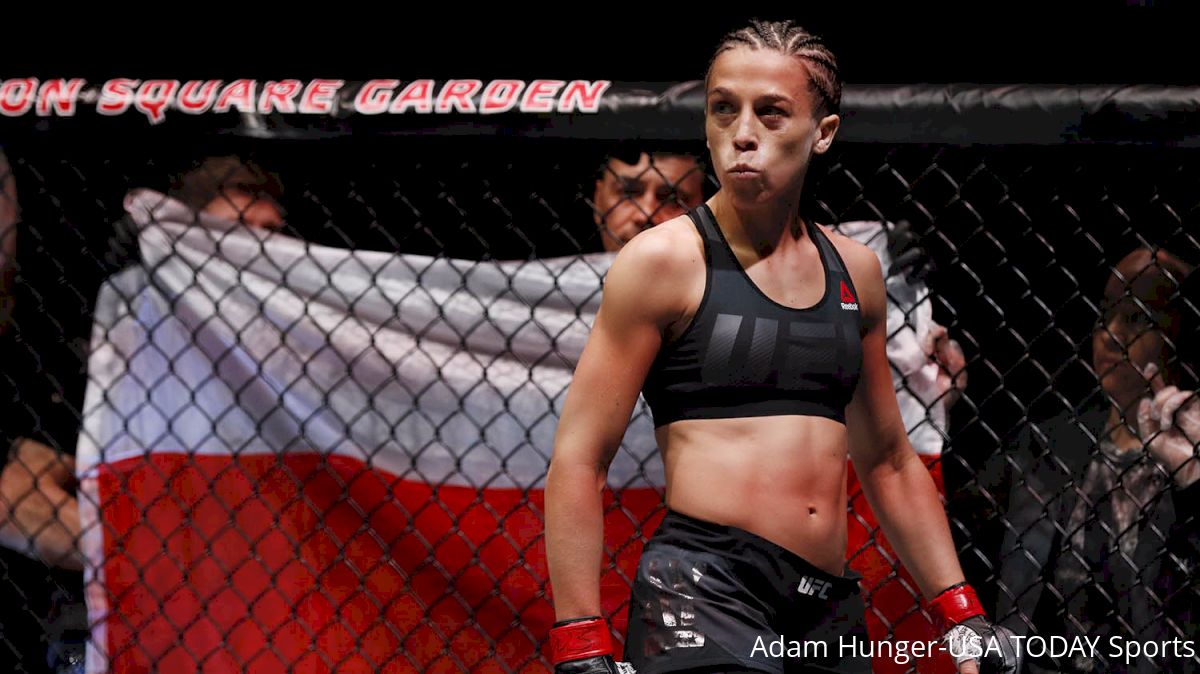 By Josh Sanchez
Joanna Jedrzejczyk lost her strawweight title Nov. 4 at UFC 217 when Rose Namajunas scored a stunning upset in front of a packed house at Madison Square Garden in New York City.
It was the first loss of Jedrzejczyk's professional career, and she has vowed to get the title back.
Namajunas (7-3) has stated she does not believe Jedrzejczyk (14-1) should get an immediate rematch because the win was not a fluke, but Jedrzejczyk appears to have other plans.
According to the former 115-pound queen, she met with the UFC immediately following her loss and was told her next fight will be for the belt.
If Namajunas is unwilling to fight Jedrzejczyk and wants to take another fight first, Jedrzejczyk will wait for her opportunity to reclaim the strawweight championship. To her, the belt is more important than a rematch.
"Rose was very shocked, like the rest of the world. Like I've said, she won in a beautiful fashion, but the belt is mine. I've built this weight class. I'm the queen of this weight class and I always will be. You can believe it or not," Jedrzejczyk said in an interview with InTheCagePL.
"I know what I want in life. Just like I've done for the last two years, the last 14 years of my career, it will be the same next year. I back up my words — I don't just talk. I already spoke to the UFC, and my return is set. My next fight will be for the title belt. I don't know if Rose is going to want to fight in a month, in January or in February. I'll spend the next two months in Poland with my family.
"I have a lot of media obligations, [and] I'll be flying out to China in a few days and that's that. This is my time away, my rest. Like I said, if Rose wants to fight in February or March with the first contender available, It doesn't matter to me if she'll be wearing the belt or if there will be a new champion. I'm going after what's mine and that's the belt."
As for whether she would like a tune-up fight before competing for the title again, Jedrzejczyk reiterated: the title is the only thing on her mind.
"No. No. That was a mistake and I'm looking at it as a mistake. I already turned that page. It was a mistake," Jedrzejczyk said. "I don't need to have a fight to get ready. It's not like I wasn't prepared for that fight. I don't have any reproach for myself because of it. I know it looks different from the outside and a loss is a loss. If you weren't standing there in the Octagon, if you didn't feel that day and if you didn't feel that loss, why it ended the way it did… People just don't know."
Before her loss to Namajunas, Jedrzejczyk was looking to tie Ronda Rousey's record for most consecutive women's title defenses at six. Jedrzejczyk had held the belt since a March 2015 victory over Carla Esparza.
Namajunas, meanwhile, is now on a two-fight winning streak, boasting victories over Jedrzejczyk and former Invicta FC champion Michelle Waterson. Her last loss came at UFC 201 in July 2016 against No. 4-ranked strawweight contender Karolina Kowalkiewicz.
Tecia Torres (9-1), who holds a 1-1 record against Namajunas, could be an intriguing option for Namajunas' first title defense if she is able to get by Waterson (14-5) at UFC 218 on Dec. 2.
Translation via Lukasz Nowakowski