John Lineker Calls Out Jimmie Rivera, Wants TJ Dillashaw Rematch
John Lineker Calls Out Jimmie Rivera, Wants TJ Dillashaw Rematch
UFC bantamweight contender John Lineker plots course for title run by calling for fight against Jimmie Rivera at UFC 219.
Nov 16, 2017
by Duane Finley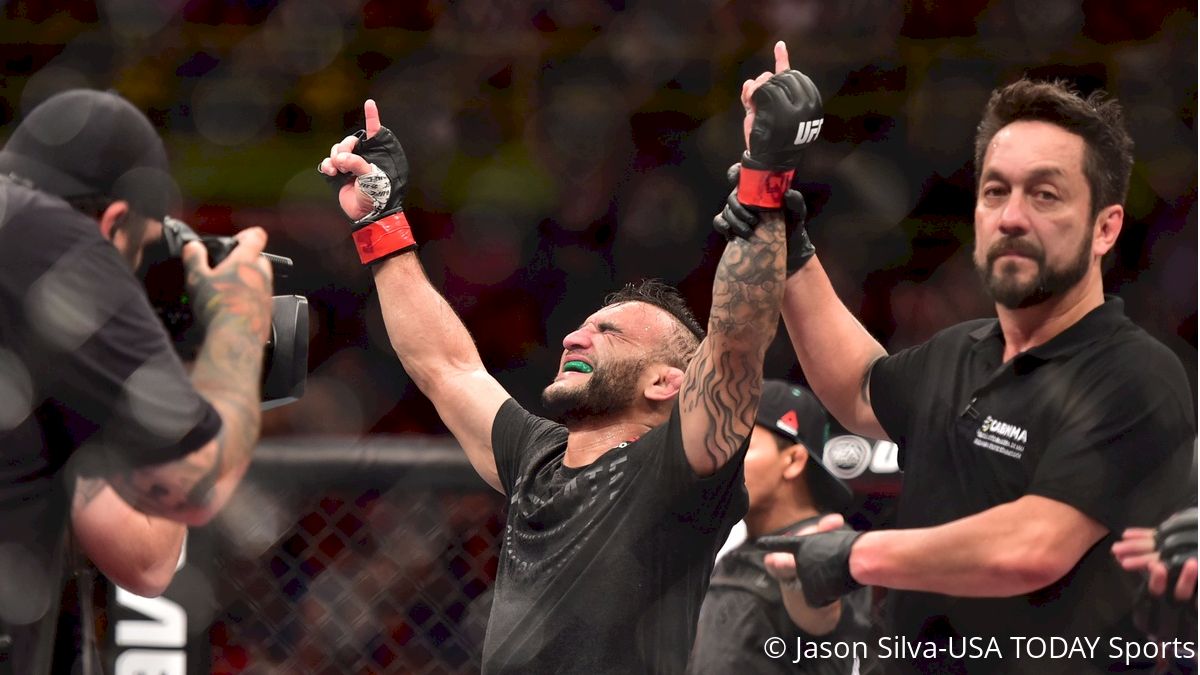 For FloCombat via A.G Fight
After getting facial surgery and returning to the UFC last month, John Lineker is considering one more fight before closing out the year.
With Dominick Cruz suffering an injury that forced him out of his bout against Jimmie Rivera at UFC 219 next month, "Hands of Stone" has set his sights on the surging bantamweight contender. Lineker sees plenty of opportunity in the potential matchup, but the Brazilian slugger's biggest incentive is the chance to return to title contention.
For Lineker, winning championship gold is the ultimate goal, and he'll stop at nothing until that mission is accomplished.
A potential matchup with Rivera in Las Vegas on Dec. 30 would not only provide the bantamweight knockout artist with a chance to earn another title shot, but it would also give Lineker the chance to erase the memory of what he deemed to be a lackluster win against Marlon Vera last month in Sao Paulo, Brazil.
"I would fight with Jimmie Rivera. I'm at the UFC's disposal to fight him," Lineker told AG. Fight for FloCombat. "I'm ready. I want to fight again, and it'll definitely be a different fight from my last performance against Marlon Vera. I'll be more in the rhythm and John Lineker will fight as he always has: aggressively. All the time, I am ready."
Although Lineker understands there is much work to be done in order to earn a championship opportunity, the 27-year-old veteran has vowed to make it happen. And when that opportunity does come to call, "Mao de Pedra" is hoping TJ Dillashaw will still be holding the crown when he gets there.
Dillashaw, who recently reclaimed the bantamweight title with a knockout over Cody Garbrandt at UFC 217, received his title fight after defeating Lineker last December at UFC 207. The bout was a hard-fought affair that saw Dillashaw break Lineker's jaw with elbow strikes and earn a unanimous-decision victory in the process.
Lineker still has work to do to get a rematch, but he's already formed a strategy on how to beat Dillashaw.
"If I were to fight TJ Dillashaw again, I'd put a different pace and rhythm on him," Lineker said. "I wouldn't wait that long for him [to engage first]. He would act first. I believe that if I acted first [instead], I'd be able to time his takedowns and his kicks.
"I ended up waiting for him a little bit [at UFC 207]. I think that was because I had fought a lot that year and I ended up feeling a bit too tense. But sure enough, if I could do it again, I'd enforce my own rhythm on him more to time his kicks and his takedowns.
"I think I'm not far from a title fight and a rematch with [Dillashaw]," he added. "I think that my victory over Marlon Vera has put me back into the mix, and I believe that another one or two wins and I'm in talks again to fight the champion."


Following the defeat to Dillashaw, Lineker was forced to take 10 months off to recover from surgery and get back into fighting shape. Lineker believes the pace held in the fight with Vera was problematic and something he will need to change going forward.
"I thought I wouldn't be rusty at all, but I ended up feeling those 10 months on the sidelines a little bit," Lineker said. "Although we have very intensive training, I believe that it's something else in there. It's a lot of pressure and different movement, and I felt it a little bit. I didn't think that this would happen, but it did."
Feeling like he didn't leave everything in the cage his last time out, the Brazilian fighter is anxious to get back under the lights and show the world he still has the goods. Lineker earned his reputation by laying it all on the line each and every time out, and slinging leather with reckless abandon once the cage door closes is what he intends to do moving forward.
That's the way he's always handled business, and Lineker promises fight fans will see him return to form in his next showing inside the Octagon.
"I could've given a lot more of me in there, especially in the third round," Lineker said. "I like to increase my pace in the third round. In the first round, everyone can fight, everybody is well conditioned. It's in the third round that I like to show that I'm well prepared. I ended up pushing the pace only a little bit in the third round [against Vera], because of the 10 months that I hadn't fought.