Tyron Woodley Teases Next Fight, Won't Be Against WW Contender
Tyron Woodley Teases Next Fight, Won't Be Against WW Contender
UFC welterweight champion Tyron Woodley says he's accepted his next fight and the opponent will come as a surprise to fight fans.
Nov 14, 2017
by Duane Finley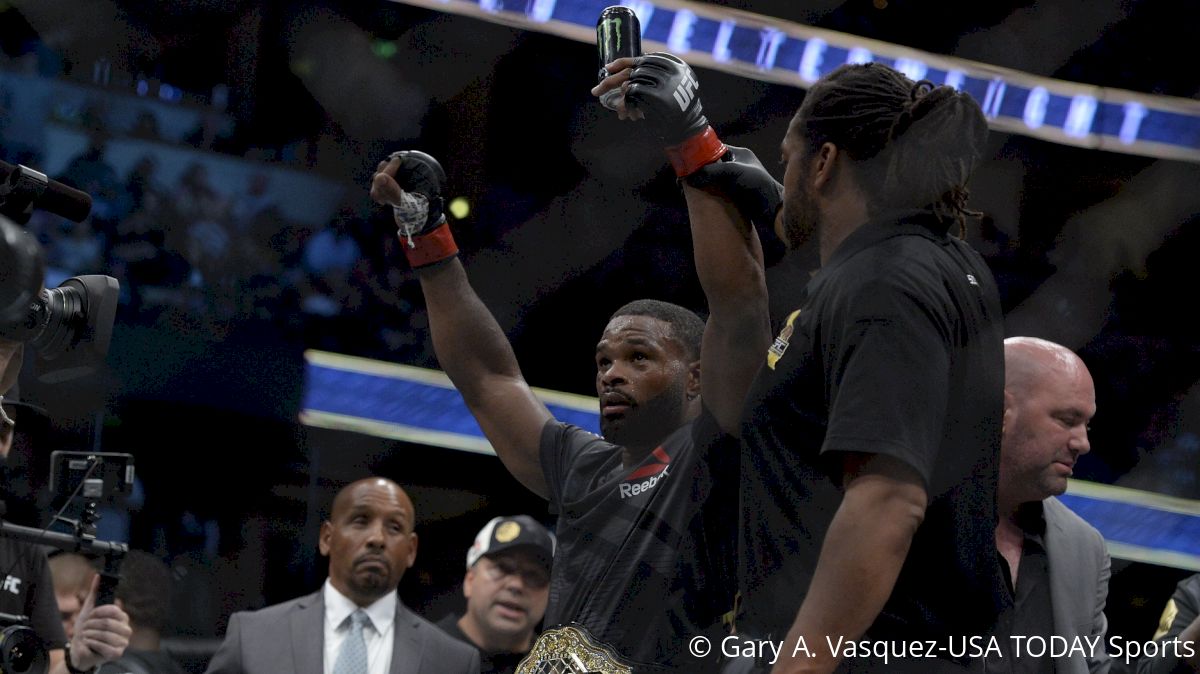 By Damon Martin
UFC welterweight champion Tyron Woodley might be back sooner than expected.
Following his win over Demian Maia in July, Woodley said he may be out of action until 2018 due to a lingering problem with his shoulder that may require surgery.
Now it appears the UFC has come calling with a fight offer too good for Woodley to refuse, and a potential announcement for the champion's next bout could be looming in the next few days.
"Don't be surprised if you see me in the next couple days announce a fight," Woodley told FloCombat. "It's a sport about risk and reward. It's a sport about becoming a legend. You look at guys that have stepped up on last minute and it changed their lives. I don't think that I should be any different.
"There's a lot of guys in my weight class that are talking — they're chirping. Everybody wants the title. Everybody wants to fight me. Everybody thinks they can beat me. People are talking because they think I can't fight. They think I'm injured to the point where I can't compete and I'm not going back and forth with them so that gives them more wings to keep flying.
"At the end of the day, none of the people in my division right now are the fight that are going to get me to legendary status," he added. "Get me to the point where I'm a household name. I'm looking for that and I might have found that fight."
Woodley wasn't willing to reveal any details about the potential fight, although his return would almost certainly take place at UFC 219 on Dec. 30. That is the date of the promotion's year-end card, and the main event for that date is still wide open.
Plans were in motion for women's featherweight champion Cris "Cyborg" Justino to take on Holly Holm, but it appears that fight is dead in the water for the time being. UFC President Dana White has also expressed hopes lightweight champion Conor McGregor would return before the end of 2017, but that remains a long shot.
Therefore, Woodley returning against a named opponent outside of the current crop of contenders at 170 pounds not only sounds intriguing but also certainly fits the bill for a headline fight on the UFC's final card in 2017.
Woodley has already defended his title on two prior occasions, but right now there doesn't appear to be a clear-cut No. 1 contender in the division. White had previously stated a December fight between former champion Robbie Lawler and Rafael dos Anjos would determine the next title challenger at 170 pounds, but that doesn't help fill the void at UFC 219.
"There are no contenders right now in the welterweight division," Woodley said. "They should have to shuffle the deck and emerge. We have to see what happens with [Rafael dos Anjos] and Robbie. We saw what happened with [Donald] "Cowboy" Cerrone and [Darren] Till. We saw what happened with Demian Maia and Colby Covington. Kamaru Usman's fighting somebody. [Santiago] Ponzinibbio and Mike Perry.
"After those guys win, they've got to reshuffle the deck. Now they're in a position to be in contention. Now they're in a position to be talking about a title shot, but until then, they've got to get their weight up."
Woodley's tease about a fight will definitely stir up all sorts of rumors about who might be a potential opponent, and the one thing the reigning welterweight king wanted to make clear was he didn't hesitate for a second with a response.
"Just know that I said, 'Yes,'" Woodley said.