Frankie Edgar 'F*cking Bummed' About Injury, Remains Focused On UFC Gold
Frankie Edgar 'F*cking Bummed' About Injury, Remains Focused On UFC Gold
Former UFC lightweight champion and current featherweight contender Frankie Edgar discusses injury that forced him out of UFC 218 fight with Max Holloway.
Nov 14, 2017
by Duane Finley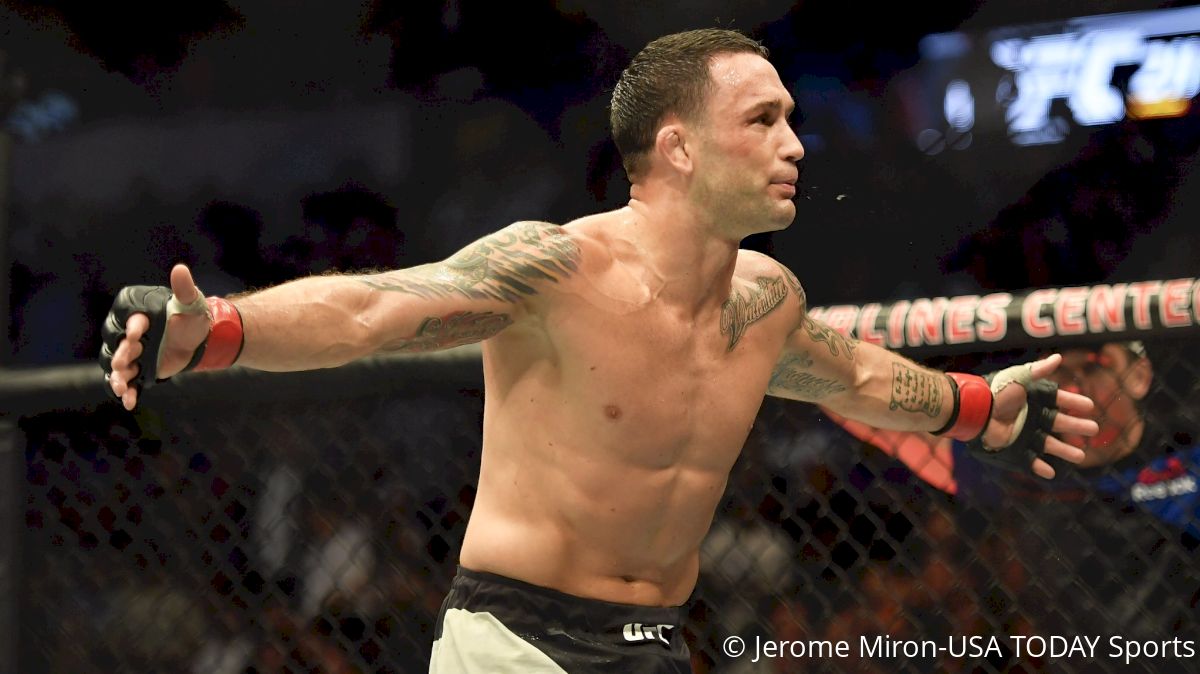 Frankie Edgar's resilience is the stuff of legend in mixed martial arts.
The fighting pride of Toms River, New Jersey, has spent the past 12 years carving out a storied career that's been built on one gritty performance after the next. Time and time again, the former UFC lightweight champion turned featherweight contender has used his special brand of timing, technique, and tenacity to secure victory inside the Octagon.
Edgar's consistency in performance and success has solidified his status as one of the elite fighters of his era — achievements which become all the more impressive when taking his seemingly perpetual underdog status into account.
The Mark Henry-trained fighter has overcome adversity in heavy doses during his time under the UFC banner, and thanks to a recent facial injury suffered in training that forced Edgar out of his bout with featherweight champion Max Holloway on Dec. 2 at UFC 218, the hard-charging veteran will need to battle back once more.
While Edgar admits the reality of a lost title opportunity certainly stung, the ability to shake it off and come back harder than ever is what makes "Frankie Scraps" who he is.
"I definitely feel f*cking bummed and in a funk for the past couple of days," Edgar told FloCombat in an exclusive interview. "I feel like I lost a fight to be honest. I know these opportunities don't always present themselves. I'm also not one to stay down, be negative, and beat myself up about things. I'm going to heal up, keep training, and make sure I'm ready for that fight when it comes.
"I'm a guy who keeps a positive outlook on things. I'm not going to sit around feeling sorry for myself, and I don't expect anyone to feel sorry for me either. This is just the type of shit that goes down. It's inevitable. I train at a high level out here with some really good guys and shit happens. There wasn't any negligence on my part. I train hard for fights and I always have.
"I almost wish it was a torn MCL or a torn shoulder or something where I could just put a f*cking shot in there and get through it, but there's nothing I can do about it," he added. "By the time the end of the year hits, I should be back to 100 percent, doing everything, and getting ready for a fight. I'm game, man. I'd love to be back in the cage in March."
Edgar is as self-driven as they come in the fight game, and his blue-collar roots and work ethic have certainly contributed to his success inside the cage. The former titleholder is simply relentless in pursuit of the things he lines up in the crosshairs, and winning gold in a second weight class has been top priority since dropping down to featherweight in 2013.
Nevertheless, his quest for the 145-pound strap has been met with plenty of resistance, and the 36-year-old contender sees any and all obstacles as further motivation.
"I haven't lost sight of my goal, and the goal is to become a world champion," Edgar said. "I know I have the ability to do just that. I still feel great and my body has been feeling better than ever lately. This setback doesn't change that because it's a different type of injury. I'm not going to lose sight of that belt, and the adversity is just going to make it that much sweeter when it happens."
Edgar will spend the next six weeks on the sidelines allowing his orbital bone to fully heal, but his attention will be locked on the new main event tilt formed in his absence. After news of Edgar's injury surfaced last week, the UFC tapped former long-standing featherweight king Jose Aldo to step in against Holloway for the headlining bout at UFC 218 in Detroit.
The bout will be a rematch of the initial meeting between the two at UFC 212 back in June, a fight in which Holloway rebounded from a tough start to finish Aldo in the third frame. The scrappy Hawaiian's victory over Aldo marked only the second time the Brazilian had been defeated since signing with Zuffa and the WEC in 2008.
Ever the realist, Edgar is aware he could be forced to re-earn the opportunity his injury took away, but he's still holding out hope the chance to fight for UFC gold will be available once he's ready to return.
"Facing the winner of this fight would be ideal, and that's definitely what I want," Edgar said. "At the same time, I'm sure I'm not in the position to really pick, but that would be ideal. I hope everything works out and goes in my favor so that can happen."