Paulo Costa Goes Off On Derek Brunson, Vows To 'Break His Face'
Paulo Costa Goes Off On Derek Brunson, Vows To 'Break His Face'
Surging UFC middleweight Paulo Costa sounds off and challenges Derek Brunson to step into the Octagon.
Nov 9, 2017
by Duane Finley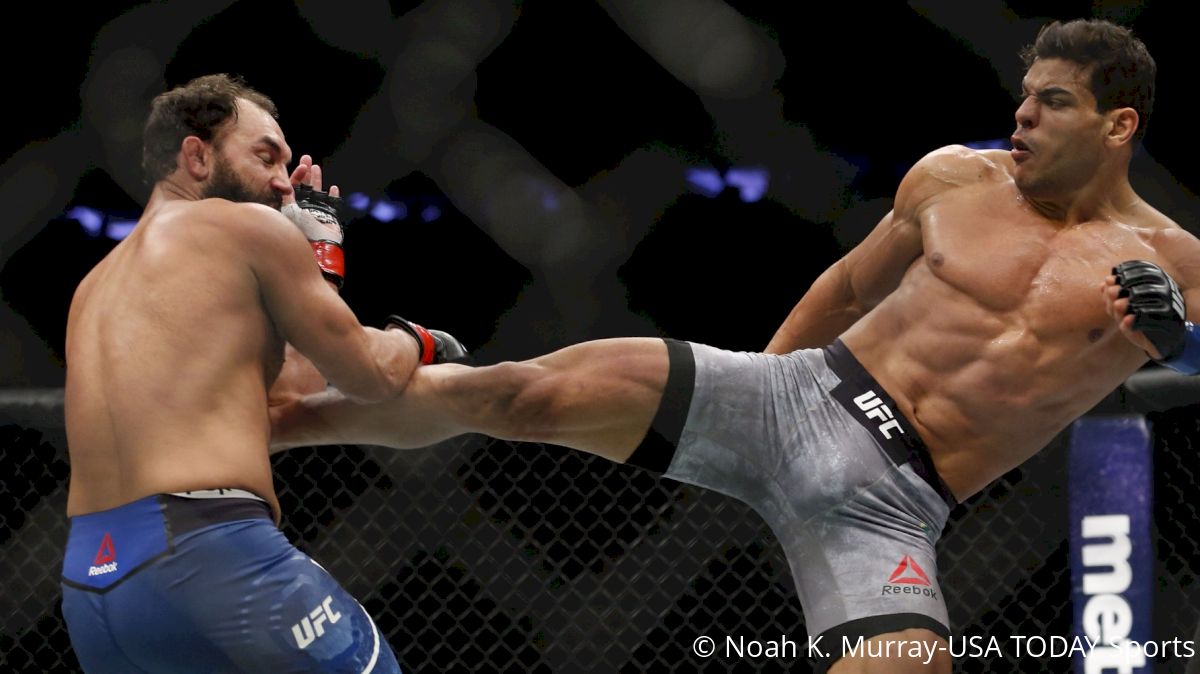 For FloCombat via A.G Fight
Fresh off the biggest victory of his career on one of the most legendary stages in combat sports, Paulo Costa is already angling for his next showdown.
The Brazilian "Eraser" faced former welterweight champion Johny Hendricks in a middleweight bout at UFC 217 in New York's Madison Square Garden this past weekend, notching a knockout victory over his high-profile foe in the second round.
After the fight, Costa called out middleweight contender Derek Brunson. The North Carolina native recently scored a huge knockout victory of his own over a former titleholder in Lyoto Machida last month.
Brunson, though, brushed off the challenge, claiming Costa is on performance-enhancing drugs and should go win a few more fights before calling him out.
Look at boy a year ago.U have my promise. Will kick your arse, if my title path detours.Easy money you're a fraud! @BorrachinhaMMA pic.twitter.com/3LmRxVFSbt

— Derek Brunson (@DerekBrunson) November 8, 2017

"I just saw on Twitter that he got data saying that USADA only tested me once and that, if I was tested more often, he could fight me in the middle of next year," Costa said. "I would tell him that he is a coward, a slacker. I don't know where he got this false data from.
"Only this month I have been tested five times. And since being in the UFC, I've been tested 10 times. USADA and the UFC have this data. His bullshit argument makes no sense at all. I'm going to put my tests up on social media, and I want to see what his excuse will be to continue running away."
Brunson's perceived hit-and-run tactic left Costa so angry he now wants to face the fellow UFC middleweight for personal reasons in addition to the already established professional reasons.
"I'd just like to break his face," Costa said. "He's the only guy I'm angry about. He's afraid, he's not a man, and he's a liar on top of it all. You're scared to fight me and you're making excuses. I'll prove it's a lie and I want to know what the next excuse will be to not face me.
"Either he says he accepts it or he doesn't [accept the fight]. If the guy is afraid, he has to say that he is afraid and that he doesn't want to fight with anyone. He doesn't deserve to be in the UFC. Johny Hendricks is a real man because he accepted the fight and didn't make an excuse. He's making excuses and he's being lazy because he's afraid. If the UFC puts another guy in there to fight him, he'll become like that even more. If you put him in there with me, I'll end his run."