Jessica Eye Says Paige VanZant 'Refuses' To Fight: 'It's Bullsh*t, Paige'
Jessica Eye Says Paige VanZant 'Refuses' To Fight: 'It's Bullsh*t, Paige'
Jessica Eye was pumped to face Paige VanZant — but she says VanZant is now refusing to fight her. Details here.
Nov 8, 2017
by Hunter Homistek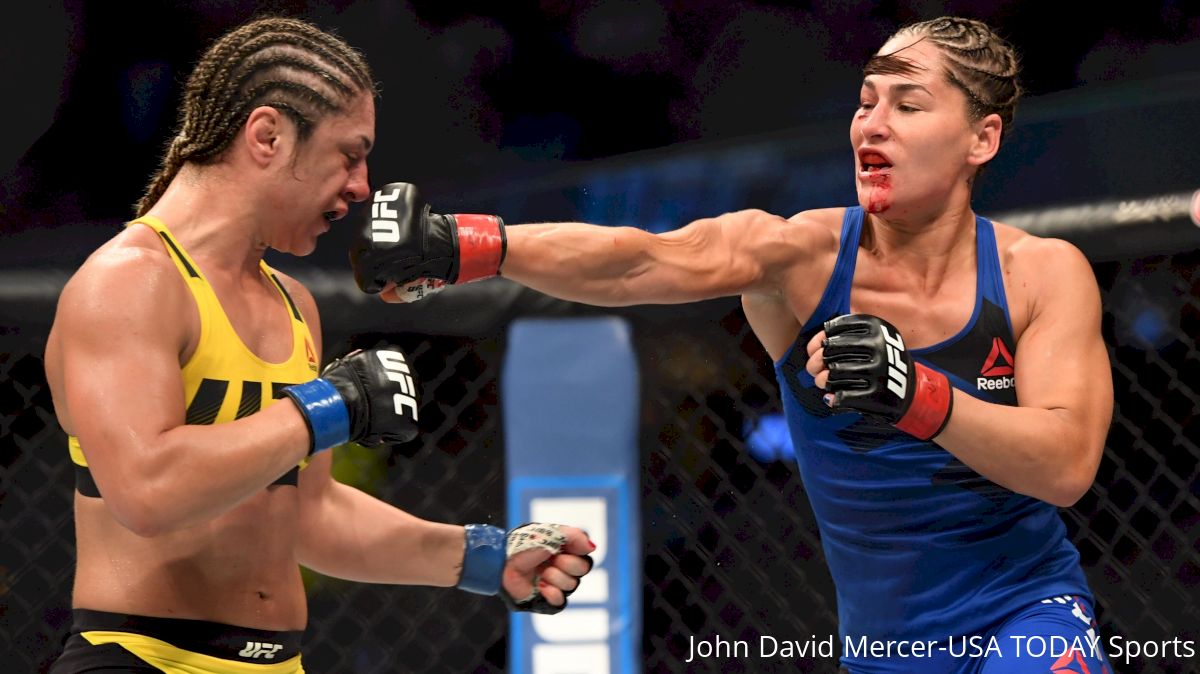 By Damon Martin
To say Jessica Eye is upset with Paige VanZant would be an understatement.
The veteran fighter says she was offered a fight with VanZant for later this year only to find out on Wednesday that the former "Dancing with the Stars" contestant turned it down.
The fight was originally booked for UFC 216 in October, but VanZant was forced to pull out of the event due to a back injury. Eye was also yanked from the card and she has since awaited word on getting the fight with VanZant rebooked.
According to the Ohio native, the UFC came calling just recently with another bout agreement to face VanZant, and Eye immediately signed. But it seems VanZant did not.
"I sign my contract to fight Paige VanZant again," Eye revealed in a Facebook Live chat Wednesday. "After getting a message from Paige apologizing about pulling out of the fight and knowing how much it meant to me and knowing all those things. Now, I receive a phone call today that Paige VanZant — again — not this time is injured but is refusing to fight me.
"I guess me as a woman and me as a professional, we have a legal, signed document that we agreed upon, that I signed for you and you agreed upon as a professional and as a woman to fight me because you're an athlete and a professional fighter and that's what professional fighters do. We don't run from each other."
Eye said she originally received a message from VanZant before their fight was booked the first time that she had been offered the matchup and was going to accept.
Eye wouldn't go as far as calling VanZant a friend, but certainly an acquaintance, and she appreciated the message before they both signed on to face each other. This time around, however, Eye says VanZant just called the UFC and turned down the fight.
"You said this fight does nothing for you because I'm coming off of a loss and that it's too tough?" Eye said. "Then why did you contact me originally? Why did you message me? Why go through the UFC and make them jump through hoops to constantly give you want you want? It's unfair.
"It's bullshit Paige, and I hope you hear this."
All signs were pointing toward Eye returning to the Octagon in the newly created flyweight division before the end of the year, but she now says with this latest delay that she probably won't be back until late January.
More than anything right now, Eye is enraged that VanZant turned down a fight with her that could have helped both of them kick off the women's 125-pound division and established the winner as a contender with "The Ultimate Fighter" Season 26 about to crown the first champion in early December.
Now Eye will have to wait until 2018 to return, and she's obviously disappointed that VanZant didn't want to face her sooner.
"So, thanks, Paige. I appreciate you messing with my holidays," Eye said. "I appreciate you lying to me and I appreciate you not being a true woman and a true professional after saying Saturday in multiple interviews you had a contract that you were getting ready to sign. If there's anything you can learn from this, learn to be a little bit more of an adult and stop lying to your fans and stop lying to people who follow you and fight the toughest. If you want to come to flyweight, fight one of the best flyweights you're ever going to see.
"This isn't the UFC's fault. This is a Paige VanZant problem. This is what you did, Paige, and it's extremely unfair and you should be ashamed of yourself. Truly."