Jason Frank Details Near Fight With Jean Claude Van Damme In Mexico
Jason Frank Details Near Fight With Jean Claude Van Damme In Mexico
Former Green Ranger Jason Frank shares insight into his near fight with Jean Claude Van Damme this past weekend in Mexico.
Nov 6, 2017
by Duane Finley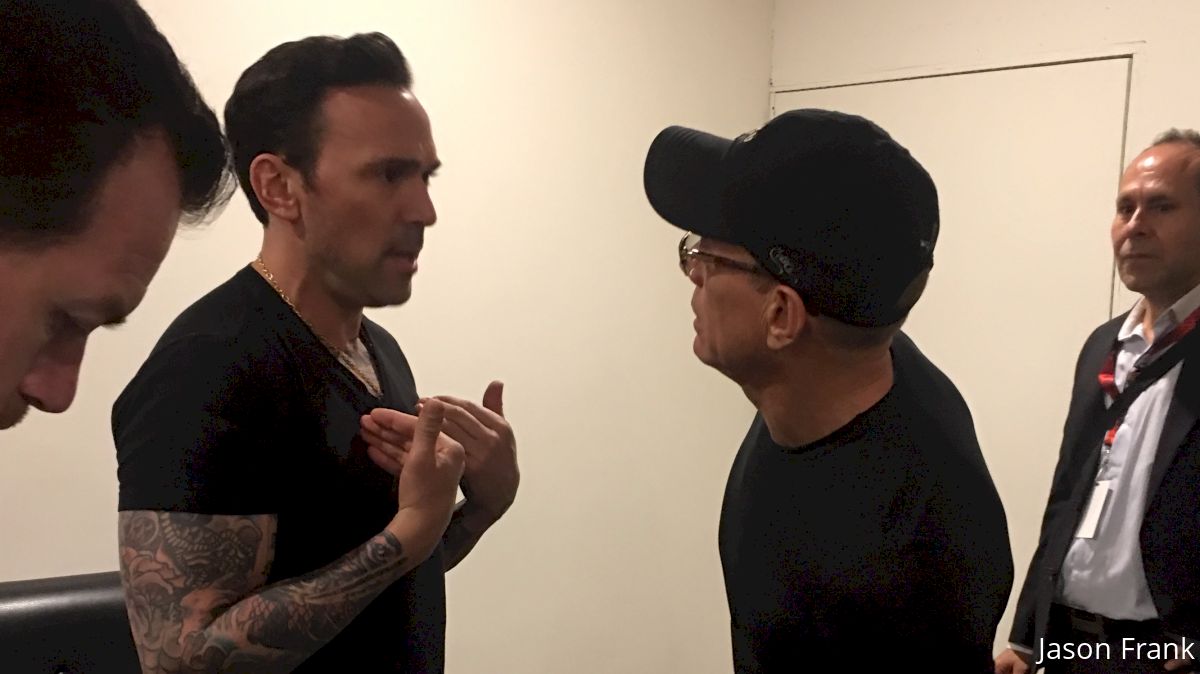 By Damon Martin
Jason David Frank used to be a huge fan of Jean Claude Van Damme.
As an actor working on the martial arts-themed series "Mighty Morphin Power Rangers" in the 1990s, Frank thought of Van Damme as the model for what an action star could become.
Frank finally had the chance to meet one of his heroes during the 1995 premiere for the "Power Rangers" movie. However, he said Van Damme brushed him off, and the encounter left a bad taste in Frank's mouth that he never got the chance to rinse out.
Fast forward to 2010, and Frank heard that Van Damme was looking for a real fight — not one choreographed in a movie. The former "Power Rangers" star thought it seemed like perfect timing for the two to come together again.
Frank issued the challenge but never heard a word from Van Damme or his people about possibly putting the fight together. That was the last time Frank had really thought about Van Damme until this past Saturday, when the Belgian action star happened to be appearing at the same Comic Con event in Mexico.
"The promoter contacted me and asked if Jean Claude Van Damme could borrow my green room and share the room," Frank told FloCombat. "The first thing in my head was yeah, he's a big star, he doesn't need to ask. I don't hold a grudge. So I said yeah, I'll share it no big deal.
"I never expected us to talk about old times or anything because it was so long ago and there was no response [about the fight]. I didn't even think he knew about it. So they asked me to use the room and no big deal."
When his signing appearance at the event was finished, Frank went back to the green room that was arranged for him, but Van Damme's security staff had blocked off any entry — including the person who was supposed to occupy the room in the first place.
Rather than make a big deal out of nothing, Frank got a different room from the Comic Con promoter and was able to get some food and rest while waiting for Van Damme to exit. Frank finally emerged to speak to a different promoter about a possible appearance in Costa Rica when he was approached by someone in Van Damme's entourage saying that the actor insisted on taking a photo together before leaving.
A few moments later, Van Damme came out of the room, and it took Frank a split second to realize that this wasn't going to be a photo opportunity between two action stars.
"All of his crew comes out and everybody has their cameras out and he has this professional camera, I'm not sure if he's shooting a reality show or what, but all the cameras are on and he comes out of the room and straight up to me and he goes, 'Hey you like writing articles about people, you want to beat my ass?" Frank said recounting the altercation. "'You gonna apologize for that?' and I said nope. He goes, 'You think you can still beat my ass?' and I said yeah.
"He said 'OK, let's do it right now.' I mean I thought it was all a joke, but his security was all filming this and I heard them talking in the back and it was clear that he was trying to punk me. Either make me look bad or throw a punch first."
At that moment, Frank said that Van Damme put his belongings down, and that led to Frank removing his watch and a necklace as it appeared the two of them were about to throw down in the middle of the hallway.
"I clinched him up and pushed him back, not in a violent way, in a respectful way that if you want to do this, let's do this," Frank said. "The whole time everybody is filming me and no security people are coming but everybody in his entourage is filming. So I clinched up with him and put him against the wall and he's talking and he froze up and I raised my knee and said, 'Do you want to this?' and he doesn't do anything so I let go.
"I backed away and he starts saying, 'Well, be careful what you say. You never know what I'm gonna do.' So that's when it escalated and his security guy came in and broke it up."
Frank recounted that once security got involved and separated them, Van Damme was all too happy to pipe up again.
"Security came and broke it up and that's when he starts saying, 'F*ck you,' and I told him come on. Why don't you come in the cage or the ring? Why are you doing this at Comic Con?" Frank said. "And then his security is trying to get my phone to take away the footage.
"My point is if he has all the footage, and it's gonna make him look really bad. It doesn't belong at Comic Con. It belongs in a ring or a cage."
Frank made it clear that while he grabbed Van Damme behind the neck in a clinch, he never initiated the altercation nor threw a punch. He simply reacted to someone challenging him to a fight.
Despite this latest encounter with Van Damme, Frank said he's still not holding a grudge against the aging action star. He simply wasn't about to back down from a fight, especially when it was clear someone was trying to bully him.
"I'm not going to get punked like that, and I think he was shocked that I stood up to him," Frank said. "I was never bitter and I'm still not bitter but I'm a fighter."